En Confianza @SDSU is a support group that offers a safe, welcoming space for students who identify as Latina/e/o/x, Chicana/o/x, and Hispanic. At En Confianza, students build community, come together to discuss challenges they're facing, learn new tools, and support one another. The support group is held in Spanglish and meets Thursdays at 3 pm. En Confianza @SDSU is a collaboration between Latinx Resource Center and Counseling and Psychological Services.

Joteria Sin Fronteras is a support group where students who identify within the intersections of LGBTQ+ and Latinx, come together to build community through radical joy, friendships, knowledge, and fun activities. Joteria meets every Thursday from 7 PM to 8 PM and is a collaboration between the Latinx Resource Center and Pride Center.
For questions on either support group, contact us at [email protected]
EN CONFIANZA @ SDSU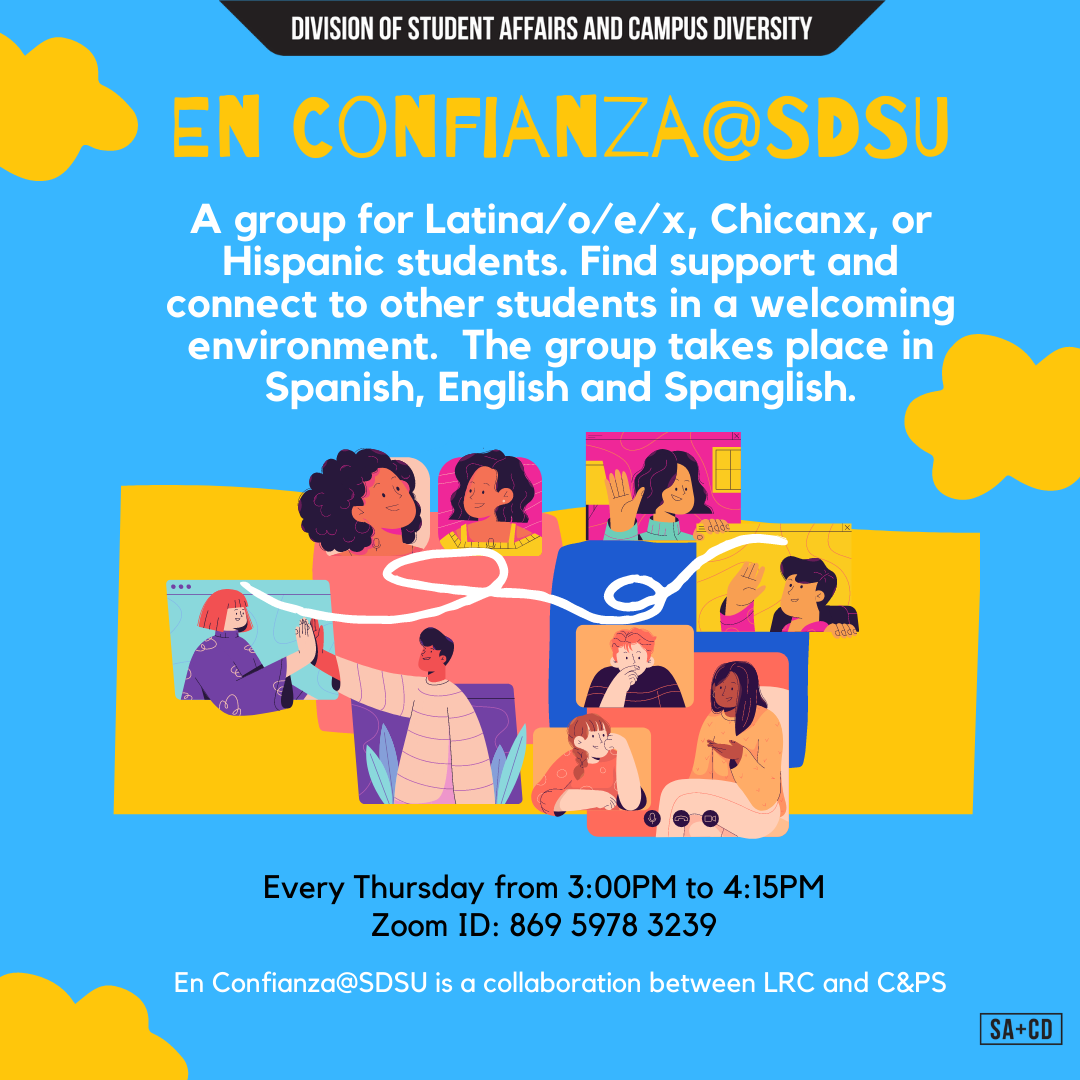 En Confianza @SDSU - A group for Latina/o/e/x, Chicanx, or Hispanic Students. Find support and connect to other students in a welcoming environmnet. The group takes place in Spanish, English and Spanglish. Every Thursday from 3 p.m. to 4:15 p.m. (Zoom ID 869 5978 3239). En Confianza @SDSU is a collaboration between LRC and C&PS.
Joteria Sin Fronteras

Latinx Resource Center and Pride center present Joteria Sin Fronteras a support group for LGBTQIA+ identifying Latino students. Thursdays at 7 p.m. (Zoom 924 5175 2089). For questions and accommodations contact [email protected]