About Us
MISSION STATEMENT
The Native Resource Center at San Diego State University, residing on Kumeyaay Land, facilitates the academic and personal success of Native American and Indigenous identified students through: relevant and accessible programming and resources, services to identify and address barriers to academic achievement, community building, on and off-campus partnerships, and advocacy for the inclusion of Native American/Indigenous peoples' unique histories, cultures, and perspectives in campus programs and curriculum.
The Native Resource Center at SDSU:
Creates, sustains, and strengthens an open, inclusive gathering space and an environment for all persons, specifically those who identify as American Indian, Native American/Hawaiian, Alaska Native, First Nations, or Indigenous.
Uses culturally relevant methods to promote scholarship, to foster leadership, personal and professional growth, and to cultivate community for students through the committed, collaborative effort and support of faculty, staff, and the greater SDSU community.
Creates, collaborates, and implements support programs and services which aid in the recruitment, retention, success, and graduation of all students, specifically those who self-identify as Native American.
Provide a welcoming space for Native students, faculty and staff

in order to cultivate a sense of belonging and

enhance the university's ability to recruit Native people for these positions.
Provides resources and support services to address the unique needs and challenges of students who may experience discrimination, alienation, disenfranchisement, misrepresentation, harassment, intimidation or other barriers to student success as a result of their race or ethnicity.
Promotes and celebrates global, regional, and local Indigenous cultures and languages
Advocates for social justice and

equity

for all, for a campus climate free of prejudice and oppression, for community building, and for the celebration of SDSU's rich cultural and social diversity.
The Native Resource Center Core Pillars:
Decolonization & Sovereignty

Mental Aspect
Wisdom and Logic

Truth, Education and Growth

Spirtual Aspect
Illumination and Enlightenment
Learning Self

Indigenous Philosophies and Identity
Health and Wellness

Physical Aspect
Introspection and Insight
Previous Staff
2020-2021 Staff

Elybeth Alcantar- NRC Graduate Assistant
Andrew Mutsalklisana- NRC Graduate Assistant
John Mollet- EY Graduate Assistant
Corina Tsinnajinnie- EY Graduate Assistant
Isaiah Balentine- EY Peer Mentor
Jessica Becenti- EY Peer Mentor
Jerimy Billy- EY Peer Mentor
Britney Domine- EY Peer Mentor
Mateo Gin Tarango- EY Peer Mentor
Shenelle Mason- EY Peer Mentor
Jennifer Rodriguez-EY Peer Mentor
Olivia Thomas- EY Peer Mentor
Alexandria Ybarra- EY Peer Mentor
Leah Chavez- NRC Program Assistant
Susie Gallo- NRC Program Assistant
Haley Moore- NRC Program Assistant
Vanessa Wingate- NRC Program Assistant
Joanna Younes- NRC Program Assistant

2021-2022 Staff


Mariam Ahmed- NRC Graduate Assistant
Annah Ceballos- EY Peer Mentor
Derrick Herrera- EY Peer Mentor/NRC Program Assistant
Jerimy Billy- EY Peer Mentor/NRC Program Assistant
Jessica Becenti- EY Peer Mentor/NRC Program Assistant
Mateo Gin Tarango- EY Peer Mentor/ NRC Program Assistant
Shenelle Mason- EY Peer Mentor/ NRC Program Assistant
Skylar Morales- EY Peer Mentor/ NRC Program Assistant
Aiyiana Tiger-Mantanona- NRC Program Assistant
Santino Arellano- NRC Program Assistant

2022-2023 Staff

Vanessa Lopez- NRC Graduate Assistant
Jennifer Rodriguez- EY Graduate Assistant
Olivia Thomas- EY Graduate Assistant
Aiyiana Tiger-Mantanona- EY Peer Mentor/ NRC Program Assistant
Derrick Herrera- EY Peer Mentor/ NRC Program Assistant
Avellaka Majel- EY Peer Mentor/ NRC Program Assistant
Ouseli Gomez- NRC Program Assistant
Skylar Morales- NRC Program Assistant
Paul Aguirre- EY Peer Mentor/ NRC Program Assistant
Vanessa Hernandez- EY Peer Mentor
Justice Herrera- NRC Program Assistant
Center Staff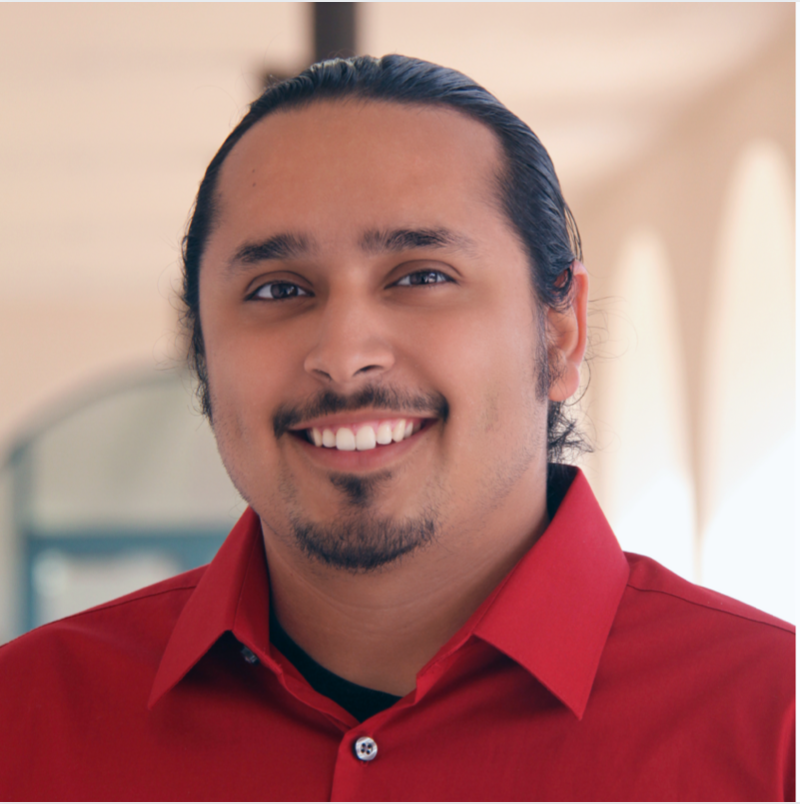 Raised in San Diego, Chris and his family are from the Tule River tribe of Yokuts of Central California. As a first generation student, he earned his bachelor's degree in Television, Film and New Media and American Indian Studies from San Diego State University (SDSU) as well as his Masters degree in Postsecondary Educational Leadership with a Specialization in Student Affairs. He is currently pursuing a Ph.D. in Education at SDSU and Claremont Graduate University. His research focuses are in Native American identity formation, masculine identity formation, issues of access to higher education and decolonization methodologies. Chris has been a student leader and a mentor for programs supporting underrepresented and underserved communities. Working his way through various roles on campus including serving as a student assistant, an administrative support, to an outreach coordinator, he currently serves as the inaugural Director of the SDSU Native Resource Center. Chris also serves as the President of the American Indian Alumni Chapter of San Diego State, and founding member of the Native American and Indigenous Faculty Staff Association as well as the Men of Color Alliance at SDSU.

Commitment to San Diego State:
Chris was in the SDSU Guardian Scholars program as a student who was formerly in the foster care system having spent periods of time residing in group homes. As a student leader on campus, he served as the Vice President for Loss Prevention and President for Delta Upsilon Fraternity, while also serving as the Vice President of the Native American Student Alliance. Additionally, Chris mentored Guardian Scholar students for two-years through the SOAR mentoring program offered by Office of Educational Opportunity Programs (EOP) and was one of the first mentors for the Elymash Yuuchaap Indigenous Scholars and Leaders Program founded in 2013. In recognition for his work specifically with Native American students, Chris received the "Strengthening Student Connection to SDSU" award from the Division of Student Affairs. He has represented SDSU in the CSU Chancellors office, Native American Initiatives Committee and Men of Color Consortium. Chris is dedicated to supporting and serving marginalized communities and Native American communities who are connected to SDSU and beyond.
Welina mai! Haley Kanoelani Okamoto (she/her) was born and raised in her ancestral homeland on the island of Kauaʻi in Hawaiʻi. She recently received my Masters in Education through the College Student Services Administration program at Oregon State University. Her area of specialization, Native Hawaiian and Pasifika Student Success, was gained through her work of re-conceptualizing a Community Cultural Wealth model through Kānaka ʻŌiwi (Native Hawaiian) pedagogy. Additionally, she was an intern and volunteer in various Pasifika academic/higher education spaces. Her bachelor's degree was also done in Oregon at Portland State University where she got her B.A. in Communication Studies. Lastly, some of her hobbies are going for runs along the ocean, making leis, and learning more about the Hawaiian moon calendar.
Matt Fowler is originally from the Inland Empire region of Southern California, and has spent portions of his life in Baltimore, Maryland before relocating to San Diego. He is of Indigenous P'urhépecha, Chichimeca, and Irish descent. A great deal of his work centers around radicalism, Indigeneity, survivance, environmentalism, reclamation and preservation, hemispheric and transnational studies, sociopolitical criticism, abolition, queer theory, cults, social milieus and movements, and militancy.
Matt holds an A.A. degree from Harford Community College, a B.A. in Literature and Writing Studies from California State University San Marcos, and a Creative Writing M.F.A. from San Diego State University. Matt is the Faculty Scholar for SDSU's Native Resource Center, and works as a part-time Lecturer in the Department of American Indian Studies.
Matt is a Sarah B. Marsh-Rebelo Award recipient, and his work can be found in online and print publications including PRISM International, Quarterly West, Sycamore Review, The Los Angeles Review, Homology Lit Mag, GlitterMob, and elsewhere. He is currently working on a full-length manuscript. In his spare time, he enjoys relaxing with his dog, reading, writing, analog photography, bicycling, skateboarding, traveling, hiking, and backpacking.
This position is currently vacant and we are actively searching for new candidates.
Native Resource Center: Student Assistants (2022-23)