Community Service Opportunities & Reporting
Looking for opportunities to serve the community?
Check this page often for updates about community service events on-campus and in the local community.
Community Service reporting is paperless at SDSU.
Report all of your volunteer hours ONLINE!
Community service and volunteering is an important part of your personal and professional development. According to a survey by TimeBank, 73% of employers stated that they are more likely to hire a candidate with volunteer experience than someone who has none!
How are our students giving back?
Here are the organizations that our students spent the most time helping:
Help us reach our goal of 55,000 community service hours for the 2022-2023 academic year. We are already making great progress towards our goal. Keep up the great work Aztecs and REPORT YOUR HOURS!
A community service certificate will be awarded for every 50 hours you log and a lapel pin will be awarded for every 100 hours you log with the Glazer Center for Leadership & Service (hours totaled on a semester basis). To learn more about the certificate, contact Michelle Halverson at [email protected].
UPCOMING OPPORTUNITIES
City Heights Community Development
Volunteers need to support a reading program for children from 1st – 3rd grade and our biweekly food pantry!
www.cityheightscdc.org
Intersted? Contact:
Asha Cabrera, Resident Services Manager, [email protected]
Kendyll Sepulveda, Office Operations Manager, [email protected]
---
Coaching Corps
Change the World one team at a time.Coaching Corps, a nationally known non-profit organization, provides students like you an opportunity to learn to coach local youth team sports in underserved communities! Coaching Corps provides coach training and finds a team of your interest that matches your schedule.
Aztecs! Are You Ready to Change a Life This Semester?? Join the Coaching Corps Movement and coach a kid today!
Coach a youth team sports for an 8-10 week season, many sports and locations available!
A simple 2 - 4 hour commitment per week
Online Training and placement in a nearby local afterschool program
Build your resume while making a huge impact on the lives of young people!
If interested, please contact SDSU Team Captain, Logan Kim at [email protected] or sign up today at CoachingCorps.org and click Become A Coach!
---
Success Agents
Success Agents is seeking volunteers to assist at high-need elementary students thrive!
Success Agents is an after-school program committed to helping at elementary school kids make good choices and thrive, both in and outside of school. Success Agents offers youth a brighter future by providing mentors, incentives and services designed to enhance resilience, self-esteem, academic success and other attributes needed to realize one's dreams.
This is a great opportunity to help make a difference in the community. We ask volunteers to:
Assist at least two Wednesdays a month from 1:30pm-3:00pmat Porter Elementary. We are flexible with school schedule.
Volunteer to help students improve communication skills, self-esteem, problem solving skill and much more.
Help foster mentoring relationships.
No advance training is required.
If interested please contact Shastity Urias 619-546-9399, [email protected].
College Area Community Garden
The College Area Community Garden was established in late 2012 on privately owned land adjacent to SDSU, the garden is a not-for-profit association serving the entire College Area of San Diego. We exist so that people of all skill levels can grow organic veggies and be involved in healthier living by consuming natural foods and living more sustainably.
Our Volunteer Work Parties are held on Saturdays, monthly, from 9:00 am to 1:00 pm, and typical tasks include distributing mulch, weeding and amending the soil in raised beds and larger garden areas, picking up loose materials and debris, help with composting, hand watering and related tasks.
If interested, please contact Carolyn at [email protected].
Diamond Educational Experience Partnership (DEEP)
Housed within the Jacobs Center for Neighborhood Innovation, the Diamond Educational Excellence Partnership (DEEP) is a collaborative undertaking of multiple partner organizations and community leaders who are committed to improving educational outcomes for students attending public schools in the Diamond Community, a cluster of neighborhoods in southeastern San Diego that is home to many of the city's struggling schools. DEEP envisions itself ultimately as a vehicle for repairing ruptures all along the pipeline from cradle to college and career. However, DEEP partners agreed to concentrate their initial energies and investments on the early end of the education pipeline with the goal of ensuring that children are kindergarten ready and complete third grade with strong literacy skills. This decision prompted DEEP to look to the Campaign for Grade-Level Reading (CGRL) for guidance in fleshing out its Theory of Action. Each of the three initiatives associated with DEEP's early literacy goal incorporates an area of focus prescribed by the CGRL. These include: increasing kindergarten preparedness, reducing chronic absenteeism, and reducing summer reading loss.
Please contact Site Coordinator: Lucia Urias. 619 534 2528 [email protected]
Day in the Life of Graffiti Removal
Graffiti Abatement Coordinator, Norma Rodriguez, is always looking for volunteers to help remove graffiti - especially kids and groups. They are a great help at events such as Beautify Chula Vista or the Buff a Block program. Buff a Block volunteers remove graffiti on private property in the volunteers' neighborhood with all paint supplied by the City. Cleaning up a neighborhood is a great way to educate residents, inspire civic responsibility, and develop community pride. "Volunteers are desperately needed. If your home or business is tagged, your ability to clean it up is greatly appreciated," says Norma. "And it will only cost you a little time as we supply the paint and rollers." To learn more about Buff a Block, call 619-397-6037or Email.
So what if you see graffiti? If you observe it in progress, call 9-1-1. If the area has already been tagged or marked, report on ACT (preferably with a photograph and exact address), call Public Works at 619-397-6000, or after hours call the Graffiti Hotline at 619-691-5198.
Banding Together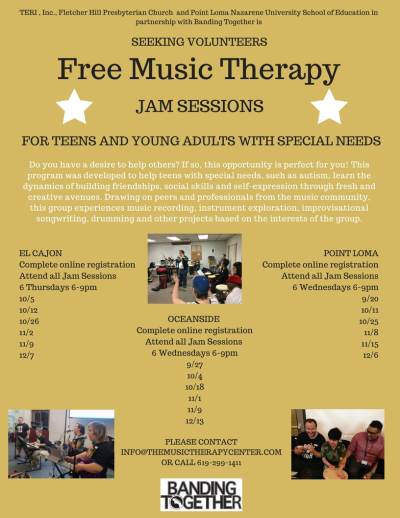 Our Jam Session program has approximately 20 teens and young adults at each location. Each individual we work with has unique learning, social and sensory challenges. Participants range from 13-28 and have a variety of special needs including autism, Asperger's Syndrome, William's Syndrome and Down Syndrome. The purpose of the group is to provide a once a month music therapy group and mentoring program for 20 youth with special needs through six one-hour music therapy groups (aka as "jam sessions") at a local community venue to promote socialization, emotional expression, community inclusion, and communication.
Seeking volunteers - Free Music Therapy Jam sessions for Teens and Young adults with special needs
El Cajon: 6 Thursdays 6-9pm
10/5, 10/12, 10/26, 11/2, 11/9, 12/7
Oceanside: 6 Wednesdays 6-9 pm
9/27, 10/4, 10/18, 11/1, 11/9, 12/13
Point Loma: 6 Wednesdays 6-9 pm
9/20, 10/11, 10/25, 11/8, 11/15, 12/6
Complete online registration and attend all jam sessions. Contact [email protected] or call 619-299-1411
Words Alive
We read to learn, to experience our world, and to advocate for ourselves — quite simply, to live full lives. In this way, literacy is a fundamental skill needed for life success, yet 450,000 San Diego County residents lack basic reading proficiency. At Words Alive, our goal is to change the lives of children and families in our community by fostering a love of reading, ensuring they won't be counted among that number. Join us by volunteering today!
To sign up, please contact Volunteer Coordinator, Christina Meeker ([email protected]).
La Mesa Spring Valley School
La Mesa-Spring Valley Schools is looking for volunteers to support refugee students in Kindergarten through eighth grade. This is a great opportunity to help some of the neediest children in our community. Volunteers will assist students in developing English and provide academic support in their classrooms. Volunteer days and hours are flexible (between 8:00 a.m. and 3:30 p.m.) Volunteer requirements:
Available a minimum of 5 hours/week
Fluent in English (Fluent in Swahili, Somali, or Arabic is also preferred)
Provide a current ID
All volunteers will be fingerprinted
Interested? Please contact Kim Nisson at [email protected] or 619-668-5700 ext. 6357.
Sherman Elementary School: Garden Internship
The Sherman School garden is an oasis where socioeconomically disadvantaged children and their families can learn about gardening, taste real unprocessed food and appreciate the natural environment. About 98% of the school's student body is low income and minority. About 75% of the students are English learners and about 10% of the student body is considered homeless — residing in shelters, unsheltered or doubled up with relatives. Many of the kids live on streets that are unsuitable for playing in and thus the school garden serves a critical role as a positive, safe greenspace where they can explore nature.
The School Garden Intern works with different constituencies to ensure that Sherman Elementary maximizes the educational potential of its garden. Under the direction of the Garden Coordinator, s/he will learn the ins and outs of program planning and operations, fund raising, event planning/execution and nonprofit/volunteer management.
Questions? Download the flier below or call the Garden Coordinator at 858-210-2628
View the Garden Internship flyer
Big Brothers Big Sisters
Big Brothers Big Sisters' focus of one-to-one mentoring has remained unchanged for more than 100 years, developing positive relationships that have a direct and lasting impact on the lives of young people. We're always looking for people eager to positively impact a child and improve their community at the same time.
Men and Spanish-speaking men & women are in high demand.
Ask about the following specialized programs offered to provide a unique focus to better serve our community.
COMMUNITY-BASED MENTORING
Get together 2-4 times a month
Children ages 7-17 years old
Spend time doing activities you both enjoy
Professional ongoing support
SITE-BASED MENTORING
Meet weekly for 1 hour
After school hours at an elementary school, community center, or office
Recreational & educational activities
Professional onsite support
Both programs require a 1 year commitment, if you would like to learn more about either program please contact [email protected] or call 858-536-4900 & someone will direct you to the correct person to give you more information! We look forward to hearing from you.
HiCaliber Horse Rescue
Volunteers can support the organization in many ways. Hands-on opportunities or behind the scenes work - there is something for everyone.
About Us:
Mission Statement: HiCaliber Horse Rescue is dedicated to the protection and rescue of abandoned and abused horses while emphasizing community education, encouraging compassion and supporting responsible owners.
We are committed to supporting owners and the community through education, networking for affordable resources and the establishment of meaningful relationships with local shelters.
The organization was founded by Michelle Cochran, a career Animal Control Officer, and is led by a skilled team of professionals. We believe in the "big picture" mentality and encourage a progressive approach to rescue.
Knowledge encourages responsible horse ownership. We are committed to educating the community on topics of compassionate care, horsemanship, and training. We welcome debate and discussion on tough, often-avoided topics. Educational posts may be found on our Facebook page or on "MC's Memos," our founder's blog.
Alzheimer's San Diego - Companion Volunteer position
The mission at Alzheimer's San Diego is to provide San Diego families with care and support, while advancing critical local research for a cure.
Companion Volunteers provide in-home breaks to caregivers in the form of social visits with their loved one who has Alzheimer's disease. Volunteers do not help with any physical or personal care.

Volunteers spend time with individuals who have dementia to provide:
Companionship - encouraging reminiscing about the past or enjoying a movie together
Socialization - engaging in activities such as games, listening to music or gardening
Supervision - ensuring their safety while their caregiver is absent
Time requirement: Approximately four (4) hours per week, for a minimum of one semester. Scheduling is flexible and there are volunteer placement sites all throughout San Diego County.

Qualifications: Must have excellent people skills, such as being caring and patient. Experience working with persons with dementia a plus, but not required. Training is provided.
For more information, email Adrianna McCollum at [email protected] or apply online here.
Pacific Pointe Active Senior Living
Pacific Pointe Active Senior Living is an all-inclusive resort, designed with the active senior in mind. Residents, community partners and staff members at Pacific Pointe work together to build a strong network of care, support, and fun. We rely on our dedicated volunteers to help enhance the positive and compassionate atmosphere here at Pacific Pointe Senior Living. Pacific Pointe works with all types of volunteers – from students to senior citizens. Volunteers help to organize outings, special events, informative seminars and daily activities, or just spend an afternoon hanging out with our residents. Whether you have a passion that you'd like to bring to Pacific Pointe or a skill that can be used to benefit the lives of our seniors, we'd like to hear from you. Pacific Pointe is happy to welcome community groups, student organizations, and seniors to share their talents and interests with our residents in various volunteer opportunities available at our community. For more information about specific volunteer opportunities, please contact our Activities Director Christina Steele.
Christina Steele: 619-420-8744 or [email protected]
Wheelchair Dancers Organization
IT'S ALL ABOUT DANCING AND HAVING FUN! BALLROOM, LATIN AND HIP HOP DANCE CLASSES FOR ALL AGES, WITH OR WITHOUT LIMITATIONS.
Contact: Carmen Bonilla at [email protected] or 267-847-8153
Website: www.wheelchairdancers.org or Email: [email protected]
View the organizations's flyer here
Housing On Merit
Housing on Merit is a 501(c)(3) nonprofit organization that provides essential services and programs to assist homeless, precariously housed, and low-income individuals and families transform their lives. HOM develops and manages affordable housing and transitional housing that couple facilities management with comprehensive growth and support programs.
We are in search of dedicated volunteers who are interested in providing homework help to students enrolled in our After-School Program. Volunteers are responsible for assisting students with any questions/concerns they have regarding their homework or other school related tasks. Each volunteer assists about 5 students at a time. Our ideal volunteer would be someone who is passionate about opening educational opportunities for marginalized communities.
Visit our website at www.housingonmerit.org
Schedule: Days: Volunteer may select the days they wish to volunteer, so long as they keep a consistent schedule.
Time: 4:30pm-6:00pm

Contact: Beverly Jackson

Email: [email protected]

Phone: 510-952-7915
San Diego History Center
Founded in 1928 as the San Diego Historical Society, the San Diego History Center (SDHC) is one of the oldest and largest historical organizations in California. Located in Balboa Park, SDHC is an invaluable community resource which owns, preserves and makes available to the public: 45 million documents, 2.5 million photo images, 1,500 oral histories, 15,000 regional artifacts, a collection of paintings and sculpture by San Diego Artists and one of the largest collections of historic apparel on the West Coast. SDHC also operates the Junípero Serra Museum, an iconic and historic regional landmark located in Presidio Park.
Our mission and purpose is to tell the diverse story of our region – past, present, and future – educating and enriching our community, preserving our history and fostering civic pride.
Currently, while the History Center has several open volunteer opportunities. I am most focused on recruiting for gallery guides and docents to work with our newest exhibition; Ingenious! The World of Dr. Seuss. This colorful and fantastical exhibition immerses visitors in the world of Dr. Seuss, illuminating him as the world's most beloved children's author and an artist in his own right. The whimsical, fun-filled experience conveys the exuberance and creative genius in Dr. Seuss books and includes family-friendly activities inspired by his underlying themes: Literacy, the Environment, Community. Also featured is original art, particularly inspired by San Diego locales, including rare early works, illustrations and new releases.
History Center Gallery Guides work throughout the Museum's galleries to help visitors answer visitors questions about specific artifacts or exhibits as well as sharing basic information about the museum one on one with visitors. Docents do much of the same work but they are also tasked with leading guided tours through or across exhibitions.
Shifts are certainly flexible within our open hours (10am-5pm) every day of the week but we do ask that they work a minimum of two three(3) hr shifts a month. Full training will be provided!
I hope this opportunity is something you find appropriate for you listings. If you have any questions you may contact me directly [email protected]. All volunteer inquiries should be addressed to Volunteer Manager at [email protected].
HandsOn San Diego
HandsOn San Diego creates opportunities for people to volunteer and lead in their communities. We strive to provide volunteers with a high-quality experience that fuels further action, and we envision a day when everyone is inspired and equipped to be the change they wish to see in the world.
HandsOn San Diego works with local nonprofits, schools and parks to identify group volunteer projects. These projects may be ongoing or one-time. We recruit volunteers and match each project with a trained Team Leader with the goal that everyone involved has a positive experience.

http://www.handsonsandiego.org/
The American Diabetes Association-San Diego
We are currently looking for volunteers both in office and out on the field. In office would require some clerical work like stuffing envelopes, filing, scanning, etc. Out of office would be our health fairs. As a nonprofit we get a lot of requests on a daily basis to attend community events that create and promote awareness. Unfortunately, we more often than not have to decline our attendance due to our small number of available volunteers. Some health fairs are during the week while others are on the weekends so some flexibility would be required and transportation is a must.
Thank you for your time and I look forward to hearing from you soon,
Diana Felix
Specialist, Administrative Support
American Diabetes Association
619-234-9897 Ext.7519
858-824-9429
River Park's Water & Weeds Team
Are you are a student who needs hours as a school requirement?
Don't let the clock run out....consider joining the River Park's Water & Weeds Team!
This team meets this fall every Thursday and Fridays from 8am to 11:30am. Rack up some hours quickly while helping the environment and learning about native plants. To be considered for this program, contact Cindy Collins at [email protected] to learn more.
Volunteer Responsibilities:
Follow direction and safety guidelines.
Arrive on time because the team goes into the field as a group.
Wear out-door work shoes and clothes. Hats and sunblock are recommended.
Bring a minimum of 32oz of water to participate.
Volunteer Requirements:
Must sign a waiver of liability, if under 18 years old a parent or guardian must co-sign.
Able to work outdoors in various weather conditions and along natural terrain.
Ability to carry 40lbs and use basic tools provided.
Reality Changers
Reality Changers is a non-profit organization in the City Heights area of San Diego that has been recognized by United States Secretary of Education as a "model for the country. Graduates of the program have gone on to universities such as Harvard, Dartmouth, Duke, UCLA, UC Berkeley, UCSD, and more! Our mission is to build first-generation college students by providing tutoring, mentoring, scholarships, college application assistance, and other academic supports.
We are currently seeking volunteers to serve as tutors and mentors for inner-city youth (8th-12th grade) who desire to be the first generation in their families to go to college. Choose one program night from 6:00-9:00 pm on Monday, Tuesday, Wednesday, or Thursdays. Volunteers are expected to tutor one night a week for the duration of the academic school year.
If you would like to donate your time to this opportunity, please contact Alice Chen at 617-516-2222 or visit www.realitychangers.org.
Olivewood Gardens and Learning Center –Cooking and Gardening with Kids!
Looking for a volunteer opportunity that's FUN and EDUCATIONAL?
Olivewood Gardens and Learning Center is an organic garden and instructional kitchen that uses hands-on cooking, gardening, and science education to teach students and families about nutrition and environmental stewardship. We provide free classes, field trips, and community events to children and adults from National City and around San Diego County.
We are seeking outgoing and passionate individuals to join our team. Volunteers work directly with elementary school students during lessons, either teaching or supporting Olivewood staff. Internships available.
Also, we like to give our volunteers FREE ORGANIC PRODUCE!
Volunteers are able to schedule 3-hour shifts according to their schedules (most opportunities are on weekdays between 8:30 and 2).
If you would like to donate your time to this opportunity, please contact Ally Welborn at [email protected]. To learn more, please visit OlivewoodGardens.org.
Big Brothers Big Sisters of San Diego County – Volunteer mentors needed!
BIGS IN SCHOOLS IS LOOKING FOR ADULT VOLUNTEERS TO MENTOR CHILDREN IN THE MID-CITY AREA
Bigs (mentor) meet with their Littles (mentee) on a one-to-one basis at schools in City Heights and Normal Heights to play sports, board games, or share mutual interests. Matches meet at the same time each week at a local elementary school.
Bigs in Schools focuses on building friendships, and through those friendships, stronger literacy and social skills are developed. This is not a tutoring program, but rather a chance to build a friendship in a fun environment, while reinforcing the importance of learning. Learn more at www.SDBigs.org
Volunteer Details: Must be at least 18 years old, have a valid social security number and be able to commit for at least a year.
Date: Ongoing
Time: 1 hour / week; 1 year commitment
If you would like to donate your time to this event, please contact Micaela Ortiz at 858.536.4900 x213 or via email at

[email protected]
STAMP (Student Tutoring and Mentoring Program)
STAMP is a volunteer based program that will allow the tutors to engage with students to develop life long skills, develop confidence, and improve learning.In turn, tutors will gain volunteer hours and experience.To fulfill these objectives, volunteers will:Provide help in various core subjects such as in Mathematics, Sciences, History and English to improve their performance, improve test scores, aid in homework, and build confidence.
Requirements: 6 month commitment, 2.5 GPA, Commit 4 hours a week.
For more information, please contact [email protected]
American Cancer Society - Phone Bank
The American Cancer Society is the nationwide, community-based, voluntary health organization dedicated to eliminating cancer as a major health problem by preventing cancer, saving lives, and diminishing suffering from cancer, through research, education, advocacy, and service. We serve those who are diagnosed with cancer, supporters, families and caregivers, and survivors of cancer.
This opportunity is specifically related to Proposition 29, the California Cancer Research Act. We are looking for Fraternities and Sororities who would be interested in coming to participate in voter outreach through phone banking. We provide refreshments, a brief training on the computer system utilized, games/challenges and prizes. Shifts are available Monday-Wednesday 5:30-8:30pm and Sundays during the day. All shifts are held at our office: 2655 Camino del Rio North, Suite 100, San Diego 92108. We can handle a maximum of 20 volunteers at a time.
Volunteer Details
Date: Monday - Wednesday, Sunday
Time: Various Shifts
If you would like to donate your time to this event, please contact Megan Johnson at

[email protected]

.
The Navy-Marine Corps Relief Society (NMCRS)
The Navy-Marine Corps Relief Society is a nonprofit, charitable organization that supports active duty and retired Navy and Marine personnel and their families, in time of need. Last year, we provided more than $48 million of assistance to over 96,000 sailors. We are able to do this through the help of volunteers. Volunteer opportunities include: Caseworkers, Client Services Assistants, Thrift Shop help, Hospital Visitations and Administration.
Volunteer Details
Date: Ongoing
Time: Monday - Friday, 8am - 4pm
Contact: Dory Heesch ([email protected]) and an alternate email is [email protected]. The NMCRS office is located in Bldg. 270, 3115 Dolphin Alley, on the Naval Base San Diego. You can telephone us at 619-767-6800.
Mama's Kitchen - Meal Delivery
At Mama's Kitchen we believe that every person is entitled to the basic necessity of life – nutritious food. As a volunteer driven nonprofit organization, we prepare and deliver food to men, women and children who are affected by AIDS or cancer.
Our volunteers deliver meals to our clients in their homes on Monday, Wednesday and Friday of each week between 3 and 6pm using their own vehicles, gas and insurance. Many of our volunteers choose to deliver meals to the same neighborhood on the same day each week while others prefer to deliver in response to our weekly email identifying our specific needs for the following week. New volunteers are required to attend a one hour volunteer orientation session. Orientation dates and times are listed at www.mamaskitchen.org.
Volunteer Details
Date: Ongoing
Time: Monday, Wednesday and Friday 3-6pm
If you would like to donate your time to this mission, please contact Bill Patten at

[email protected]

.
2-1-1 San Diego - Research and Data
2-1-1 San Diego is a resource and information hub that connects people with community, health and disaster services through a free, 24/7 stigma-free confidential phone service and searchable online database. 2-1-1 serves the entire population of the County.
The Research and Data Center is responsible for data entry, collecting information about community programs and services, and building and maintaining professional working relationships with agencies and community groups
Volunteer Details
Date: Ongoing, 3 month commitment
Time: 2-4 hours per week
If you would like to donate your time or more information, please contact Jocelyn Garcia at

[email protected]

or 858-300-1207.
ElderHelp - Help Maintain a Seniors Independence at Home!
ElderHelp is a non-profit organization helping seniors maintain independence and continue living in their own homes with dignity. Volunteers are a vital component to the organization and help our seniors by providing socialization to reduce isolation and helping with tasks such as: grocery shopping, transportation, light housekeeping, organizing, budgeting, yard maintenance and minor home repairs.
Volunteers either have the opportunity to be matched up one on one with a senior, building a relationship while providing ongoing assistance or meet many new seniors by providing transportation to help them get out and about to medical appointments or social visits.
Volunteer Details
Date: Ongoing - Bi-weekly or weekly visits with seniors to help with ongoing tasks, or pick and choose which rides you would like to give each month that fit into your schedule.
Time: Flexible, based on volunteer's availability.
Requirements:

Must be 18 years of age or older
Attend a Volunteer Orientation (Orientations held approx. every 3 weeks)
Complete a background check and DMV check
Complete a Volunteer Application
One year commitment is required for being matched up one on one with a senior to provide ongoing assistance. 4-6 months is allowed for volunteers who will provide rides through our transportation program only.
If you would like to donate your time to this organization and opportunity, please contact Carrie McClellan at 619-284-9281 Ext. 128 or via email at: [email protected]
Special Olympics San Diego County - Volunteer Coach/Intern
Special Olympics provide sports training and competition opportunities for individuals with intellectual disabilities. We rely on volunteers to serve as head/assistant coaches at our practices, assist with fundraisers and office work, volunteer at our competitions as well as many other opportunities. If you have a skill/talent, we can find a way to plug you in at Special Olympics.
Volunteer Details
Date: Ongoing
Time: Times vary and can be flexible
If you would like to donate your time to this event, please contact Regional Sports Manager, Kelcie Kopf at

[email protected]

or 619-283-6100.
North County Community Services - Volunteer
North County Community Services operates North County's Food Bank, seven preschools for income qualified families, and a garden program to grow food for our preschools. Our preschools are in Oceanside, Vista, and Escondido. North County's Food Bank is located in San Marcos. We have volunteer opportunities in all of these programs and the administrative office. Preschool volunteers may assist in our kitchens preparing meals, in the classroom attending children, or maintaining preschool gardens. Office volunteers may assist with copying, filing, data entry, and other office tasks. Garden volunteers help planting, harvesting, weeding, and watering.
Volunteer Details
volunteers must have a current TB test and be able to pass a background check. All volunteer opportunities need to be scheduled ahead of time, no drop-ins.
Date: Ongoing
Time: Times vary
If you would like to donate your time to this event, please contact Abby Weglarz at 760-471-5483 or

[email protected]

.
Excellence and Justice in Education Academies (EJEA) - Mentors
Excellence and Justice in Education Academies (EJEA) are independent charter schools in the city of El Cajon that are providing high quality educational instruction, academic enrichment services, a nurturing learning environment, and a supportive community to children so they can gain skills, tools, motivation, and self-confidence needed to be the first in their families to graduate from high school, attend college, and pursue their dreams.
Our Vision for Students:
Literacy in multiple languages
High test scores
College ready students
Close the achievement gap
Ethical service to the community
Opportunity and choice in life
Empowered actors for social justice
Requirement for Mentors:
Proof of TB test.
2. Volunteer at least 3 hours per month.
3. Be enrolled in a college/university.
4. Have two referenced that will recommend you as a mentor.
5. Copy of class schedule.
6. Be open to phone calls for checking in with mentees at least 2 times a month.
7. Be able to commit to full school year.
8. Make at least one home visit.
9. Check in with school counselor.
If you would like to become a mentor, please contact Patricia Castaneda at [email protected]
Re Spectrum Community
Re Spectrum Community is a 501c3 Non-Profit operating in San Diego developed to assist and guide families in creating change, both within their immediate families and among the autism community, through therapeutic support and community activities for the whole family. Re Spectrum Community is dedicated to achieving social justice, by way of ReAbling a community of people that may have been rendered disabled, disordered, disconnected or disassociated from their larger communities because of a label or due to a diagnosis of an autism spectrum disorder (ASD).
Re Spectrum Community offers ReCreation programs throughout San Diego which combine ABA methodologies and basic skills training to assist ALL children and members of the family in ReCreating an active, responsible lifestyle. ReCreate opportunities for success, enjoyment & social interaction!
For more information or to donate your time to this opportunity, please contact Morgan Shea at [email protected]
Helen Woodward Animal Center
Located in San Diego, Helen Woodward Animal Center is a unique, private, non-profit organization dedicated to saving the lives of animals and enriching the lives of people. For more than 30 years, our no-kill Center has provided humane care and animal adoption for orphaned animals, as well as animal-centered educational and therapeutic programs for people.
We have events all through out the year where we offer Community Service and Volunteer opportunities to students.
For more information or to donate your time to this opportunity, please contact Laurie Doyle at [email protected].
Alliance for African Assistance - One-Time Projects
For over 20 years, Alliance for African Assistance has worked to provide assistance here in the United States and abroad, to refugees, internally displaced persons, immigrants, those seeking asylum, victims of torture and war, distressed women and children and altogether those suffering from economical hardship.
Today we remain dedicated to providing social, cultural, and educational support to all refugees in the resettlement process. Such assistance includes preparing host families; securing safe and affordable housing, help with rent and transportation, health screenings, enrolling children in school, English language classes and translation services, and job assistance and training. We have successfully resettled more than 8,000 refugees from Somalia, Sudan, Congo, Zimbabwe, Uganda, Ethiopia, Liberia, Eritrea, Vietnam, Iran, Kosovo, Bosnia, Iraq, and Russia.
Volunteer Opportunities include:
Toys for Tots Every Year, the Alliance for African Assistance partners with Toys for Tots to give Refugee children Christmas presents. In order to make this event happen, the Alliance calls on volunteers to exercise their creativity by wrapping gifts for 70 newly resettled kids. 3-4 hours/ once in December
Basics Drive Often, when Refugees arrive to their new places of living, they lack essential supplies, such as toiletries and basic food items. AAA invites volunteers to run Basics Drives to accumulate these necessary items and aid the road to self sufficiency. These Drives can be one-time events or week-long competitions. All products must be newly purchased and sealed properly. Open to volunteer availability.
Mailing Party Twice a year, AAA sends out a comprehensive newsletter, recounting the year's events and updating recipients on new developments. Due to the high volume of those on our mailing list, volunteers aid in folding, stamping, and sorting envelopes to prepare them for sending. 2-3 hours/once
World Refugee Day The Alliance is hosting its annual World Refugee Day event where refugees and community members of San Diego convene to recognize the challenges and milestones involved in resettling. Volunteers will be called upon to help with event planning, ticket sales, and day-of duties. Dependent on volunteer/ at least 3 month commitment desired
Thank-a-thon In the coming months AAA will be hosting a Thank-a-thon in which we will be personally calling donors and thanking them for their wonderful contributions. Without them our work would not be possible and we want to make sure they are aware of how grateful we are. Come help us thank our generous donors! 2-3 hours/once
Volunteer Details: Various dates and times
For more information, please contact the volunteer coordinator at

[email protected]

.
Sharp Grossmont Hospital
Sharp Grossmont Hospital volunteers work in departments throughout the hospital and share their skills to help the hospital fulfill its mission of excellence in patient care and customer service.
All college student applicants must meet the following criteria:
Be at least 18 years old
Minimum GPA of 2.75 w/ proof of Unofficial Transcripts
Complete health screening
College Volunteer expected commitment:
Must commit a minimum of one year (Radiology students excluded)
Volunteer a minimum of 2 shifts per month; each shift is 4 hours
Date: Ongoing
Time: Monday-Friday, 8am – 12pm OR 12pm to 4pm
If you would like to donate your time to this event, please contact the Sharp Grossmont Hospital Volunteer Services Department at:

[email protected]

.
Mainly Mozart - Spotlight Concert Season
Mainly Mozart is a non-profit organization whose mission is to enrich the lives of today's and tomorrow's music lovers by connecting them to the music of Mozart and the Masters. Concerts are offered in several locations in San Diego County and opportunities to attend at low or no cost are offered to performing arts students in these areas.
Interested volunteers can e-mail Constance at ([email protected]) or call (619-239-0100 ext. 310).
San Diego Center for the Blind
The San Diego Center for the Blind provides services for those that are blind or visually impaired, helping them gain independence and self-reliance through the various programs and courses offered. Some of the courses available to clients are: Transitional Counseling, Kitchen Skills, ESL, and Orientation & Mobility, among many others.
Volunteer Details: Volunteers are needed in all areas
Date: Monday, Wednesday, Thursday
Time: 9:30am - 3:30pm
If you would like to donate your time to this event, please contact Loretta Moore at 619-583-1542 or

[email protected]

.
Burn Institute - Smoke Alarm Installations
The Burn Institute is the local nonprofit agency dedicated to reducing the number of burn injuries and deaths in San Diego, Imperial, Riverside and San Bernardino counties through fire and burn prevention education, burn care research and treatment and burn survivor support services.
This is an ongoing project that is a FREE service for Senior Citizens 62 years and older. We provide the smoke alarms, batteries, tools, step-ladder and a route that is mapped out of homes that have requested this service. We determine the number of homes to service on a single day by the number of volunteers that sign up. We have an orientation and a simple how-to demonstration then volunteers partner-up and one volunteer needs to drive their car for each route assigned. Usually 4-8 homes on each route.
Example: 10 volunteers= five routes= twenty-five homes
Volunteer Details: Courteous and friendly volunteers wanted. In return you help reach the community and keep seniors safe in their homes with lifesaving working smoke alarms.
Date: Every Saturday
Time: 8am - 2pm
If you would like to donate your time to this event, please contact Kathleen Frampton at

[email protected]

.
Foster Youth Mentor Program - Mentor
The Foster Youth Mentor Program provides mentors to youth ages 6-18 in the San Diego County Foster Care system. These children are in foster care for a variety of reasons, including abuse and neglect. Because of the disruption in their lives and the loss of support networks, foster youth need caring, supportive adults to guide and role model them. A volunteer mentor can be a significant help for a foster youth by being a consistent person in the child's life.
Volunteer Details: Must be at least 18 years old with clean criminal background and driving record.
Date: Ongoing
Time: 2 hours / week; 1 year commitment
If you would like to donate your time to this event, please contact the FYMP Line at 619-767-5211.
The San Diego River Park Foundation
The San Diego River Park Foundation works to restore the San Diego back to a healthy waterway and creating the San Diego River Park and Trail System. We have a great variety of volunteer opportunities and host up to 12 events each month including river cleanups, community park and gardens programs, water quality monitoring and community based habitat restoration activities. All tools and supplies are provided. Service hours can be verified. Groups of all sizes welcomed with RSVP.
Volunteer Details
Date: Every Weekend and the 1st and 3rd Wednesdays of each month
Time: 9am - 12pm
For a complete list of ways to for you to get involved visit www.volunteerinsandiego.org. If you would like to donate your time to one of these events, please contact Richard Dhu at 619-297-7380 or

[email protected]
Pro Kids - Tutoring
Pro Kids is a nonprofit in San Diego that seeks to challenge and empower underserved youth to excel in life by promoting character development, life skills, and values through education and the game of golf.
Pro Kids is in search of dedicated and committed volunteers who want to make a difference in the lives of underrepresented youth in the City Heights community by tutoring students ages 7-17. Volunteers not only play a vital role in helping students improve academically, but also serve as role models and mentors, and facilitate educational games and activities with students.
Volunteer Details
Date: Ongoing
Time: Monday, Tuesday, Thursday and Friday from 3:00pm - 5:00pm;
Wednesday from 1:30pm - 5:00pm
If you would like to donate your time to this organization, please contact Felipe Salazar at 619-582-7884 x 118 or at

[email protected]

.
San Diego Padres Volunteer Team
The Padres have a group of volunteers that is called the Padres Volunteer Team. The group is made up of numerous community members and some front office staff who go around to events throughout San Diego and volunteer on behalf of the Padres. We have a few fun events coming up, one with Padres Alumni players and one here at the ballpark to raise funds for cancer research, and are hoping to maybe get the word out to students at SDSU. There are also numerous opportunities throughout the baseball season to come to Padres games to either volunteer or enjoy a game. The Padres Volunteer Team is a great opportunity to get involved and be able to give back to the community, but it is also a great way for aspiring sports professionals to maybe get their foot in the door with a major league team!
For more information on how to volunteer, visit: https://www.mlb.com/padres/community/volunteer-team
San Diego Young Artist Music Academy - Support BI-LINGUAL SPANISH/ENGLISH ADMINISTRATIVE ASSISTANT
We are a 501(c)(3) public benefit non-profit California Corporation, dedicated to providing music, math, science education and a community choir for the children and youth of southeast San Diego and surrounding areas.
The SDYAMA Choir is composed up of young men and women ages 5-17 years. They perform regularly around the San Diego area. As a part of the choir, each member is required to take music lessons in addition to singing in the choir.
The SDYAMA program includes both math and science tutoring to further prepare the young men and women for higher learning and personal enrichment.
Volunteer details: Support BI-LINGUAL SPANISH/ ENGLISH ADMINISTRATIVE ASSISTANT:
Office work, translates all media, orientate Hispanic students for class, phone calls to Hispanic speaking students, and tutor Hispanic students in music lessons.
Date: Ongoing
Time: Tuesday - Saturday (flixible)
If you would like to donate your time to support our music program, please contact (George, Robbie Hill or Renea Flenoid) at 619-264-2220 / 619-246-7144 or

[email protected]

.
SAY San Diego / After School Volunteer
SAY San Diego is a local nonprofit organization dedicated to supporting the positive development of young people, their families and communities in San Diego County. SAY's primary services include: delinquency prevention and juvenile diversion, extended day before and after school programs, family support and development, health promotion, community development and collaboration, school readiness and support, child abuse prevention, alcohol, tobacco and drug abuse prevention, and mental health.
Want to have a blast while making a difference? Volunteer with SAY's After School Program today! Volunteers are needed to help with homework time, arts and crafts projects, and activities and recreation. Sharing an interest or talent of your own is also appreciated! Our after school programs operate at various elementary and middle schools throughout San Diego. A 4 month commitment is needed. This is a wonderfully rewarding opportunity!
Volunteer Details
Date: Ongoing, 4 month commitment
Time: Flexible
If you would like to donate your time to this event, please contact Marion Liszkowski, the volunteer coordinator, at [email protected] or at 858-565-4148 ext. 261.
Southern Sudanese Community of San Diego
Southern Sudanese Community is non-profit organization with 501c3 service refugee and immigrant from South Sudan as well as other refugee in area of health , Employment, Education that include after school program tutoring, ESL for adult, and others. Currently we look for volunteers in the following areas in Grant writer, fundraising and marketing, and volunteer coordinator.
We looking for volunteers to help do fundraising for the programs in the community activities
Volunteer Details
Date: Ongoing
Time: Flexible
If you would like to donate your time to this event, please visit our website at www.ssccsd.org.
STAR / PAL - Tutoring
STAR/PAL (Sports Training, Academics, Recreation /Police Athletic League) is a nonprofit organization that offers free educational, athletic, and recreational programs which focus on promoting youth safety, positive life choices, and academic success. STAR/PAL program directors are officers from the San Diego Police & County Probation Departments. These dedicated officers coordinate unique programs for underserved youth, with the assistance of additional law enforcement and community volunteers.
STAR/PAL is looking for volunteers who want to make a difference in the life of a youth. By being a positive role model and helping students reach academic success through tutoring you can make that difference.
Volunteer Details
Date: Ongoing
Time: Monday- Thursday 2:30pm- 6:30pm
If you would like to donate your time to this organization, please contact Aalke Heuvelman at 619-533-5794 or

[email protected]
USS Midway Museum
The Museum is a non-profit organization founded to provide a world class historical, technological, educational, and entertainment facility devoted to America's rich naval aviation heritage. It plays host to thousands of visitors a day, many of them from the surrounding community. After it was first launched and commissioned in 1945, the aircraft carrier USS Midway (CV-41) navigated the globe in the service of freedom for 47 years until it was decommissioned at San Diego in 1992 and retired to Bremerton, Washington.
In 1993, efforts were begun to achieve the vision of Alan Uke to see the USS Midway serving again – this time as a museum. That dream was realized 11 years later when the USS Midway was towed back to San Diego and officially opened on June 7, 2004. Midway volunteers are an integral part of the effort to fulfill the mission of the museum.
Volunteer Details
Ship's Restoration: Revitalizing selected areas of the Midway and transforming compartments and work spaces to authentic representations of "the way life was" aboard Midway are the responsibilities of Ship Restoration. Each area is researched to achieve authenticity and is revitalized accordingly. The museum's restoration volunteer force provides much of this effort, beginning with dirty clean-ups and ending in authentic area restorations and realistic reproductions.
Transcriber: Working with the ship's historian, in the exhibits department, transcribers watch oral history videos (mostly WWII vets interviews) and transcribe the dialogue into a word document on the computer. Completed files will be a valuable resource for researchers and reference, and possible exhibit content.
Exhibit Maintainers: Maintain existing exhibits with specialty techniques and fine detail. Candidates will have good manual dexterity, an ability to climb ship's ladders and an eye for detail.
Date: Daily
Time: Various shifts
If you would like to donate your time to this event, please visit the museum website at www.midway.org to download and complete an application. For more information, please contact Laurie Switzer at 619-398-8222.
Voices for Children - Court Appointed Special Advocates - CASAs
Voices for Children advocates for foster youth through a network of trained volunteers who are empowered by the court to become experts about their case children. By developing a one-on-one relationship with their appointed child they are able to understand their concerns and fears, and in many instances they are the only stable and consistent adult presence in the life of a foster child. Much more than just a mentor, volunteers also make recommendations to the court on the best course of action for the child.
CASAs visit their case child about twice a month and monitor how they are doing in their placement, in school and find out what the child needs. They also gather information from professionals assigned to the case, such as social workers and attorneys. CASAs bring information to the judge on hearing days (about every 6 months) and recommend what they feel is best for the child.
Volunteers must be at least 21, have a valid CADL and be able to pass a background check.
Volunteer Details
Date: Ongoing
Time: 15 hours a month for a minimum of 18 months.
Information Sessions are held monthly. Go to www.speakupnow.org for details and to submit an application. Call 858-598-2235 or e-mail

[email protected]

to become a child advocate today.
If your non-profit organization would like to post a community service opportunity on this site, please fill out the "community service opportunity posting " document on the Forms tab.
Stop by Student Life and Leadership for additional service opportunities!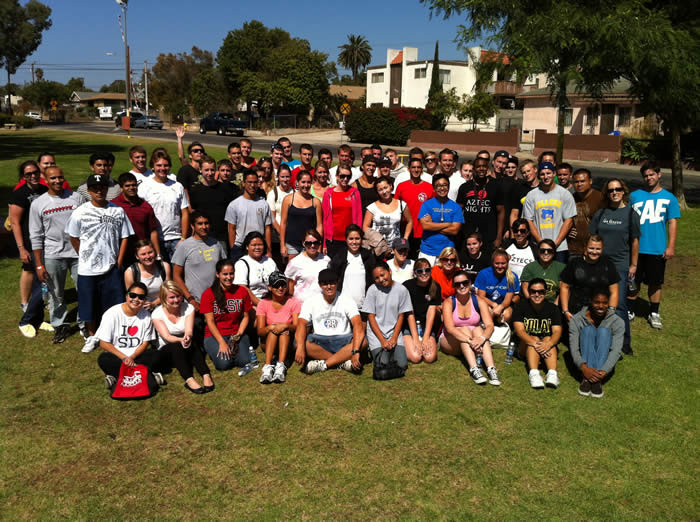 Aztec Nights - National Day of Service
On-Campus Service Opportunities & Resources
Off-Campus Service Opportunities
The non-profit community organizations listed below offer volunteer opportunities throughout the year. Please note that the links provided take you to the community organization's respective website that is not affiliated with SDSU. We are not endorsing these websites, the community organization they represent, or any views expressed within, but simply provide the links as a courtesy for students interested in finding community service and volunteer work.
If you would like to identify your non profit community organization as offering community service/volunteering opportunities, please e-mail the organization's name, website address, contact information, and a description of your organization (including mission and populations served) to [email protected]. All requests are subject to review and approval prior to posting.