What is Aztec Unity Project?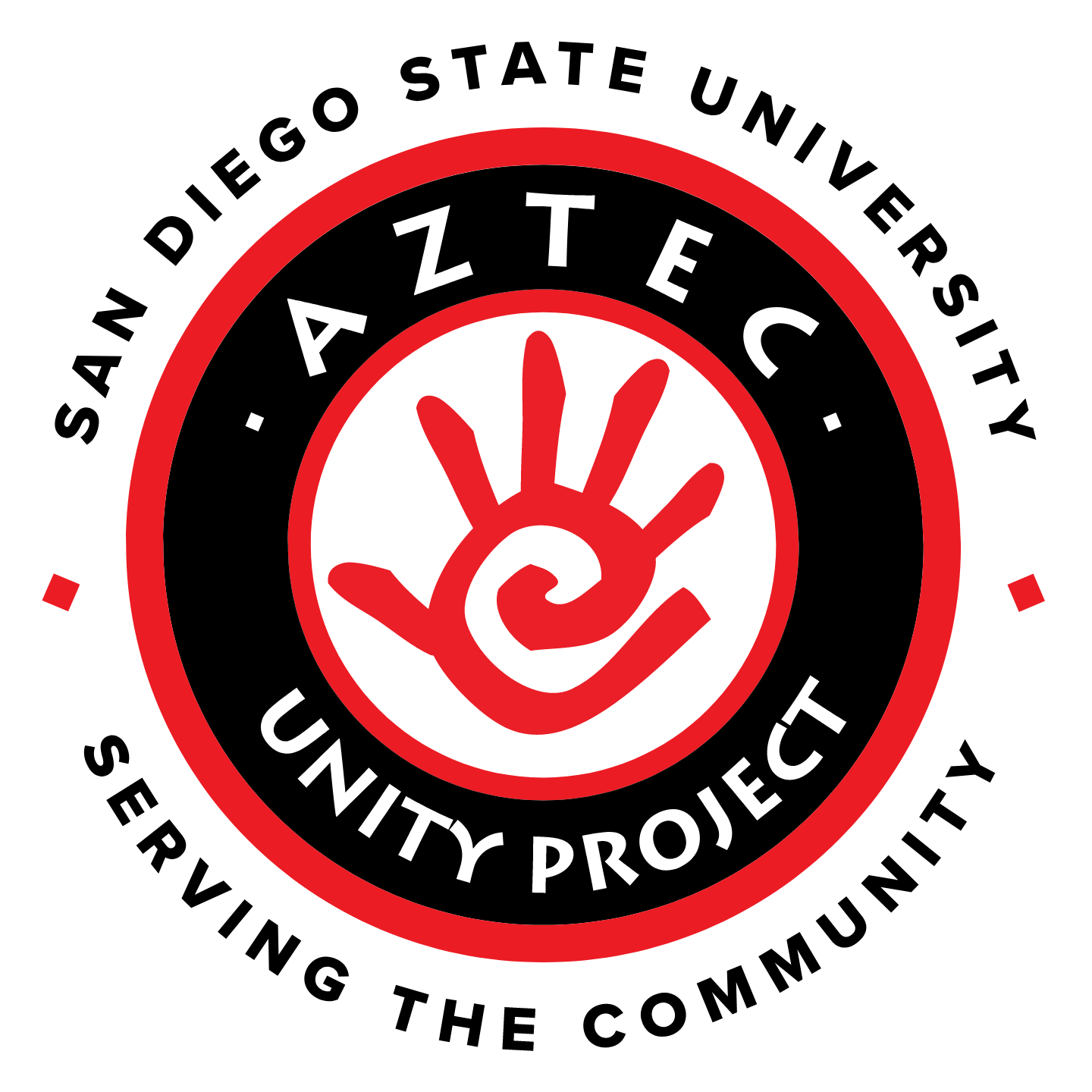 Separate, we are STRONG. United, we are AZTECS.
What: Aztec Unity Project: A two-day service-learning event
Who: YOU, paired with other SDSU student organizations and communities (For example, an academic-related organization, a cultural organization, and a social fraternity.)
Why: To learn about and volunteer for a non-profit organization in San Diego, while networking with your peers.
Day 1: Learn and Reflect (Break the ice – Spark a friendship – Learn about the non-profit organization you'll be working with)
Day 2: Serve and Reflect (Service day – Give your time to a great cause – Have fun while you're at it!)
Take part in something greater than yourself. Strengthen you or your organization by making connections with other organizations on campus. Broaden your horizons, build relationships and help the San Diego community.
Join us for a fall 2023 aztec unity project event!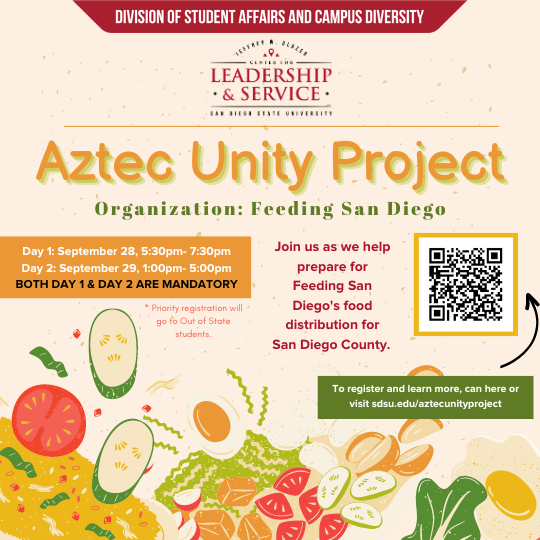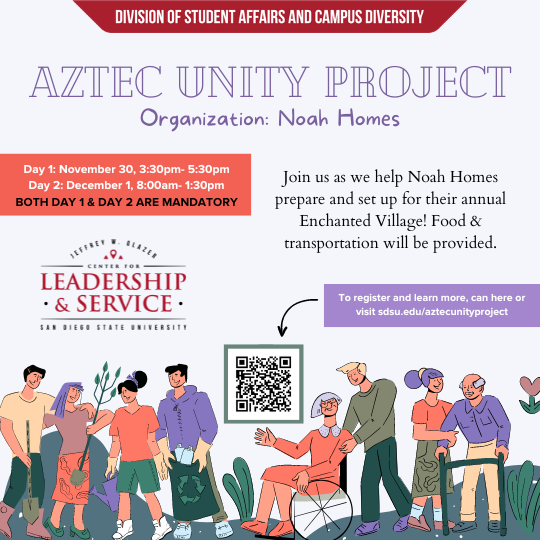 September Aztec Unity Project (priority given to Out of State students): Partnership with Feeding San Diego
November Aztec Unity Project: Partnership with Noah Homes facility for adults with dementia and developmental disabilities
---
Student Testimonial
"Aztec Unity Project is a great opportunity to experience new service events in fun ways. The effort is always rewarding in some shape or form. I feel humbled, knowledgeable, and most of all filled with joy to serve the San Diego community."
"For students who have not been involved yet on campus, Aztec Unity Project is the perfect opportunity to get to know fellow students, network with different organizations, and contribute to our local community all while representing SDSU in such a fun and meaningful way!"
"Aztec Unity Project brought me closer to my peers at SDSU and the San Diego community, in just one event. It opened my eyes to the complexity of issues in our community."
"Participating in Aztec Unity Project opened my eyes to many of the societal issues in our community. It makes me want to serve more and give back to the community that has given me so much."
"Aztec Unity Project helped me get more involved in the community and really sparked my love of community service. I walk away every time feeling happy and inspired."
"This was a great way for me to get to know some of my peers, help the community, and work on my own goals and values."
"I was able to connect with other students and build relationships with my fellow peers who love to serve! Participating in this service learning experience increased my awareness of different communities and my love for giving back."
"Aztec Unity Project allowed me to connect with people in my community that I never would have without this opportunity. Whether it be the population that we served or my fellow Aztecs, I believe each connection I made was valuable."
"Aztec Unity Project allowed me to leave a legacy of love and service. It broadened my horizons through helping various populations and making a positive impact on the community."
"Aztec Unity Project was such a rewarding experience - a few hours of my own time had the opportunity to make real change in someone else's!"
Past Projects and Participants!
Special Olympics Southern California - Delta Sigma Theta Sorority, Inc., Vice President for Student Affairs Leadership scholars, students in the SDSU Doctor of Physical Therapy program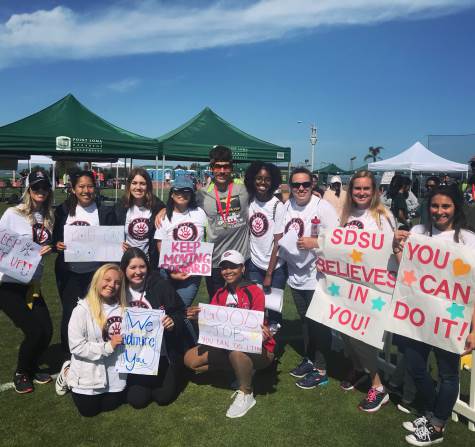 The Boys and Girls Club of Greater San Diego - Campus Curlz, Society for Human Resources, Alpha Gamma Delta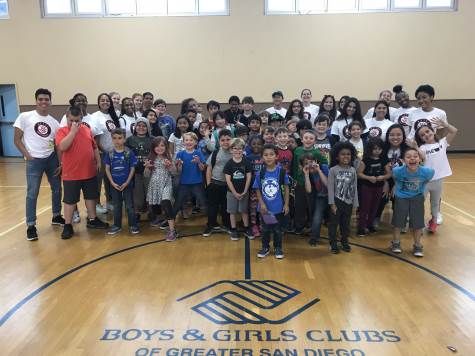 The Magic Horse Therapeutic Riding Center - Peer Leadership Consultants, Aztec Music Group, Kappa Alpha Theta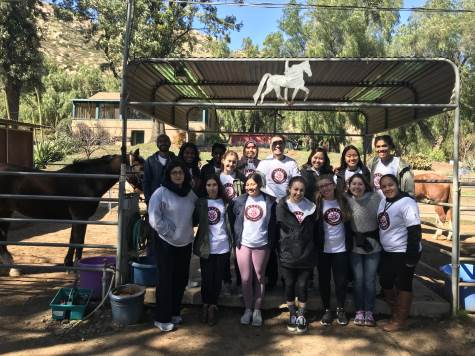 Wild Willow Farm & Education Center - Alpha Gamma Delta, Gen S 280, American Language Institute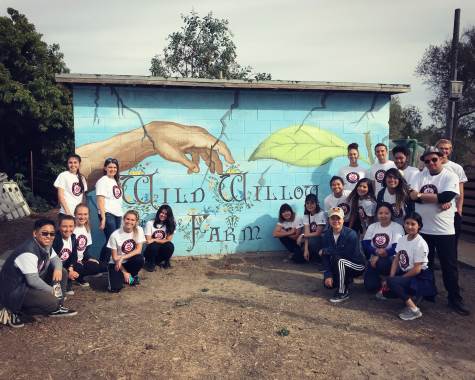 Project: St. Vincent de Paul Village - Homecoming Court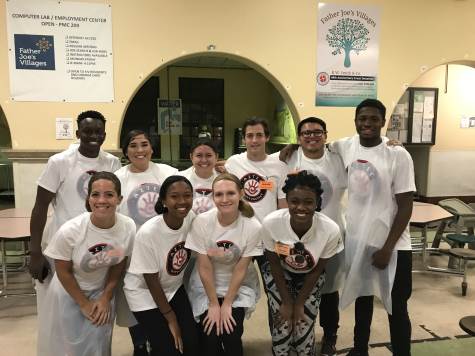 Noah Homes - Alpha Gamma Delta sorority, Aztec Dance Marathon, American Marketing Association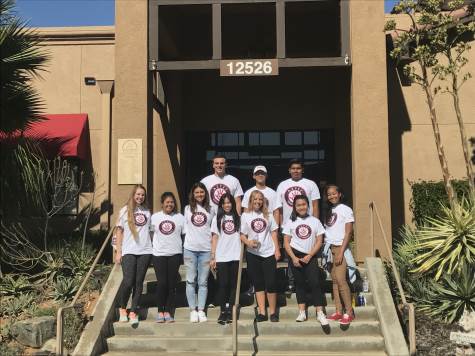 A Reason to Survive (A.R.T.S.) - Gates to Success, Gamma Rho Lambda, American Language Institute, Black Student Science Organization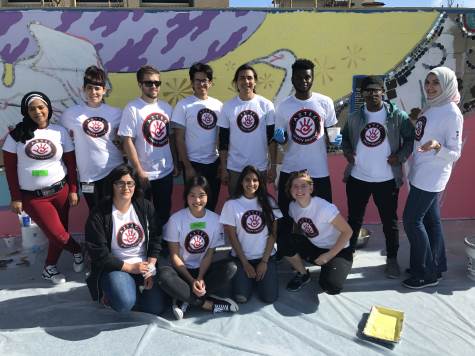 Habitat for Humanity ReStore- Aztec CORE, American Language Institute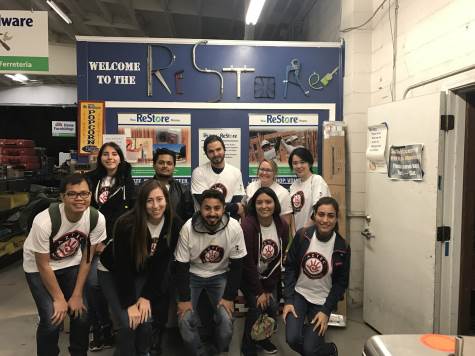 The Glenner Memory Care Center - Student Veteran Organization and American Language Institute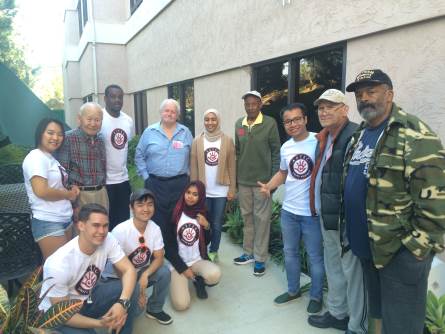 Feeding America San Diego food bank - American Language Institute, Phi Gamma Delta, Gates to Success, PsyClub and EOP Student Advisory Board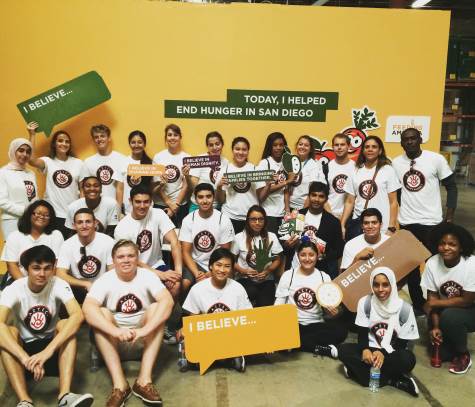 10th Annual Surf Dog Surf A Thon, Helen Woodward Animal Center - Air Force ROTC - Arnold Air Society, Surfing and Sustainability Residence Hall Floor, Peer Leadership Consultants