Finding the Group for You
Social life and good friends are an important part of a successful college experience, and many worthwhile groups offer fun, involvement, acceptance by peers, self improvement and the opportunity to make a positive difference. Any active student involved in student groups or volunteering in the community can attest to the learning acquired and the satisfaction experienced through involvement. By combining the skills you develop through student organization involvement and the knowledge gained in the classroom, you will be much better prepared for life after college. Whether you wish to explore a new activity, widen your circle of friends or promote a cause, there is a student organization at San Diego State University to suit your needs.

Here are some things to consider:
Begin with what's important to you.
Ask yourself...
Do I primarily want to make new friends?
Do I want to work on something I believe in?
Do I want to explore something new?
Are there new skills and abilities I'd like to gain?
Do I want to be in a group that relates to my major or career?
Do I want a real break from academics?
Do I want to be of service to the campus or community?
How much time do I have for an organization?
Use the Resources available to you.
Student Life and Leadership Student Organization Website: studentaffairs.sdsu.edu/sll/studentorgs
Friends, family, classmates
Faculty and Staff
Residence Advisors
What Types of Groups are there?
SDSU has many student organization categories
Getting Started: Questions to Ask When Joining an Organization
How often does the organization meet?
What are the expectations of members? Can I join other organizations while I am a member?
Is there a membership fee? If so, are there payment options available?
What opportunities exist for me to hold a leadership position? Can new members hold membership positions?
What activities does the organization plan?
What made you join this organization?
What do you do to have fun?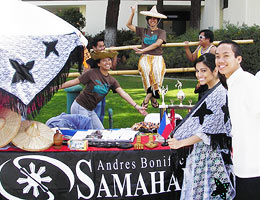 Remember that student organizations want new members and are very eager to answer your questions and explain their activities and purposes. Most groups have some sort of "get acquainted" meeting at the beginning of each term. These are open to any interested student. It's a chance for you to get more information and for the group to learn of your interest.
If you miss the initial informational meeting or learn about a group during the year, get in touch with a contact person and ask when the next meeting is. Organization contacts are listed on the website mentioned on the first page of this handout. Some organizations, such as honors societies, fraternities, sororities, etc. have selected memberships, so be sure to find out the particular requirements in these cases. If you find an organization that seems to be a good fit, join.
Once you've joined, introduce yourself to people, ask questions, express ideas and volunteer your time and energy. You'll feel like a real member of the group when you are a contributing member.
Benefits of Involvement in a Student Organization
Eases the transition from high school to college or from one college to another.
Helps you make friends and meet people with similar interests.
Involved students are more likely to graduate.
Involved students feel more connected to the university, the campus, and are more familiar with the resources provided by the university.
Involved students report higher levels of satisfaction with their college experience.
Being involved encourages and advances your intellectual, cultural, spiritual and social development.
You will gain knowledge, skills and experience in leadership, communication, problem-solving, group development and management, budgeting and finance, presentation and public speaking and much more!
Keeps you aware of what is happening on campus.
Helps build your resume with extra-curricular activities.
Need more help deciding on a group? Come visit us in Student Life & Leadership, in the Conrad Prebys Aztec Student Union, Suite 210 (2nd floor of the Union). We look forward to meeting you!