Greek Accreditation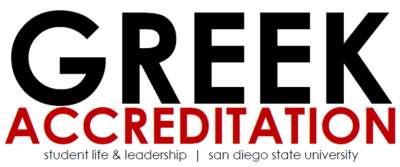 Overview
The Greek Accreditation program at San Diego State University was implemented at the beginning of Fall 2012. Since then, the program has evolved to better assist chapters, councils and the entire Greek community in an effort to uphold standards and enact the values of Fraternity & Sorority Life at SDSU.
We believe the experiences members will have participating in Greek Accreditation will develop a variety of different skills and broaden their knowledge - ultimately giving them a more well-rounded Greek experience while at SDSU!
During summer 2015, the program was reviewed and revised to include additional categories, streamline the organization of the program and improve the process for documentation. Additional updates have occurred each summer since.
Information Sessions
Chapters may request Greek Accreditation workshops to further explain the Greek Accreditation program to those the chapter has assigned the responsibility of compiling Greek Accreditation reports. To request a Greek Accreditation workshop, email the FSL Advisory Team at [email protected] with the subject line "Greek Accreditation Workshop Request."
Greek Accreditation focuses on eight key areas of Fraternity & Sorority Life, which we espouse as our Greek community's values! Efforts and experiences are all directly aligned with the following areas:
| | |
| --- | --- |
| Academic Achievement | Community Wellness |
| Alumni & Family Relations | Diversity Education & Inclusion |
| Chapter Management | Leadership Education & Development |
| Community Relations | Philanthropy & Service |
2021-2022 Greek Accreditation Expectations
We recognize that the COVID-19 pandemic has impacted the opportunities for programming and event participation for our chapters. To this end and in light of the changes to the fraternity and sorority experience at San Diego State University, the Fraternity & Sorority Life Advisory Team has made modifications to the 2021-2022 Greek Accreditation packet which allows chapter members to participate in both in-person and virtual events. We believe that the Greek Accreditation packet provides the Fraternity & Sorority Life Advisory Team additional insight of how each chapter is providing support to their respective members and provides us the opportunity to continue to share the positive impact that affiliation with a social fraternity and sorority can provide to an individual.
2021-2022 SDSU FSL Greek Accreditation Packet
Accreditation Resources
Fall 2021 Greek Accreditation Evaluation Scorecard Template

Created during the Fall 2021 semester, this evaluation scorecard will help the chapter's Greek Accreditation Committee ensure that each section of each values is addressed in order to acquire the desired designation for each FSL value.

Greek Accreditation Google Slide Template

Expanded during the Fall 2021 semester, this template now includes every Greek Accreditation value expectation so that chapters are able to make a copy of the template and fill in accordingly. Note: The chapter must place their copy of the template in their chapter's Greek Accreditation Google Folder.
Due Dates
All documentation must be submitted/saved no later than the deadlines listed below for the current academic year:
Fall 2021 - 11:59 pm Sunday, December 5, 2021
Spring 2022 - 11:59 pm Sunday, May 1, 2022
Highlights & Trends
All chapters are expected to participate in Greek Accreditation which is evaluated at the end of each fall and spring semester.
Greek Community Reports & Trends
2017 - Current
SDSU FSL Community Comprehensive Greek Accreditation Community Scorecard
2017-18
2017-18 Greek Accreditation Results
2016-17
2016-17 Greek Accreditation Results Overview
2016-17 Greek Accreditation by Council
2015-16
Chapter Accreditation Chairs
Greek Life recommends designating at least 2 individual chapter members to be in charge of Greek Accreditation.
It is highly recommended that chapter accreditation chairs learn about the program, documentation, best practices, and more by attending an Information Session! Details are at left on this webpage.
NOTE: Attendance to at least 1 Information Session is required if the chapter received "Not Accredited" on their accreditation evaluation report from previous semester.
Efforts & Experiences
All chapters in the Greek community participate in Greek Accreditation to varying degrees! Chapters are expected to meet "Accredited" status, however, some chapters may be in "Achieving" or even "Excelling"!
Chapters should appropriately challenge themselves! The updated Greek Accreditation 2019-2020 Overview document outlines what efforts and experiences it takes to reach each level. Additionally, the Greek Accreditation Evaluation Score Bell Curve provides an visual on how a chapter's overall cumulative score places them in the following accreditation levels:
Not Accredited (-8 points to 3 points)
Goal: Accredited (4 points to 12 points)
Goal: Achieving (13 points to 19 points)
Goal: Excelling (20 points to 24 points)
Documentation
Each effort and experience has proper documentation that must be submitted or compiled in order for the chapter to earn credit. Documentation corresponding to each effort and experience will be outlined in the Greek Accreditation Overview. Additionally, the following are templates that are required to be utilized for proper documentation, as applicable.
"Google Form" documentation are listed below. If multiple of the same form are submitted for a chapter and only one form submission is required, the form dated most recent will be used to evaluate.
*To be completed by chapter alumni/ae and faculty/staff advisors.