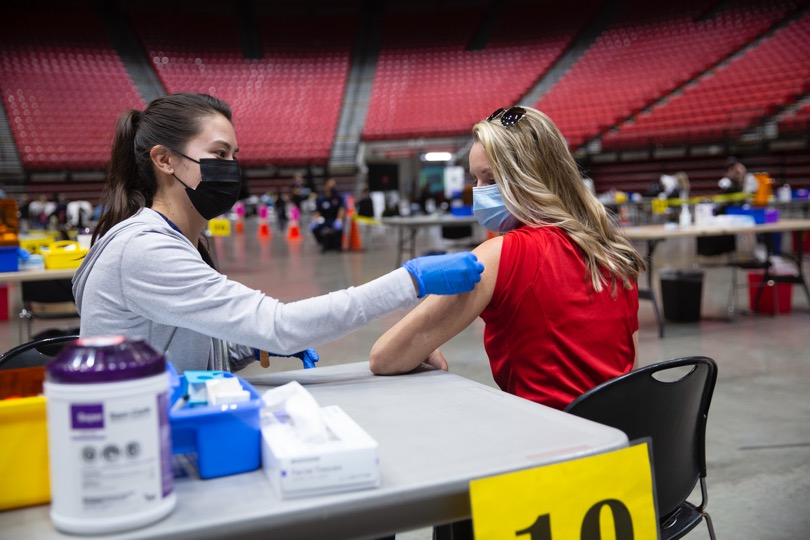 "The California State University (CSU) is committed to the protection of health and wellness of all students. To comply with this overarching goal, CSU campuses implement procedures to ensure that students are educated about and receive immunizations to prevent potentially serious and contagious diseases."
(CSU Executive Order 803, supplemental attachment)
CSU Vaccination Requirement

On July 27, the California State University (CSU) system announced that the COVID-19 vaccine will be required for students, faculty, and staff, including auxiliary employees in order to access campus this fall. As outlined by the CSU, this requirement is not contingent on the full U.S. Food and Drug Administration (FDA) approval, and therefore removes some of the earlier uncertainty regarding the policy's effective date. This is an update to the CSU's April 22 announcement.
Students and all non-represented faculty and staff, including auxiliary employees, must submit their completed vaccination documentation to HealtheConnect, the university secure online health portal, by the deadline of Monday Aug. 16. Please note: This is a different process than the self-attestation form, which most faculty and staff have already completed.
An individual is considered fully vaccinated two weeks after their second dose of a two-shot vaccine or two weeks after the first dose of a single-shot vaccine.
Members of the SDSU community with an approved medical or religious exemption on file with the university will be required to complete regular COVID-19 testing.
Additional information and guidance was shared via SDSU email with students, faculty, and staff.
What's Happening
deadline to submit proof of immunizations
Fall 2021 students must submit immunizations by August 16 to avoid a hold on their Spring Registration.
Registration Holds
Students who are not compliant with the COVID-19 vaccine requirement may be disenrolled from their Fall courses.