COVID-19 Vaccination Submission Instructions

1. Log into healtheconnect.sdsu.edu using your SDSU logon information. If you have not already registered for DUO multifactor authentication, you will need to do so.
2. Once logged in, click on the Immunization tab.

3. Click on COVID-19 Vaccine and you will see a drop-down of the approved COVID vaccines. Enter
the dates of your vaccine(s). Then click Submit.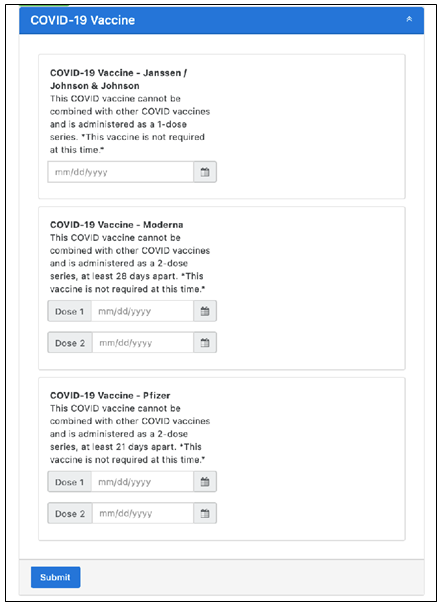 4. Go to the Upload tab to submit your proof of vaccination. For the next step, you will need to have a
photo of your vaccine card.

5. Select COVID-19 Vaccination Card and Select File.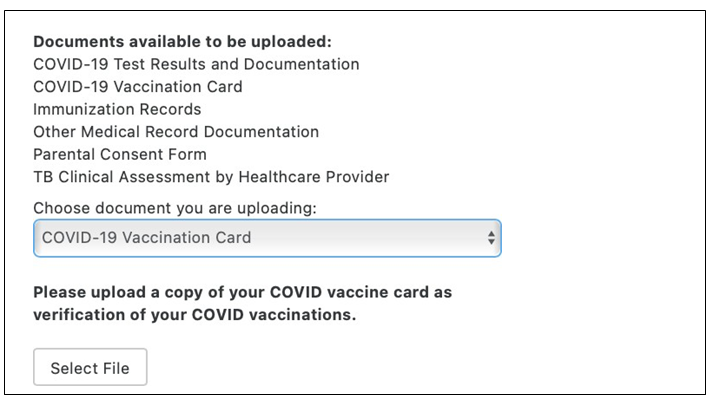 6. Browse to select the photo of your COVID-19 vaccine card. Then click Upload. **Be sure that your
file name does not have any special characters. Images must be: .gif, .png, .tiff, .tif, .jpg, or .jpeg
files and smaller than 4MB.

7. You will know your card has successfully uploaded when you see it listed under Documents already on
file.

You can upload multiple files if needed by repeating these instructions.
You are welcome to upload documentation of your first dose right away after you receive it and upload your
second dose three to four weeks later when it is completed.