Pride week at SDSU
In honor of Pride Month in San Diego, The Pride Center is excited to host a week of programs from July 10th to July 14th leading up to the San Diego Pride Parade on July 15. We invite students, faculty, staff, community members, and alumni to join us in the upcoming celebration of San Diego Pride. Click the (map) link to see the location. Mark your calendars!
Gender Affirming Clothing Swap
Location: The Aztec Green (map)
Looking for an ethical and sustainable way of recycling lovingly used clothes? Join The Pride Center at The Aztec Green on July 10, 2023 from 12:30pm-2:00pm for a clothing swap If you are willing and able, bring clothes to share with others. You do not need to bring anything to take anything.
Rainbow Garden Party
Location: SDSU Turtle Pond (map)
Meet us at SDSU Turtle Pond (near Scripps Cottage) for a colorful and fun afternoon in the sun. Bring your own lunch and a blanket if you would like, and we will provide backyard games for a queer joy celebration.
Flag Raising Ceremony
Location: Goldberg Courtyard (map)
Crafting & Community
Location: Storm Hall West Patio (map)
Join The Pride Center at Storm Hall West Patio as we center play through 2SLGBTQIA+ pride-themed crafts, self-expression, and community reflection.
Tie-Dye & Pride
Location: The Pride Center Patio (map)
In collaboration with the
Pride Employee Resource Group
, come to The Pride Center Patio for tie-dye. Bring your own items to dye or select from our assortment of clothing and bags, while supplies last.
San Diego Pride Parade SDSU Contingent
Meeting Location TBD
Parade Route - Hillcrest to Balboa Park (1.5 miles)
The San Diego Pride Parade will take place on Saturday, July 15, 2023 and SDSU will once again have a contingent in the parade. See below for details on signing up for SDSU's contingent. The exact meeting location will be communicated via email to registered participants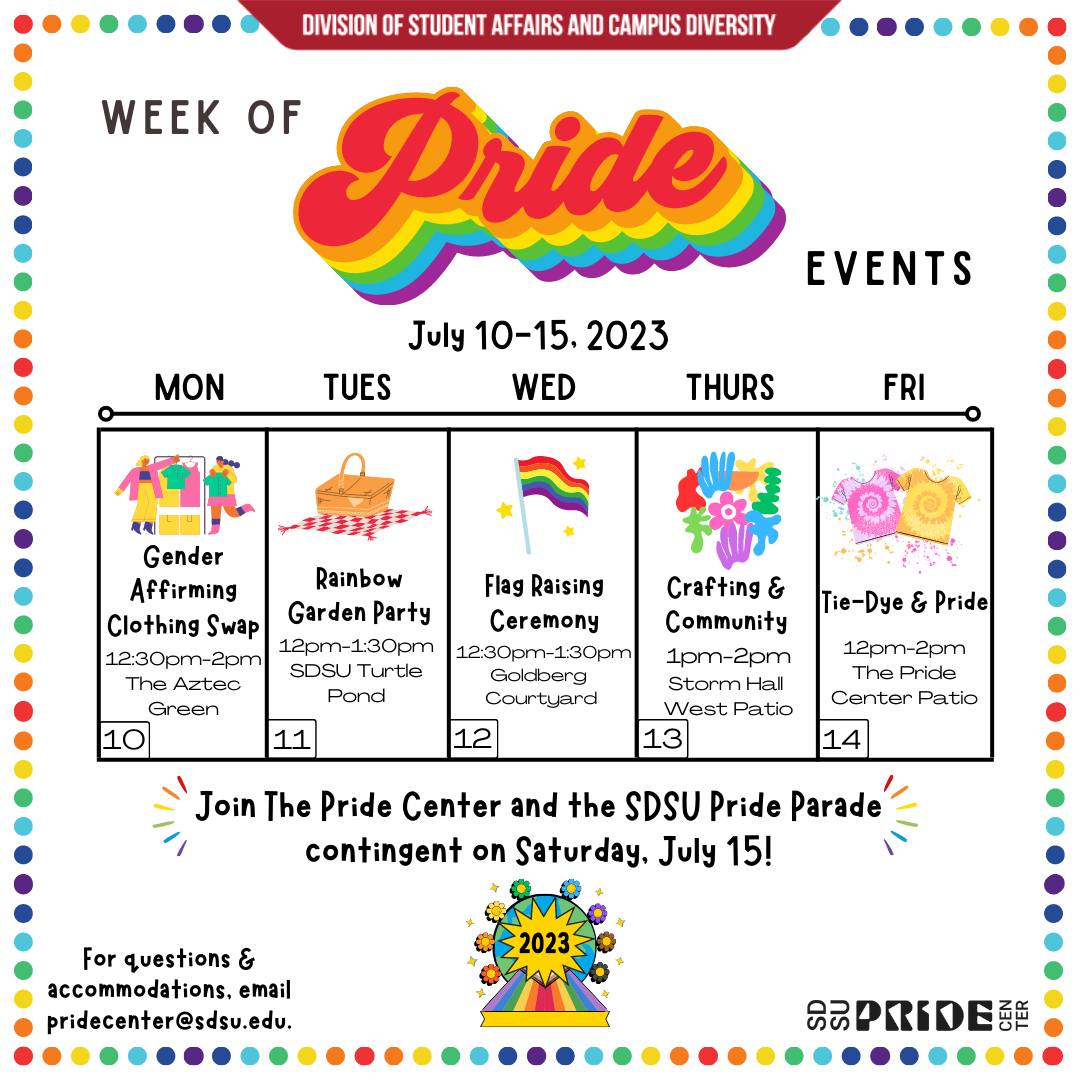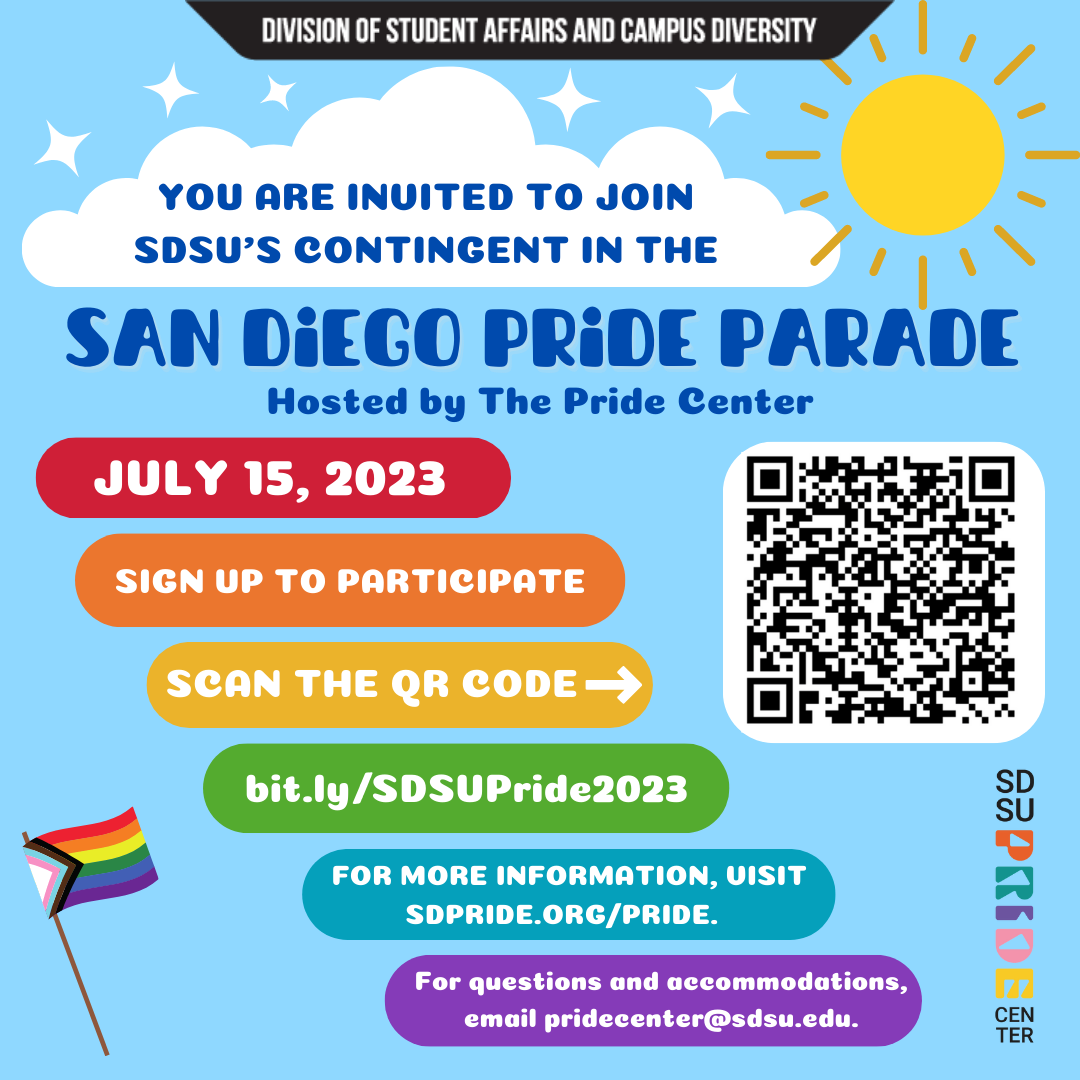 San Diego Pride Parade: SDSU Contingent
The Pride Center is excited for another year of participation in San Diego's annual Pride Parade on Saturday, July 15th, 2023. The theme for this year's event is Thrive, all about uplifting one another and demanding change for the 2SLGBTQIA+ community to expand and take up space.
Participating in the contingent involves meeting at the parade setup location in Hillcrest and walking or moving in another way along the 1.5 miles of the parade route with our contingent, ending at the festival in Balboa Park. If you are interested in participating with SDSU's contingent in this year's parade, you must fill out the Google Form by scanning the QR code or through the link bit.ly/SDSUPride2023. More details, such as exact meeting times and location, will be communicated via email to those who sign up through the Google Form once it is closer to the event and we receive more information from the parade organizers. For questions and accommodations about SDSU's contingent, email [email protected].
For more information about the community events for San Diego Pride, including SD Pride's accessibilty accommodations, visit the San Diego Pride website.