About Us
The Women's Resource Center at San Diego State University strives to provide a vibrant, brave, and inclusive space that educates, empowers, and advocates for womxn's rights. The Women's Resource Center (WRC) career staff and student leaders engage students in discourse and programs that help create a campus culture rooted in gender justice. The WRC team provides students with the tools and resources necessary to cultivate feminist leadership. The WRC partners and collaborates with faculty, staff, alumni, and community members, linking San Diego State University with the larger San Diego community. The WRC provides support to students facing gender-based oppression by creating an environment that fosters healing, intersectional feminist activism, and enhancement to students' academic, personal, and professional success.
Academic and Professional Success
Community Connections and Relationships
Identity Exploration
Leadership Development
Social Justice
The Women's Resource Center at San Diego State was established in 1974 by a coalition of womxn's organizations on campus. Intended to serve as a link between the campus and the larger San Diego community, the Center offered a variety of programs and services for womxn students, including lectures, films, and workshops on topics such as career building, nutrition, entrepreneurship, and family issues. It also served as a resource and referral center, connecting womxn students with health clinics, support organizations, help centers, bookstores, legal services, and cultural programs. Informal peer counseling and referral counseling was available for students in need on a regularly scheduled basis. The Center maintained a small library of materials written by and for womxn, as well as consulting files of pamphlets, brochures, and flyers from a variety of organizations for womxn. Funded by the Associated Students, the Center had a small paid staff, as well as interns and volunteers. In addition to a film festival for womxn, the Center ran an annual Womxn's Health Fair and Take Back the Night events, and coordinated a standing Rape Task Force on campus.
After a period of dormancy, the Center was reinvigorated and became the Andrea O'Donnell Womxn's Outreach Association (WOA) in honor of a Women's Studies major and Center student leader who was murdered by her boyfriend in 1995.
In July of 2014, a state audit found that SDSU faculty and staff were not properly trained to address sexual violence. Shortly thereafter, several high profile sexual violence cases took place on and near the SDSU campus. In response to this, WOA coordinated a march in protest of intimate partner violence. During the march, students walked down "fraternity row," where a fraternity acted inappropriately and disrespectfully toward the marchers. As a result of these incidents, "Concerned Students of SDSU Members" presented a list of demands that included the opening of a Women's Resource Center, and providing ongoing support, funding, and staffing to sexual violence programs. In 2015, the WRC opened and was temporarily housed in the Center for Intercultural Relations. In February of 2015, the WRC had its official grand opening!
Today, we are thrilled to honor the legacy of the WRC, and the students who worked hard to create a campus where womxn and marginalized folks could thrive.

Meet Our Staff
Elzbeth received a BA in Ethnic Studies from UC San Diego, and an MA in Postsecondary Educational Leadership with a Specialization in Student Affairs from SDSU. She began working at the WRC in 2017, and is honored to continue being a part of such an empowering, loving, and resilient space. Outside of her work at the WRC, Elzbeth is also a part of the SDSU Latina Network, and she has the privilege of being their Director of Recording. She is most passionate about intersectionality, mental health, body politics, and feminist mentorship. On a personal note, Elzbeth adores hamsters, inspirational quotes, and iced coffee.
Amanda Beardsley received her Ph.D. in Art History from Binghamton University in 2019 and is a lecturer in Women's Studies at San Diego State University. She has taught courses and written on the intersection between science and religion, feminist media theory and history, community activism, art history, and gender and sound studies. She has recently published articles in Technology and Culture and Nineteenth Century Studies that address the gendered implications of architectural acoustics and visual media within American religion. Amanda is a fan of cats, sci-fi, and the beach.
Celeste grew up in San Dimas, CA and got her Bachelor's from Cal Poly Pomona in 2017. During her time in undergrad she was involved in various student organizations, especially Pilipinx- and Latinx-led affinity groups. She is a proud queer, Mexipina, first-generation daughter of immigrants who recently graduated with her Master's in Higher Education from UNC Greensboro. In her free time she likes to bullet journal at her local coffee shop and spend quality time with her friends, often over a meal. Celeste is so happy to be back in her home state to take on her new role at the WRC.
Daniela was born in Guatemala & is very proud of her chapína culture. She later moved to Los Angeles & has also lived in Houston. She recently graduated from SDSU with a BA in International Security & Conflict Resolution. She loves swimming in the ocean, cuddling with her kitten Mariposa, & taking care of her many plants at home. She's passionate about social justice, intersectional feminism, & serving underrepresented immigrants & communities.
Meet our Graduate Assistants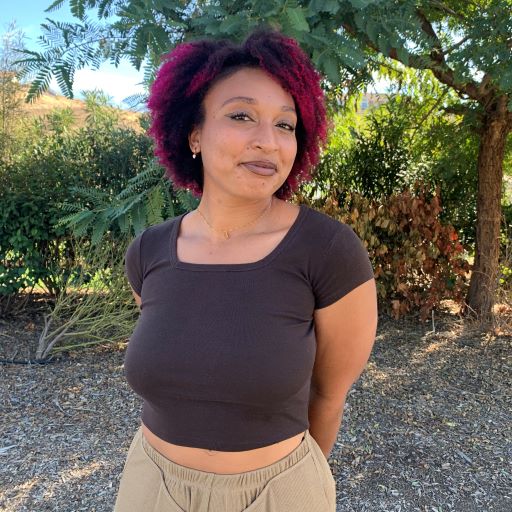 Da'Vie Guzman
Graduate Assistant: Women and Gender Equity Lead
Pronouns: She/Her
Da'Vie is a second year Women's and Gender Studies M.A student at SDSU. She is certified as a yoga instructor and received her RYT 200 in hot vinyasa yoga. She enjoys how yoga can be used as a healing methodology for Black women. She also loves astrology (leo sun, capricorn moon, and libra ascendant), music, roller skating, attending concerts, going to the beach, and creating fun memories with her family and friends.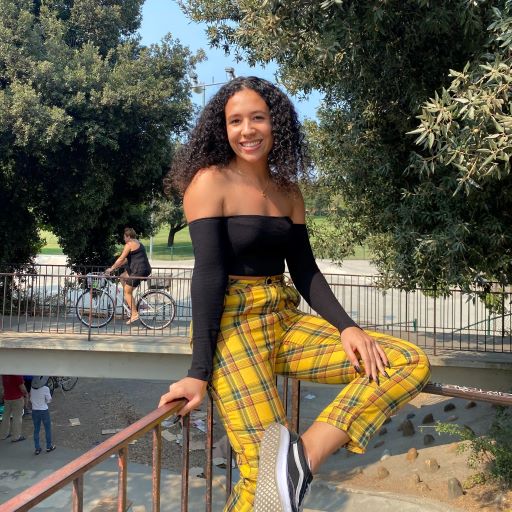 Flo Oliviera
Graduate Assistant: Brave Project Lead
Pronouns: They/Them
Flo Oliveira is a 2nd-year graduate student in the Marriage and Family Therapy program here at SDSU. They received their B.A in Gender, Sexuality, and Women's Studies and a Minor in Chicanx Studies from the University of California, Davis. Their coursework and experience at the University of California, Davis, provided them with the knowledge and framework to now incorporate their passion for sex education into their role at the WRC and their future sex therapist role.
Meet our Feminist Peer Educators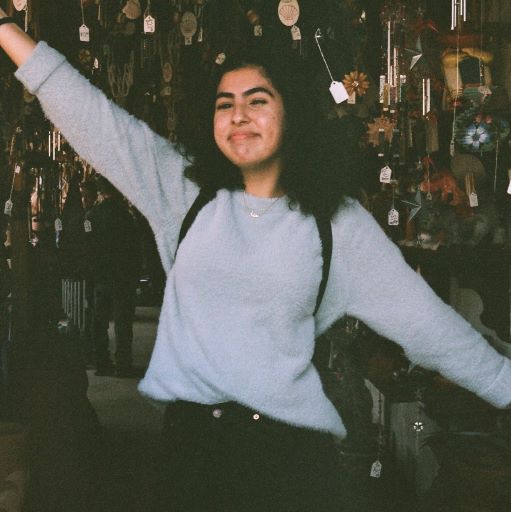 Hennah Atebar
Fellows Lead
Pronouns: They/She
Hennah is a 4th year Psychology and Sociology double major. They are a proud first generation Muslim Afghan American, with a strong passion for decolonization, anti white supremacy/imperialism, and community building. This is their 2nd year working at the WRC and they are very grateful to be able to continue to learn and grow in such a warm and loving space. As Fellows Coordinator, she hopes to help others on their feminist journeys. She loves laughter, friendship, her family, her cats, picnics, eating food other people made, and sunsets.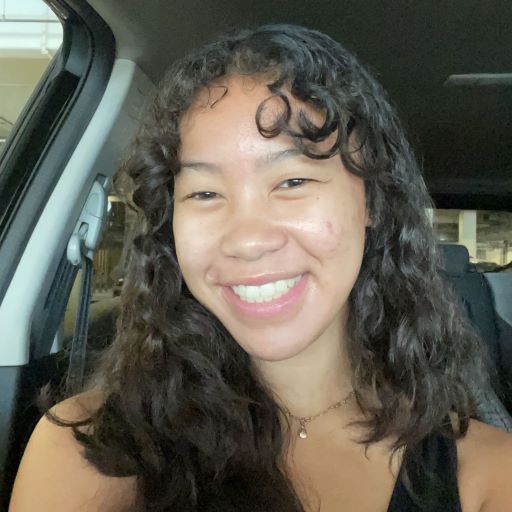 Kitiara Cox
Volunteer Lead
Pronouns: She/Her
Kitiara is a third-year Health Communication major with a minor in Public Health from San Diego. Some of Kitiara's passions include reproductive justice, racial justice, addressing health disparities, and applying an intersectional lens to feminism. In the future, she hopes to be working in the healthcare field through health promotion and education. During her free time, she loves going shopping, going to the beach, eating at new restaurants, and exploring new places.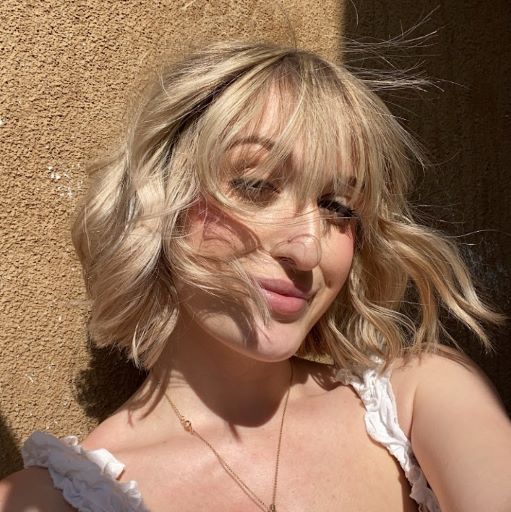 Peyton Antil
Social Media Lead
Pronouns: She/Her
Peyton is a fourth-year Film and Television Critical Studies major with a minor in Digital and Social Media Studies. Last Spring, she was a WRC Fellow and organized her passion project on the topic of Sexual Violence on College Campuses. She is a lifelong feminist passionate about reproductive justice, voting rights, portrayals of women and femmes in the media, and sexual violence prevention. In her free time, Peyton loves to roller-skate, go to concerts, read Tarot, and watch Buffy the Vampire Slayer.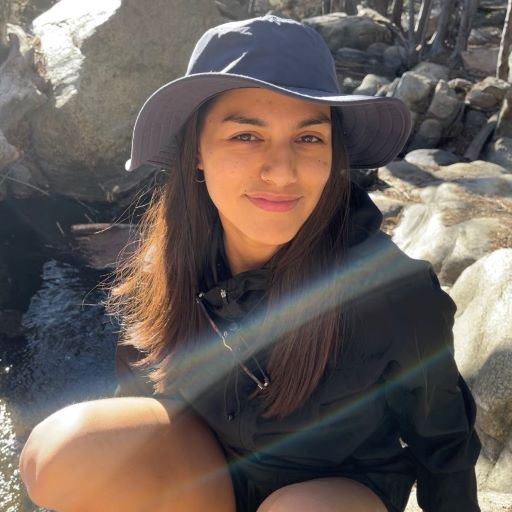 Valeria Bravo Garcia
Pregnant and Parenting Student Intiative Lead
Pronouns: She/They/Ella
Valeria is a Psychology major student who centers her studies and her work around sexual freedom of expression and sexual health for LGBTQ+ communities, as well as communities of color. She wishes to introduce a complete and comprehensive sexual education to children and young people as a revolutionary way of breaking cycles of generational trauma. She is in love with traveling, being surrounded by nature, and enjoys quality time with her loved ones.
Meet our WAGE Mentors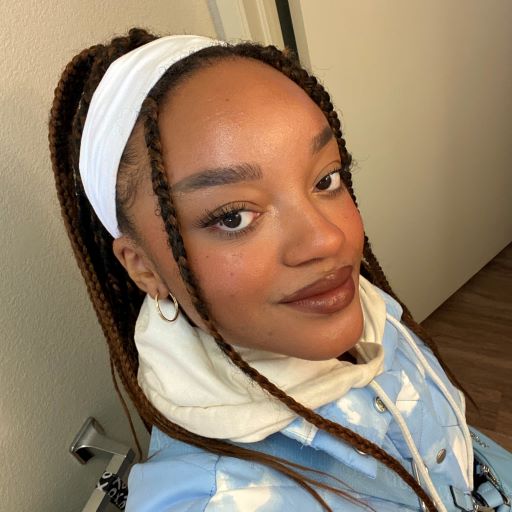 Autumn Watts
WAGE Mentor
Pronouns: She/Her
Autumn Watts is a third year Journalism and Media Studies major with a minor in English and is very excited to be working as a WAGE Mentor at the WRC! Spring semester of 2022 she worked as a Fellow and is very grateful to continue her time at the WRC in a mentorship position. Her feminist passions include racial justice, reproductive rights and sexual abuse prevention.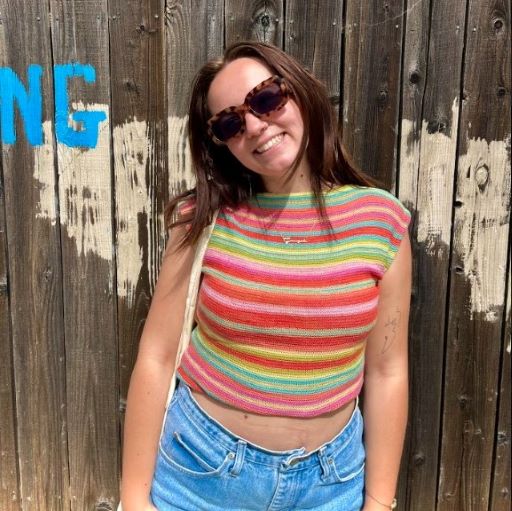 Grayce Honsa
WAGE Mentor
Pronouns: She/Her
Grayce Honsa is a third year student at SDSU pursuing two bachelor's degrees in Political Science and Women's Studies originally from Sacramento, California. This will be Grayce's second year working at the WRC and first year working as a WAGE Mentor. Grayce is also a second year student leader on campus working with the Residential Education Office as a Resident Advisor. Grayce is passionate about gender equity, reproductive justice, political organizing, and prison abolition.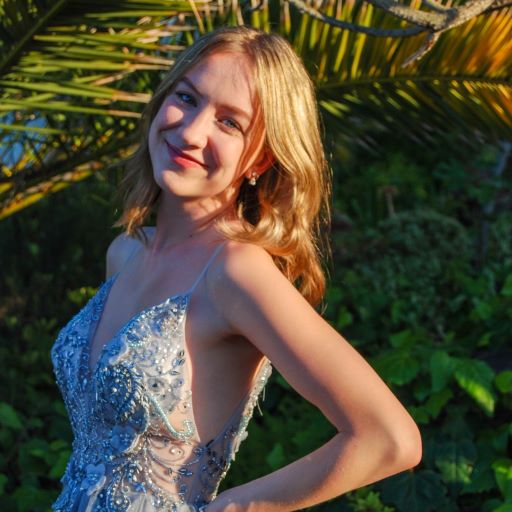 Izzy Ferrea
WAGE Mentor
Pronouns: She/Her
Izzy is a second-year double major in psychology and graphic design. She loves going to the gym, creating art, and spending time with friends and family. She creates book covers for the SDSU Press to pursue her passions for art and design, and hopes to become a therapist in the future. Her passions include social justice, activism, art, mental health, and reproductive rights.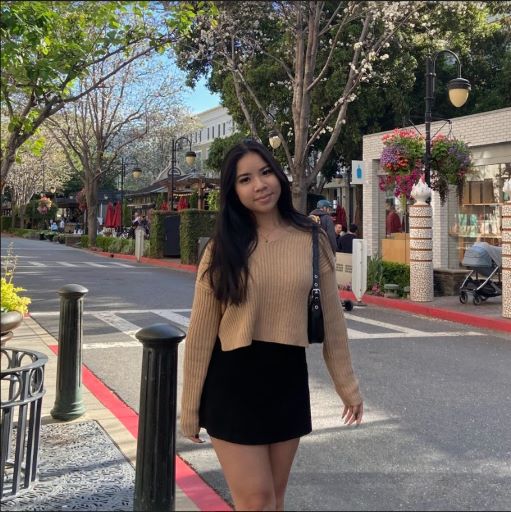 Jacqueline Nguyen
WAGE Mentor
Pronouns: She/Her
Jacqueline is a second-year Psychology student planning to minor in Sociology. She is passionate about criminal justice, mental health, and social equality, and strives to help tackle systemic oppressions within society and the law. At the WRC, she hopes to start by guiding and supporting students of marginalized identities to feel empowered and safe at SDSU. In her free time, she enjoys trying new food/drink places, art and history, traveling, reading, and going out.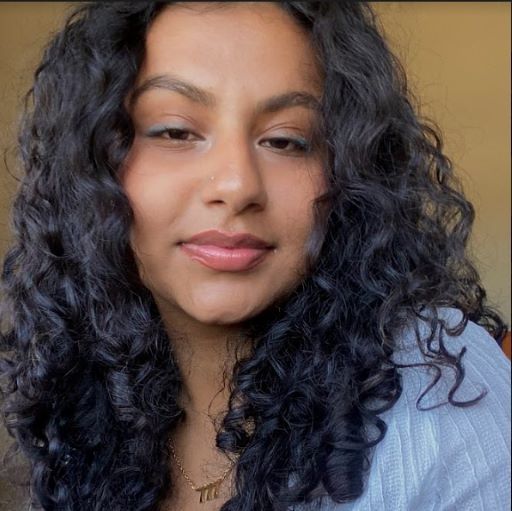 Jasleen Kalra
WAGE Mentor
Pronouns: She/Her
Hi! Jasleen Kalra (she/her) also known as "Jas" is a second-year business marketing major and is in the process of minoring in communications. She is 19 years old and is from the Bay Area. Jasleen has her own small business where she makes rings with crystals, which she loves. She also loves to travel, eat, watch sunsets, camping, and go to the beach. She is super excited to be working with the WRC!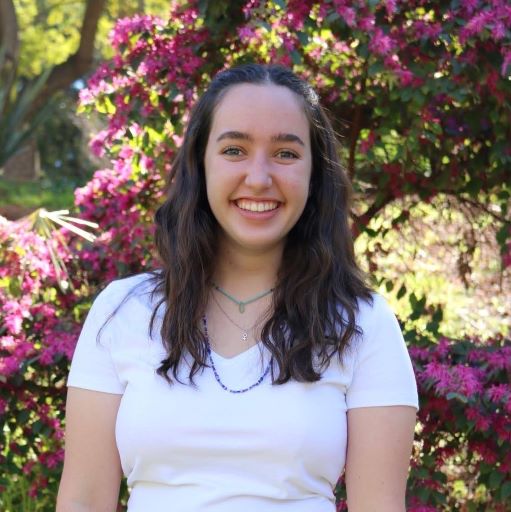 Olivia Newell
WAGE Mentor
Pronouns: She/They
Olivia is a second-year SDSU student, pursuing a Sustainability degree with minors in Honors Interdisciplinary Studies and American Indian Studies. Aside from working at the WRC, she is the producer of V-Day SDSU and working to start a Young Voter Advocacy club. Olivia's hobbies include singing, watching movies, writing poetry, and making playlists. Fun fact about Olivia: she has a tattoo that says "for the hope of it all" from Taylor Swift's august. (Swiftie alert!)
Meet our Fellows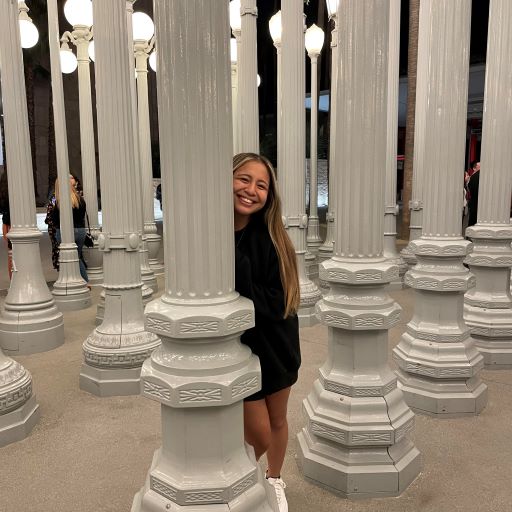 Hailey Baltazar
Fellow
Pronouns: She/Her
Hailey Baltazar is a senior majoring in Sociology at SDSU. She is Filipino and Chinese, a Sagittarius, and 5'1. After undergrad, she would like to pursue a Master's degree in Social Work and become a CPS worker or a medical pediatric social worker. Hailey loves Sanrio, squishmallows, and all kinds of cute stuff. In her freetime, Hailey likes to play with her 2 dogs, eat out, and explore San Diego (though she's a SD native).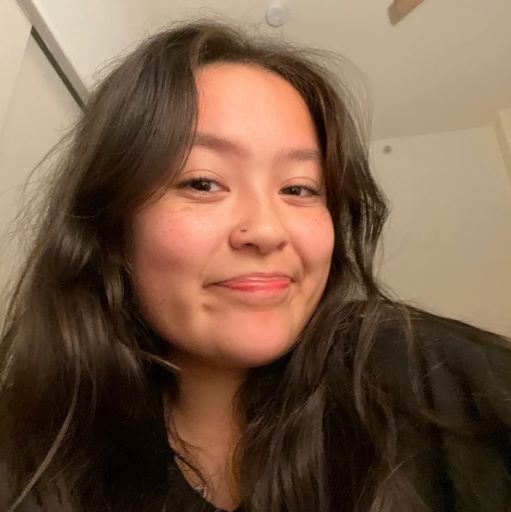 Jenae Dellafosse
Fellow
Pronouns: She/Her
Jenae Dellafosse is a transfer student majoring in Sociology and minoring in Women's Studies here at San Diego State University. Some of her feminist passions include body positivity, reproductive rights and education, racial justice, and much more. When outside of work and school, she enjoys watching the sunset, journaling and spending quality time with family and friends. She hopes to use her time at the WRC to empower womxn and make a positive change.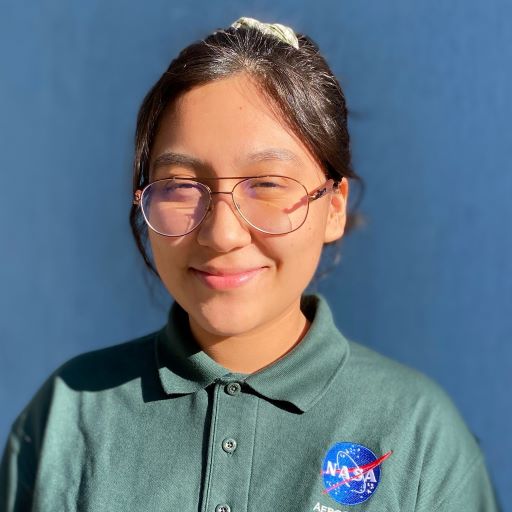 Mara Flores
Fellow
Pronouns: She/Her/Ella
Mara is an Electrical Engineering major, this Spring will be her second semester at SDSU, she just transferred from Southwestern Community College. She is passionate about gender equity especially in STEM. She wants to create safe spaces for women who have experiences injustice or feel like they don't belong to this environment that is male dominated. At her spare time she enjoys baking, watching new series, movies or anime and loves going to concerts.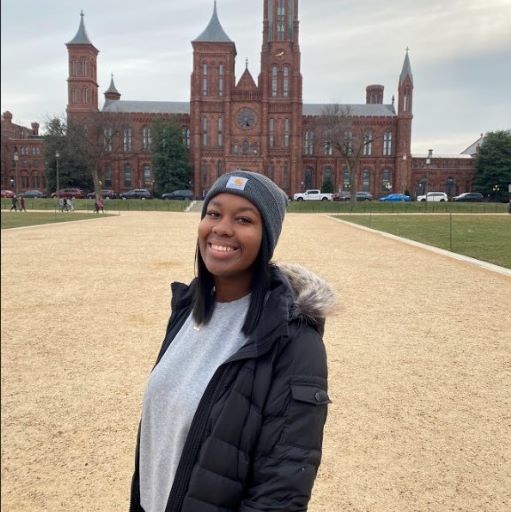 Mayah Taylor
Fellow
Pronouns: She/Her
Mayah Taylor (she/her) is a third-year Communication major. She is originally from Los Angeles, but her family currently lives in the DC area. Some of her passions in social justice include racial equality, intersectionality in feminism, and basic needs accessibility. She is also passionate about helping others and being a servant leader. In her free time, Mayah enjoys going to new places with friends, watching TV, and playing video games.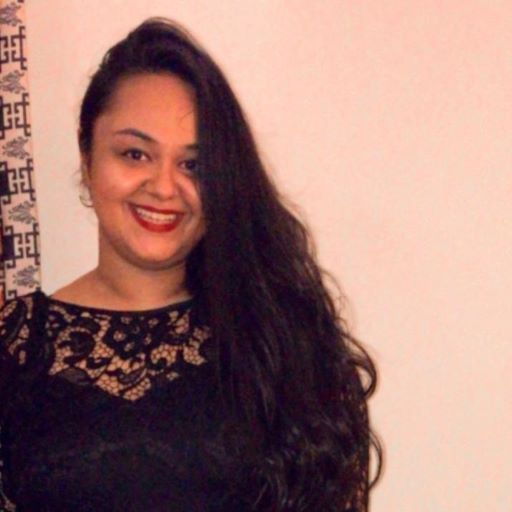 Sara Liaquat
Fellow
Pronouns: She/Her
Sara is a first-year graduate student of Sociology at SDSU. Raised in Karachi, Pakistan, she is interested in examining post-colonial feminism from a South Asian perspective. An ardent ally of the LGBTQIA+ communities, Sara is interested in advocating for the healthcare needs and rights of the transgender and intersex communities. She's also passionate about Islamic feminism and progressive Muslim discourses. Sara's thrilled to be exposed to various transnational feminist perspectives during her time at the WRC.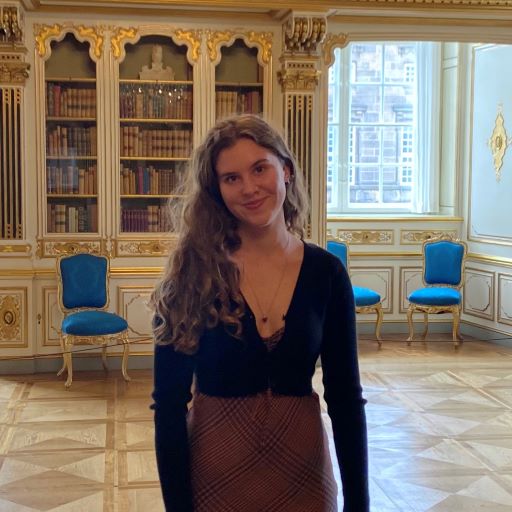 Sophia Morrison
Fellow
Pronouns: She/Her
Sophia is a 3rd-year student at SDSU, majoring in Child Development. She is passionate about utilizing the power of education, especially in reference to women's reproductive health. Sophia has experience working at a local women's health and fertility clinic. Most recently, Sophia interned with the UNESCO Center for Peace, assisting with the execution of virtual and in-person United Nations engagements. In her free time, Sophia loves hiking, yoga, and cooking with her friends and family.