The Native Resource Center is completely virtual for the Spring 2021 semester until further notice.
Do you have questions about upcoming events or want to socialize with others? Visit our NRC Virtual Lounge: M-F 10 a.m. - 4 p.m.
NRC Study Time
NRC Lounge - Arts and Letters 202
Stop into the NRC study with us
Student Union Theater
Healing from Native American Boarding School Traumas: A Break in Culture.
West Commons 220
Opioid Use in Indian Country: How Can We Support & Take Action? RSVP to attend
Watch w/ Us Wednesdays
NRC Lounge - Arts and Letters 202
Stop into the NRC to watch Native American/Indigenous films. Showing: Rhymes For Young Ghouls & 499
Zoom - RSVP Required
499 Film Q&A with Director Rodrigo Reyes. RSVP to attend
NRC Study Time
NRC Lounge - Arts and Letters 202
Stop into the NRC study with us
Zoom - RSVP Required
Articulating Indigenous Points of Reference at Mission San Luis Rey. RSVP to attend
Native Resource Center Open House - SDSU Parents Weekend
West Commons 220
MMIW: No More Stolen Sisters. RSVP to attend
West Commons 220
MMIW: No More Stolen Sisters. RSVP to attend
Watch w/ Us Wednesdays
NRC Lounge - Arts and Letters 202
Stop into the NRC to watch Native American/Indigenous films. Showing: La Llorona
NRC Study Time
NRC Lounge - Arts and Letters 202
Stop into the NRC study with us
Watch w/ Us Wednesdays
NRC Lounge - Arts and Letters 202
Stop into the NRC to watch Native American/Indigenous films. Showing: Blood Quantum
NRC Study Time
NRC Lounge - Arts and Letters 202
Stop into the NRC study with us
NRC Archived Events and Recordings
Below are event recordings from previously held by the center. Enjoy!
Native Resource Center Programs
The Native Resource Center runs several major programs throughout the year. Click below to read more:
Elymash Yuuchaap: Indigenous Scholars and Leaders Program

Mission:
To engage, support and promote the cultural, social, academic, and leadership development of students committed to the sovereign identity and progress of Indigenous communities.
Vision:
To retain and graduate students who will serve as agents of change in their community.
Purpose:
Drawing from social justice and Indigenous lens, the Elymash Yuuchaap Indigenous Scholars and Leaders Program is designed to mentor and provide community-service learning experiences for students pursuing higher education and preparing to serve Indigenous communities.
Our Name
The campus of San Diego State University sits on Kumeyaay land. Elymash Yuuchaap is a Kumeyaay way of saying "Youth Think" gifted to the program by now passed Kumeyaay elder from Barona, Larry Benegas. This name is used in deference to the first peoples of this region and honors their thriving heritage and culture.
About the Program
Starting in 2014 with a group of 12 students, we are proud to say we have grown to support over 80 students on campus. Elymash Yuuchaap scholars participate in a year long series of leadership seminars and service activities. The seminars are scheduled weekly as part of a one credit course through the Department of American Indian Studies., typically held on Friday afternoons. The seminar topics and activities are developed with support from SDSU students, faculty, staff, alumni, and community and tribal leaders. In addition Each Elymash Yuuchaap scholar is paired with an undergraduate peer mentor to build a strong network of peer to peer engagement. EY Scholars also on average maintains higher GPAs through their involvement and engagement with the program. Throughout the year, scholars are also invited to participate in special events with nationally recognized speakers, local community leaders, and university officials.
Eligibility
Elymash Yuuchaap Indigenous Scholars & Leaders Program is open to undergraduate students from all majors at San Diego State University, who have an interest and commitment to the success and sustainability of American Indian Indigenous communities and culture.
Benefits of the Program
Academic support and research opportunities

Peer Mentoring

Engaged faculty and administrative mentors

Connection to conferences, internships and career opportunities

Workshops, seminars, field trips and study abroad opportunities

Culturally responsive leadership development

Traditional tribal gatherings

Scholarship opportunities

Inclusive environment

Community Graduation Ceremony
LEADERSHIP STARTS HERE
San Diego State University is committed to preparing students to become successful leaders in a highly diverse and globalized workforce. Successful leaders have a strong sense of their own identities and a comprehensive understanding of the diverse cultures they engage. Cultural identity is said to be a strong indicator for Native American persistence and academic performance in college. With a balanced immersion in their own language and culture, students can achieve academically, socially, and economically.
Future leaders in Tribal and Urban Native Communities require a unique set of tools that bridge cultures, knowledge, and resources. The Elymash Yuuchaap Indigenous Scholars and Leaders Program, provides a dynamic space where Native American, Indigenous leadership, culture, and issues are at the center of the conversation.
Contemporary Native American and Indigenous Topics
Each session has a firm focus on issues impacting Native American communities. Topics include: Indigenous identity, academic excellence, research, entrepreneurship, STEM, sustainability, environment, tribal law, relationships, health and wellness, college success, community engagement, global understanding, and public administration.
Community-Service Learning and Cultural Immersion Activities
Students meet on or off campus to participate in community-based workshops, visits to local reservations and local communities. Activities include: small group discussions on topics related to culture, identity and student success, and community service assignments with local tribal youth.
Follow Us on Social Media
HOWKA WEEKEND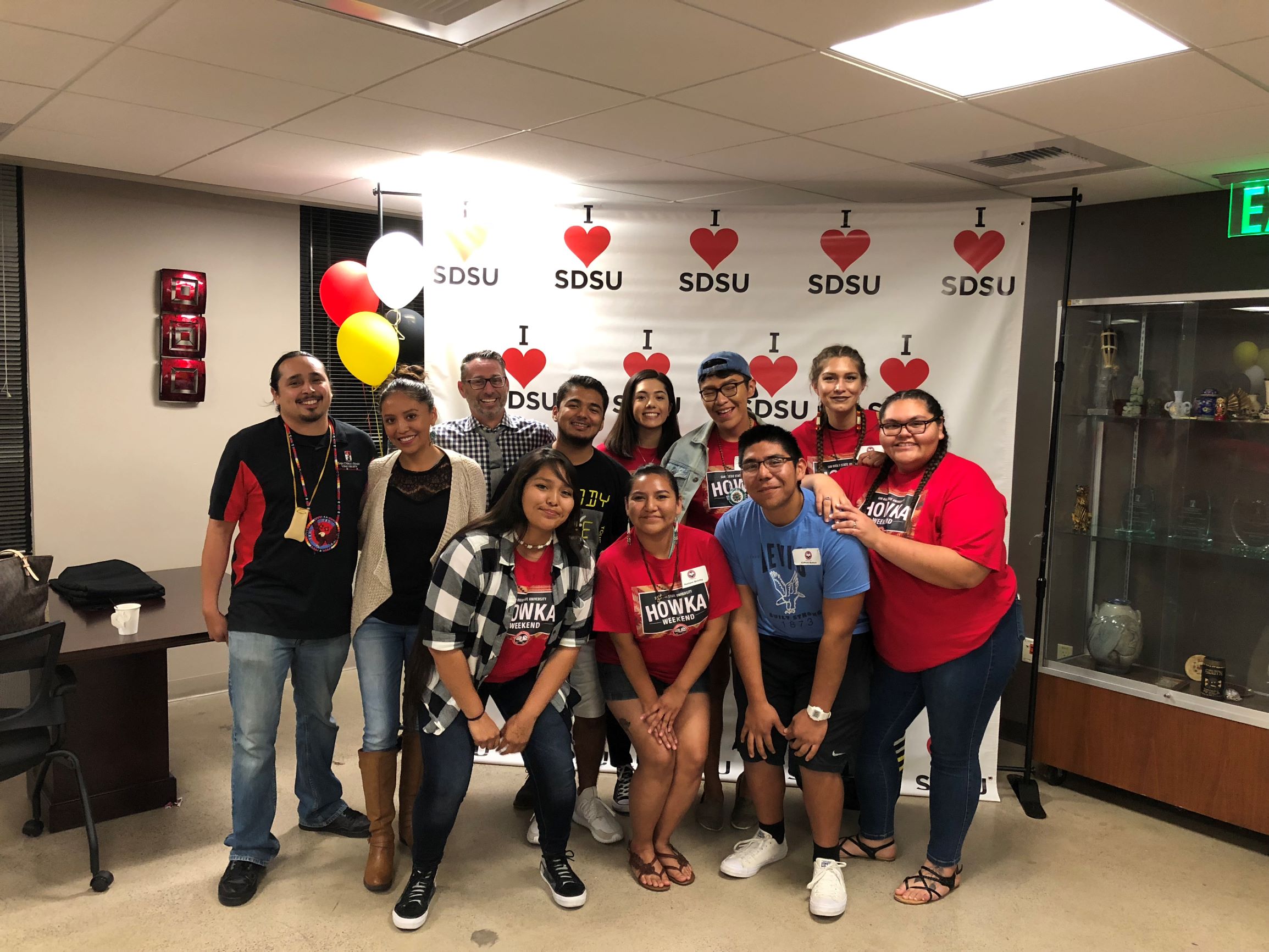 Friday, March 19, 2021
Our Way to Welcome You
SDSU Howka Weekend is a personalized event for admitted students and their families that provides insight into the diverse SDSU American Indian community and some of our campus supporters.
You will experience student life and get a glimpse of the many opportunities that SDSU has to offer.
Howka Weekend activities include:
Introduction to campus life

Information about the Native Resource Center

Meeting student leaders from the Native American Student Alliance (NASA)

Engaging Faculty and Staff

Student forums

Information about the

Elymash Yuuchapp

program

Parent forum & Financial Aid presentation
All activities take place on the SDSU campus.
RSVP Today!
Space is limited for the overnight option, so register online now. To RSVP, click the Register link available below.
San Diego State Annual Powwow
May 1st, 2021
Purpose:
The Annual San Diego State University Powwow is a cultural and social event that is held annually to bring together the Native American community to SDSU. SDSU has the reputation of having one of the longest running powwows ran by a university in California. This event is open to the public and is a partnership between the office of Educational Opportunity Programs and Elymash Yuuchaap, the SDSU American Indian Studies Department, the Native American Student Alliance and the American Indian Alumni Chapter of SDSU.
About the Event
The pow wow includes dance contests, cultural displays, arts and craft booths, food vendors, and various informational booths. There will be a Master of Ceremonies (MC) and Arena Director who help run the event. The MC works with the Arena Director to keep the pow wow program organized and running smoothly. The SDSU pow wow kicks off with Kumeyaay Bird singers followed by the Gourd Dance and Grandy Entry which signals the official start of the festivities.
Kumeyaay Bird Songs have been passed down through generations and are used in times of celebration or grief, to sing, dance, and share culture in the company of friends.
Bird Songs are used in the place of a written history and record an oral history and way of life for Kumeyaay people. Through the use of animal metaphors and allegory, the songs are used to instruct and imprint collective teachings about practical things such as food, the environment and geography, as well as history, customs, and social/moral values.


The Gourd Dance is a Kiowa Tribe ceremonial dance that honors warriors or veterans. Many of those that dance this style are veterans and the idea is to honor all warriors alive or fallen for their service. Most notable of the gourd dance is the use of either a gourd rattle or metallic salt shaker rattle and a red and blue wool blanket draped over the shoulders.


Grand Entry is the official start of the pow wow and all dancers enter the arena. During the grand entry, the color guard brings in the Eagle Staff which is a symbol of American Indian Nations, the U.S flag, state and veterans flags are also represented. This is also a time when we introduce our honored Head Staff and other important guests.