San Diego State Annual Pow wow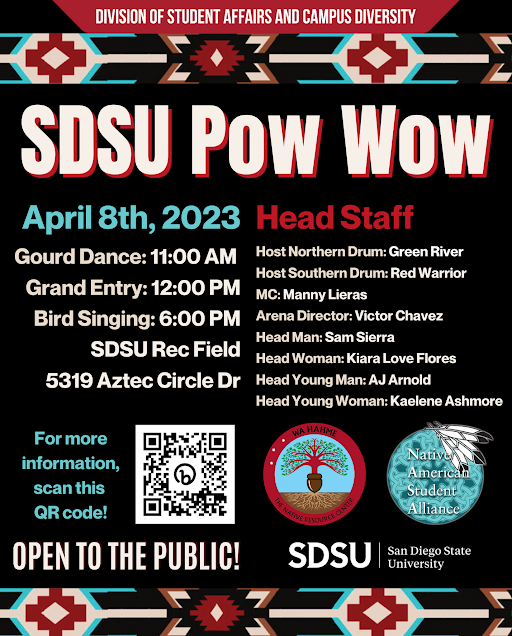 April 8th, 2023
SDSU Main Campus
11am - Gourd Dance
12pm - Grand Entry
1pm-6pm - Dance Exhibitions & Honorings
6pm - Bird Singing
SDSU Pow Wow: Vendor Application
Purpose:
The San Diego State University Powwow is a cultural and social event that is held annually to bring together the Native American community to SDSU. SDSU has the reputation of having one of the longest running powwows ran by a university in California. This event is open to the public and is a partnership between the Native Resource Center, the SDSU American Indian Studies Department, the Native American Student Alliance and the American Indian Alumni Chapter of SDSU.
About the Event
The pow wow includes dance contests, cultural displays, arts and craft booths, food vendors, and various informational booths. There will be a Master of Ceremonies (MC) and Arena Director who help run the event. The MC works with the Arena Director to keep the pow wow program organized and running smoothly. The SDSU pow wow kicks off with Kumeyaay Bird singers followed by the Gourd Dance and Grandy Entry which signals the official start of the festivities.
Kumeyaay Bird Songs have been passed down through generations and are used in times of celebration or grief, to sing, dance, and share culture in the company of friends.
Bird Songs are used in the place of a written history and record an oral history and way of life for Kumeyaay people. Through the use of animal metaphors and allegory, the songs are used to instruct and imprint collective teachings about practical things such as food, the environment and geography, as well as history, customs, and social/moral values.


The Gourd Dance is a Kiowa Tribe ceremonial dance that honors warriors or veterans. Many of those that dance this style are veterans and the idea is to honor all warriors alive or fallen for their service. Most notable of the gourd dance is the use of either a gourd rattle or metallic salt shaker rattle and a red and blue wool blanket draped over the shoulders.


Grand Entry is the official start of the pow wow and all dancers enter the arena. During the grand entry, the color guard brings in the Eagle Staff which is a symbol of American Indian Nations, the U.S flag, state and veterans flags are also represented. This is also a time when we introduce our honored Head Staff and other important guests.
FREQUENTLY ASKED QUESTIONS