OFFICE OF THE VICE PRESIDENT
Community Standards and Reconciliation
Provide access to educational opportunities to local students, educate campus community members about community conduct standards and assist in the development of students as good citizens.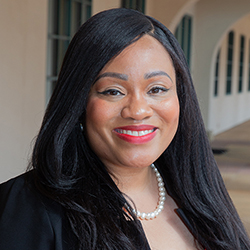 Aniesha Mitchell, JD
Associate Vice President for Compliance & Community Standards
Aniesha Mitchell, J.D., serves as the Senior Associate Vice President for Campus Diversity. In this role, Mitchell provides leadership to the subdivisions of Campus & Community Affairs, Community & Belonging, Community Standards & Reconciliation, Faculty & Staff Diversity, and Regional & Transborder Affairs/HSI Initiatives. Mitchell has over 20 years of progressive leadership experience in higher education administration in the areas of enrollment management, retention, conflict resolution, and student conduct. Mitchell is passionate about diversity, equity, and inclusion, student rights, and ensuring that students experience fair and equitable processes that respect their dignity as humans. Prior to joining SDSU, she has worked at the University of Cincinnati, University of Mississippi, University of Michigan, and Oakland University. Mitchell earned a bachelor's degree in political science from Oakland University and a Juris Doctor degree from Western Michigan University Cooley Law School.