Office of the Vice President
Campus Community Affairs
We are focused on building strong relationships and developing inclusive initiatives within and between various campus constituencies. We work closely with leadership across all divisions, colleges, and student organizations to build and maintain relationships with community members and support the University's efforts around diversity, inclusion and justice.
Tonika Green
Associate Vice President for Campus Community Affairs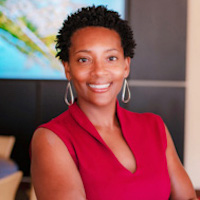 Dr. Tonika Duren Green served as a Professor at San Diego State University in the Department of Counseling and School Psychology for 20 years. Green's research focuses on social justice within education and mentorship. She has been awarded over 3 million dollars in federally-funded grants designed to train school professionals to improve outcomes for minoritized youth, with specific attention to Black youth and youth in foster care. Green's leadership roles have included School Psychology Program Director, National Association of School Psychologists Minority Recruitment Chair, Grant Director, university senate, and Director and Founder of the African American Mentoring Program which is devoted to recruiting, reaching, and supporting students of African descent. Green also served as the Charles Bell Scholar to direct SDSU's Henrietta Goodwin Scholars Program which provides mentorship and academic support for African American first year students.
In her current role, as the Associate Vice President for Campus Community Affairs, providing senior leadership to a number of key areas, including the department of Graduate Life and Diversity, SDSU's 15 employee resource groups, and the Professors of Equity program. In addition, Green serves as the lead diversity officer for the microsite programs at our local community colleges. Green also serves as the interim director of the Black Resource Center with a mission of promoting Black Excellence and providing a safe and welcoming environment where students, staff, and faculty of the African diaspora can congregate, collaborate, and cultivate a unified community.
Dr. Green earned her Ph.D. in Guidance and Psychological Services with a Specialization in School Psychology from Indiana State University. She also holds a master's degree in Counseling and a bachelor's degree in Psychology from Old Dominion University.
Contact Information
Office hours: 8 a.m. - 4:30 p.m.
Phone: 619-594-4467
Email: tduren@sdsu.edu