NOVEMBER 2023 @STATE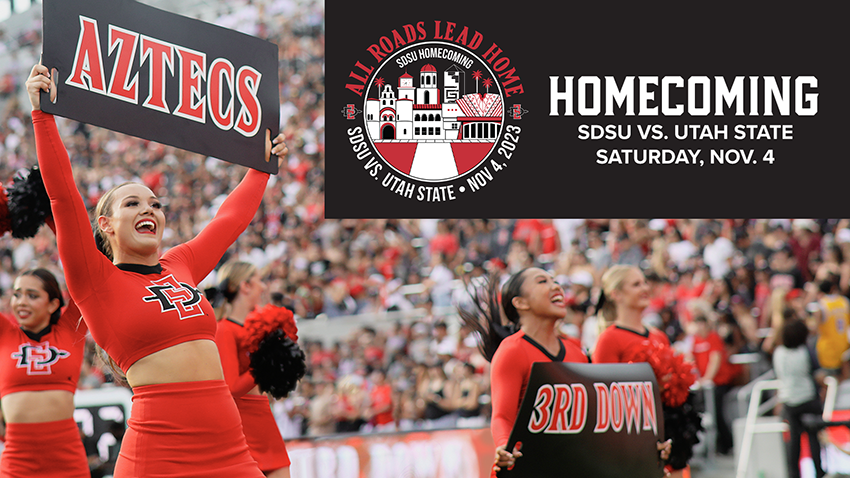 HOMECOMING: ALL ROADS LEAD HOME!
Homecoming week is Oct. 30-Nov. 4, culminating with the Homecoming football game against Utah State University at 4 p.m. Nov. 4 at Snapdragon Stadium — free tickets for students!
The week is packed with activities for students and alumni alike, including "Lip Sync Touchdown" on Nov. 1; "HoCo Bingo" on Nov. 2; the 27th Annual Wreath-Laying Ceremony at the Aztec War Memorial and NPHC Yardshow, both on Nov. 3; and the Homecoming Fun Run & Festival on Nov. 4.
Visit the Homecoming website for more details.
NOVEMBER NEWS IN BRIEF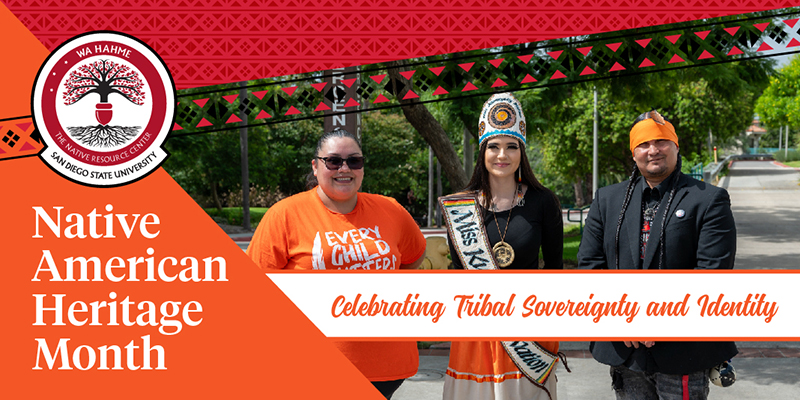 CELEBRATE NATIVE AMERICAN HERITAGE MONTH AT SDSU
November is Native American Heritage Month, and SDSU will host events to recognize the lives and histories of Native American/Indigenous communities and to acknowledge and appreciate their sovereignty and many contributions.
This month is a time to also acknowledge how Native American cultural traditions and world views are still present on the unceded land of the Kumeyaay. Throughout this month, we invite all members of the SDSU community to participate and engage in the Native American Heritage Month events, which are designed to honor and create visibility for many different Native American nations in the United States and beyond. Events will be centered around activism, art, stories, histories and so much more.
Visit the Native Resource Center, the American Indian Studies Department and the Native American Student Alliance websites for details on upcoming NAHM events.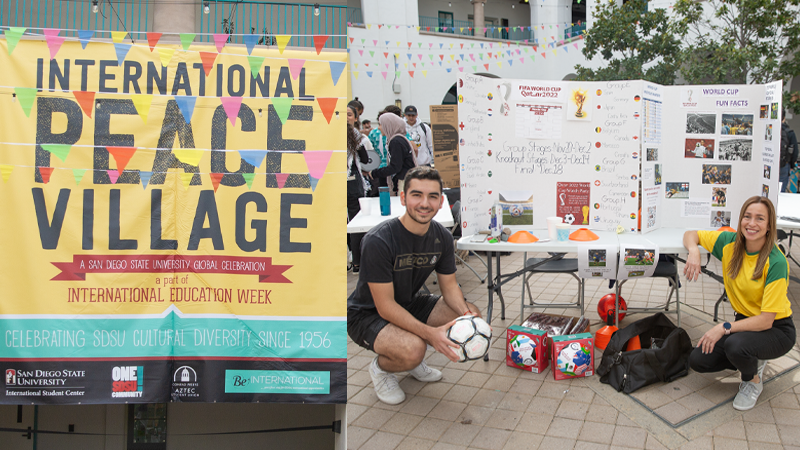 INTERNATIONAL EDUCATION WEEK, PEACE VILLAGE ON THE WAY
International Education Week, a campuswide celebration highlighting SDSU's engagement in international education, is Nov. 13-17.
The International Peace Village is the San Diego campus annual signature event that includes cultural displays, music and performances. Join us at the Conrad Prebys Aztec Student Union from 11 a.m.-2 p.m. Nov. 16.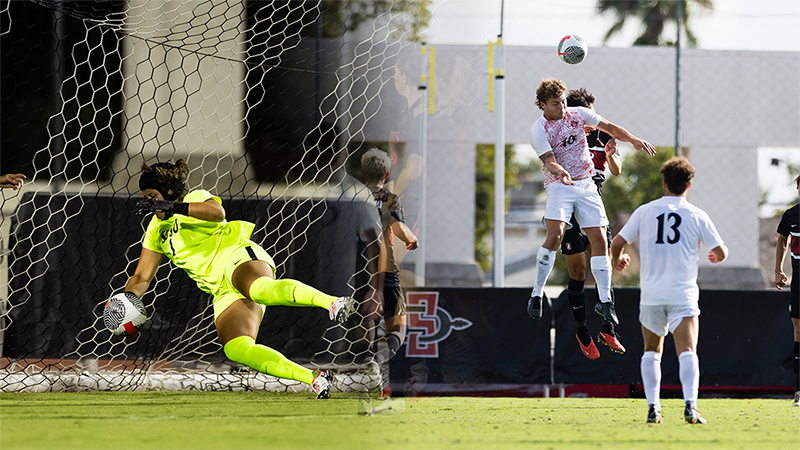 MEN'S, WOMEN'S SOCCER EYE POSTSEASON BERTHS
Aztec men's and women's soccer teams are alive and kicking heading down the stretch of the regular season.
The women's team, which sat atop the Mountain West Conference in October, is competing in the conference tournament, which started Oct. 29 and continues through Nov. 4 in Laramie, Wyo. If the team wins the tournament, it will advance to its first NCAA tournament appearance since 2017.
The men's team, which seeks its first NCAA tournament berth since 2016, finishes Pac-12 Conference play with a huge Senior Night game against UCLA at 7 p.m. Nov. 10 at SDSU Sports Deck.
Visit GoAztecs for more information about both teams.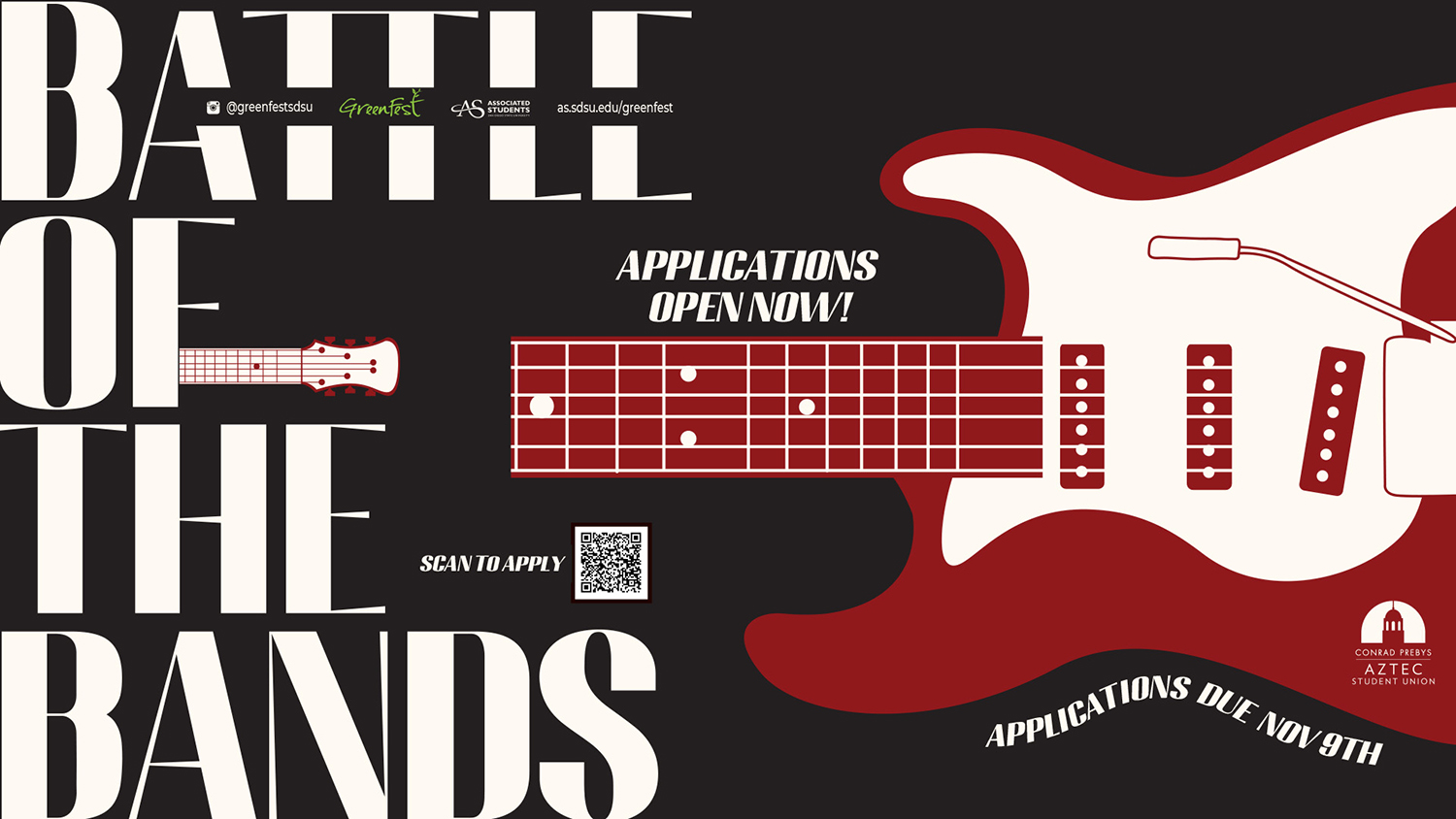 GROW WITH GREEN FEST
GreenFest, SDSU's signature environmental event, is coming March 11-15, 2024. But sign up for the GreenFest Battle of the Bands by Nov. 9 for a chance to open at the annual GreenFest concert (scan the flier to register)! And join us for "Grow With GreenFest" in the Conrad Prebys Aztec Student Union Courtyard from 11 a.m.-1 p.m. Nov. 6, to plant a succulent or paint a tote bag and learn about the celebration!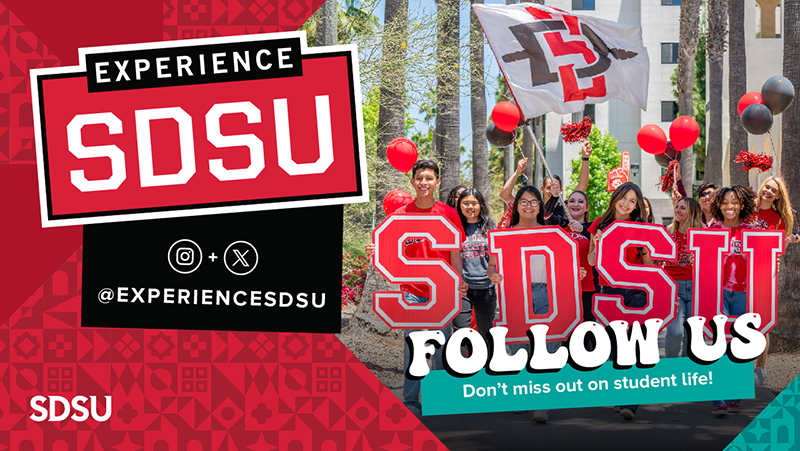 Are you a new or continuing student looking to find out about fun events or the latest information about SDSU?
Follow @ExperienceSDSU on Instagram and X for the latest in SDSU news and for information about student organizations and events!
CALENDAR
November: Native American Heritage Month

*Events subject to change