JANUARY-February 2022 @STATE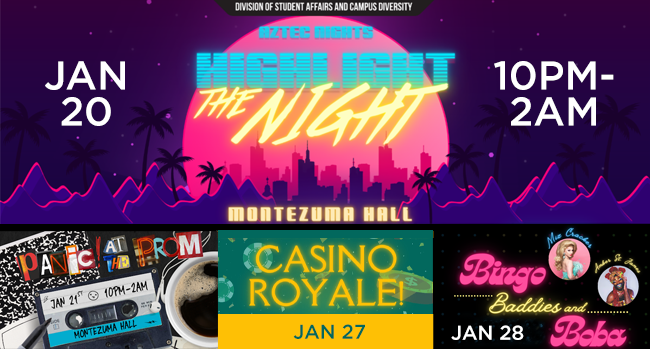 WELCOME TO THE SPRING SEMESTER!
Welcome back, Aztecs!

It's the spring semester and time to head back to class. But don't forget to have some fun — and that's where we've gotcha covered.

Meet up with old friends, make new ones and have a great time together at the free, late-night Aztec Nights. The Spring Semester Aztec Nights slate kicks off with two weekends of back-to-back events, starting the weekend of Jan. 20-21.

Wear your whites to the neon party and dance the night away, enjoy an emo-themed karaoke night, raise the stakes at a casino-themed night and get ready for a night of fierceness at a drag-themed event hosted by Miz Cracker from season 10 of "RuPaul's Drag Race" and SDSU's most famous queen, Amber St. James!

For more information about the upcoming schedule, visit the Aztec Nights website.
JANUARY/FEBRUARY NEWS IN BRIEF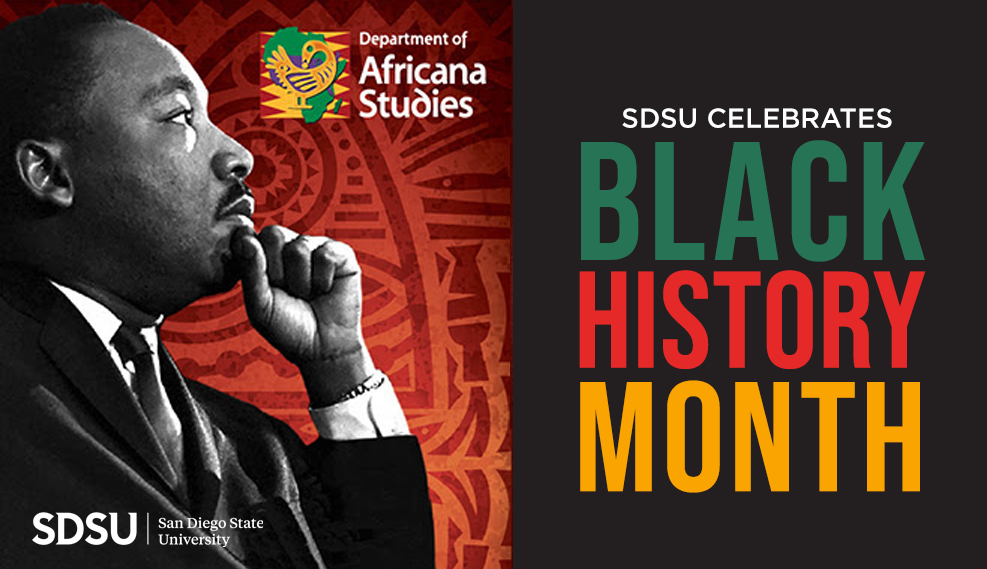 MANY WAYS TO CELEBRATE BLACK HISTORY MONTH
February is Black History Month, and SDSU has a loaded calendar of events to celebrate African Americans and their contributions.

The month kicks off Feb. 2 with a collaboration between the Black Resource Center and One SDSU – a screening and discussion of the 2016 James Baldwin documentary, "I Am Not Your Negro." It concludes Feb. 28 with the BRC's birthday and Henrietta Goodwin Remembrance event as well as the annual spoken word event "Let the Poet Speak."

On Feb. 7, SDSU will host an educational empowerment tribute dinner in honor of longtime SDSU professor and current California Secretary of State Shirley Weber at the Parma Payne Goodall Alumni Center.

For more information on Black History Month, visit the BRC website.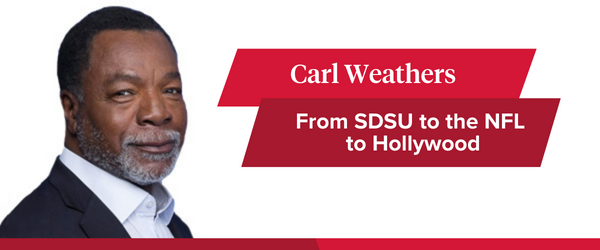 Actor Carl Weathers Stars in Upcoming President's Lecture Series
Do you have a hard time deciding on a career? Come hear from Carl Weathers, who both acted in theater productions and played football at SDSU before going professional in both fields. Weathers — currently an Emmy-nominated actor as well as director and producer — will be back on campus for the President's Lecture Series.

Weathers' topic: "From SDSU to the NFL to Hollywood." RSVP by Jan. 23 to see him from 3:30 - 5 p.m. Feb. 2 in Montezuma Hall at the Conrad Prebys Aztec Student Union.

Weathers was nominated for an Emmy as an Outstanding Guest Actor in a Drama Series for "The Mandalorian," in which he plays Greef Karga. He is also known for portraying Apollo Creed in the "Rocky" series, Al Dillon in "Predator," Chubbs Peterson in "Happy Gilmore," and a fictionalized version of himself on "Arrested Development."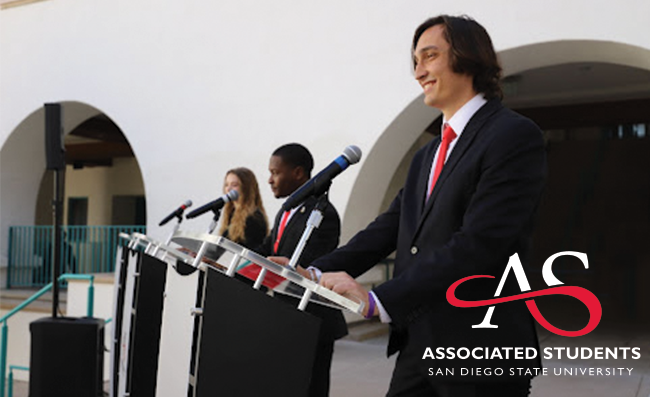 A.S. ELECTIONS APPLICATION WINDOW OPENS JAN. 27
Interested in running for, or being appointed to, a student leadership position on campus?

Starting Jan. 27, you'll have your chance, as the Associated Students' election season kicks off! Beginning that day, you'll be able to apply for elected and appointed positions until Feb. 17 and March 17, respectively, when the application windows for those positions close.

Once you've applied, don't forget to attend the prospective candidates workshop at 3:30 p.m. Feb. 1 at the Theatre in the Conrad Prebys Aztec Student Union.

A.S. elections will be held March 20-23. For more information, visit as.sdsu.edu/elections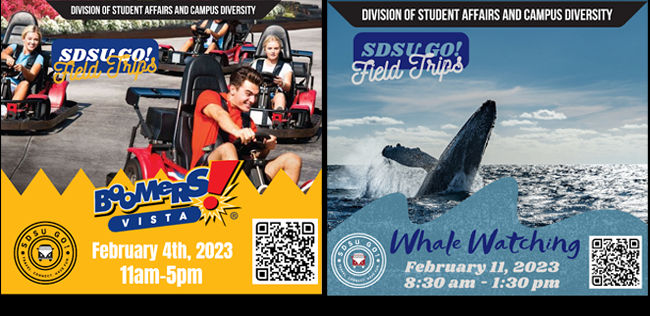 BOOMERS, WHALE WATCHING, SAFARI PARK AND ANT MAN, FOR FREE
If you're looking for some fun, free weekend events to kick off your spring semester, look no further than SDSU Go!

February's slate of free events includes excursions to Boomers entertainment center in Vista, whale watching, opening weekend of "Ant Man and the Wasp: Quantumania" at AMC 18 Fashion Valley Mall, and a trip to San Diego Zoo Safari Park.

Visit sdsu.edu/sdsu-go for information on how to register for the events.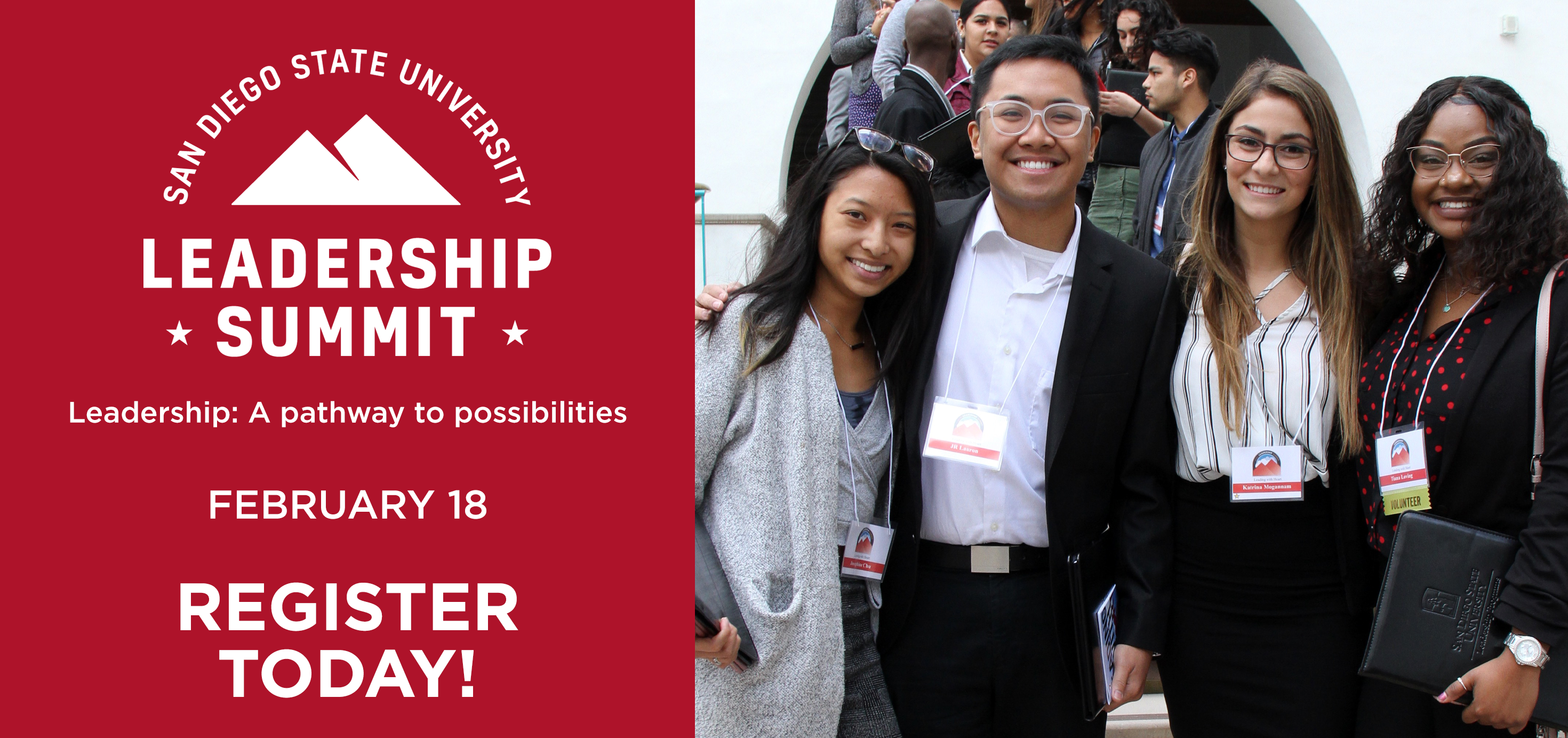 SDSU LEADERSHIP SUMMIT FEB. 18 - REGISTER TODAY!
The Glazer Center for Leadership & Service invites you and other college students from throughout Southern California to attend the SDSU Leadership Summit, a one-day, on-campus leadership conference on Feb. 18.

The conference theme: "Leadership: A pathway to possibilities." Learn tangible strategies to become a better leader — or future leader — and explore the many possible pathways on your leadership journey.

Register today at sdsu.edu/leadershipsummit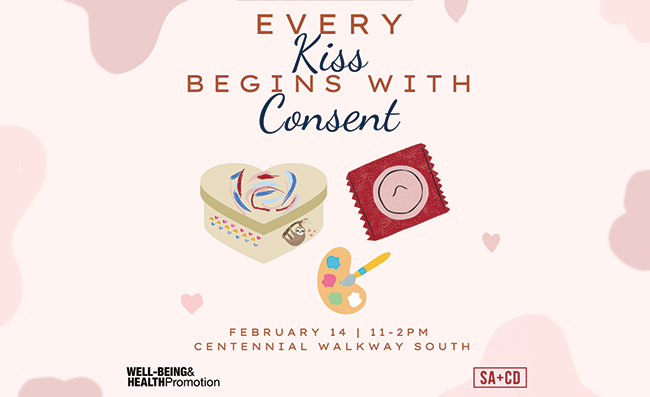 'EVERY KISS BEGINS WITH CONSENT' EVENT ON VALENTINE'S DAY
Take a picture with your famous crush, make a valentine and a gift for your sweetie or pick up some free safer sex supplies at "Every Kiss Begins With Consent" on Valentine's Day (Feb. 14). You will find the fun from 11 a.m. - 2 p.m. at Centennial Walkway South near the Conrad Prebys Aztec Student Union.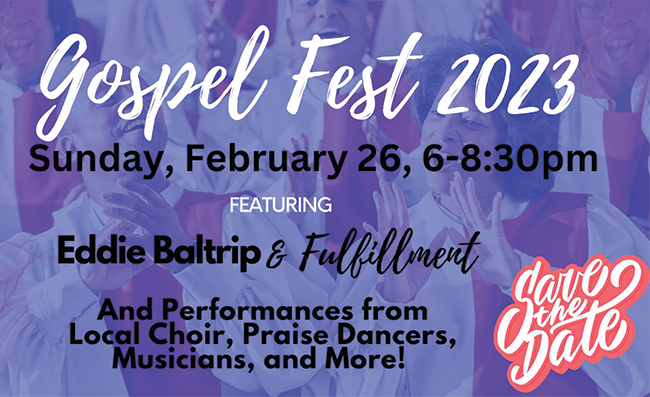 GOSPEL FEST RETURNS ON FEB. 26
DSU Gospel Fest, which connects the university and local churches through song and other performances, returns to campus in February.

This year's event is scheduled for 6 - 8:30 p.m. Feb. 26 and will feature Eddie Baltrip & Fulfillment, the West Coast's premier gospel choir.

Please check the Black Resource Center website for updates and for the event location.
Spring 2023 2-Day Career & Internship Fair
Get a leg up on your job and internship search by attending the two-day Spring In-Person Career & Internship Fair.

The Career Services event takes place from 10 a.m. to 2:30 p.m., Feb. 8 (STEM industries) and 9 (all industries) inside Montezuma Hall. More than 120 employers have signed up for the event, so it's a must-attend for students. For more information visit Handshake.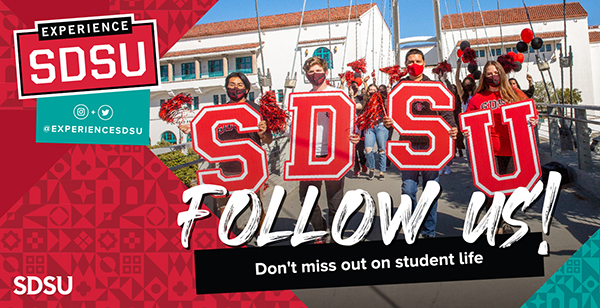 YOUR DESTINATION FOR NEWS ABOUT STUDENT LIFE AND WHAT'S HAPPENING ON CAMPUS!
Follow @ExperienceSDSU on Instagram and Twitter for the latest in SDSU news and information about student organizations and events!
CALENDAR
Jan. 18: First Day of Spring Semester Classes

Jan. 19: Women's basketball vs. New Mexico: Field Trip Day (Viejas Arena)

Jan. 19: Student Organization Pop-Up (Centennial Walkway)

Jan. 20: Aztec Nights: Highlight the Night (Montezuma Hall)
Jan. 21: Aztec Nights: Panic! At the Prom (Montezuma Hall)
Jan. 25: Men's basketball vs. Utah State (Viejas Arena)
Jan. 26: Women's basketball vs. Fresno State (Viejas Arena)

Jan. 27: A.S. elections application window opens

Jan. 27: Aztec Nights: Casino Royale (Montezuma Hall and student union Theatre)
Jan. 28: Men's basketball vs. San Jose State (Viejas Arena)
Jan. 28: Women's basketball vs. San Jose State: Girls & Women in Sports Day (Viejas Arena)
Jan. 28: Aztec Nights: Bingo, Baddies and Boba (Montezuma Hall)
Jan. 31: Black Excellence Experience Spring Kickoff (Tula Community Center)
Feb. 1: HB KEEP Workshop (BRC Media Room)

Feb. 2: Black LGBTQIA+ Event: James Baldwin "I Am Not Your Negro" film & discussion (SDSU Alumni Center)

Feb. 3: Men's basketball vs. Boise State (Viejas Arena)
Feb. 4: SDSU GO! Boomers! Vista

Feb. 7: Shirley Weber - Educational Empowerment Tribute dinner (alumni center)

Feb. 8: BRC + ASU Gallery Walk (BRC)
Feb. 9: Paint Talks: Embracing Blackness (BRC Media Center)

Feb. 10: Black Renaissance Musical Showcase (student union Theatre)

Feb. 11: Men's basketball vs. UNLV

Feb. 11: SDSU GO!Whale Watching excursion (TBA)

Feb. 15: Docuseries Part One: SD LGBTQ Coalition (library)

Feb. 16: Community Cookout w/ AMANI Project (ENS Field)

Feb. 16: Women's basketball vs. Colorado State (Viejas Arena)
Feb. 17: Black Scholars Luncheon: Entrepreneurship (student union Theatre/ BRC Backyard)
Feb. 18: Women's basketball vs. Wyoming: Play4Kay Pink Game/Rally Towel Giveaway (Viejas Arena)
Feb. 18: SDSU GO!es to the Movies: "Ant Man and the Wasp: Quantumania" (AMC 18 Fashion Valley)
Feb. 21: BRC speaker series collab w/ URC — Denea Joseph (BRC)
Feb. 21: Men's basketball vs. Colorado State (Viejas Arena)

Feb. 23: Telling Our Stories: Una Conversación About Mental Health And Wellness (Montezuma Hall)

Feb. 22: Docuseries Part Two: SD LGBTQ Coalition (library)

Feb. 25: SDSU GO! San Diego Zoo Safari Park

Feb. 26: Super Sunday/Gospel Fest (TBA)

Feb. 28: BRC Birthday; Henrietta Goodwin Remembrance; Let the Poet Speak (student union courtyard)
Feb. 28: Women's basketball vs. Air Force (Viejas Arena)
*Events subject to change