OCTOBER 2023 @STATE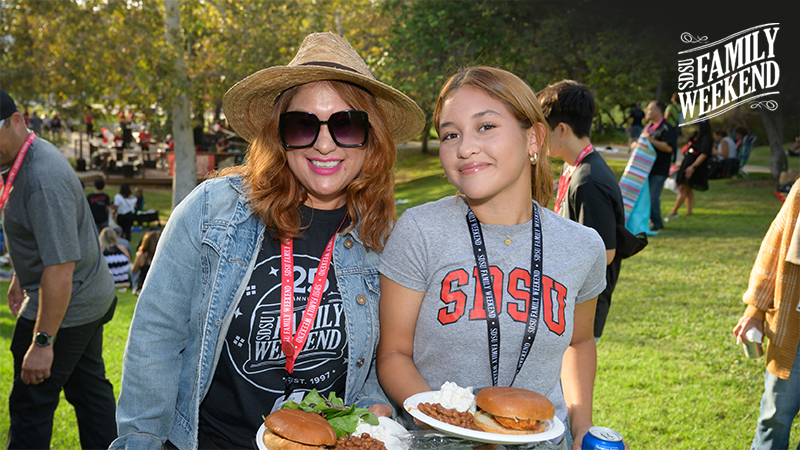 FAMILY WEEKEND IS OCT. 20-21!
Introduce your family to your campus family during SDSU Family Weekend on Oct. 20-21! This is a chance for all Aztec families to celebrate their students' experiences and accomplishments at SDSU.
There are events for family members of all ages, including a Family Weekend brunch at the Conrad Prebys Aztec Student Union, a tailgate at Snapdragon Stadium, campus tours and open houses, a picnic and serenade with a live band at Scripps Cottage, welcome back receptions, an involvement expo for students, department open houses and much more!
Families will receive a welcome packet, goodie bag, lanyards with name tags, access to exclusive discounts at the SDSU Bookstore, Mission Bay Aquatic Center, Aztec Lanes and more.

Visit SDSU Family Weekend for more information about Family Weekend and how to register.
OCTOBER NEWS IN BRIEF
2024-25 Changes to Financial Aid
The FAFSA Simplification Act will introduce significant changes to the processing and the systems used to award federal student aid. The change will be fully implemented in the 2024-25 application cycle.
With the changes, financial aid applications will not be available until late December / early January — unlike October in previous years. Watch for webinars and informational materials from the Financial Aid Office/Cal Coast Student Financial Center. More information on studentaid.gov.
Oct. 16 Deadline for Winter Break Study Abroad
Oct. 16 is the deadline for Winter Break 2024 study abroad applications, which include study, intern and volunteer abroad programs!
Start the online advising steps at sdsu.edu/aztecsabroad to begin the process. Visit Study Abroad or email the Global Education Office at [email protected] for more information.
Registration Open for Winter Session
Why not leverage your winter break to accelerate your education? Winter Session classes are a great opportunity to make up ground toward graduation, return to school or explore a new area of interest.
Registration is now open and online classes run from Dec. 14 2023, to Jan. 11, 2024. For more information, visit SDSU Winter Session.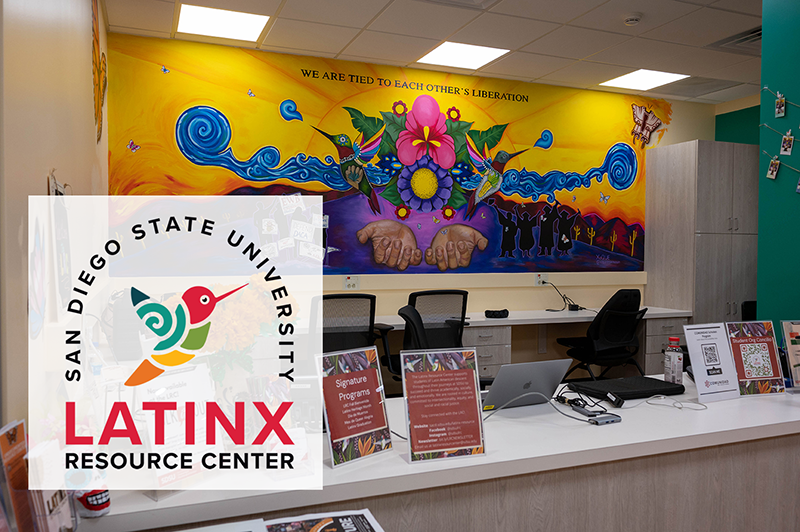 CELEBRATE HISPANIC HERITAGE MONTH AT SDSU
San Diego State University is celebrating the culture and traditions of Hispanic, Chicanx and Latinx communities for Hispanic Heritage Month from Sept. 15 to Oct. 15. As a federally designated Hispanic-Serving Institution, SDSU proudly honors the many contributions of our Hispanic, Chicanx and Latinx students, faculty, staff and partners.
This year's theme is "Know Your Past to Transform Our Future: Siempre Pa'lante y Nunca Pa'tras." The monthlong celebration includes several collaborative events, including the "Quinceañera x Debut: Coming-of-Age, Colonialism & Culture with APIDA," in partnership with the APIDA Center.
For more information and a list of the events, check out this story at SDSU Newscenter or visit the Latinx Resource Center's.

EVENTS READY FOR FILIPINX AMERICAN HISTORY MONTH
October is Filipinx American History Month, and the APIDA Center is hosting a series of events to highlight the contributions of Filipinx Americans to our culture.
Catch screenings of popular Fil-Am TV shows and movies, create some authentic crafts at cultural crafting nights and learn about the colonial roots of the Filipinx Debut and Latinx Quinceañera ceremonies at a joint workshop with the APIDA Center and Latinx and Women's resource centers.
The APIDA Center is also teaming up with One SDSU on Oct. 18 to host a Makers' Market from 1-6 p.m. at the Conrad Prebys Aztec Student Union courtyard. Makers, do-it-yourself-ers, entrepreneurs and singer-songwriters are encouraged to sign up by Oct. 8 to sell products or sing an original song on stage.
Visit the APIDA Center website for a complete schedule of events.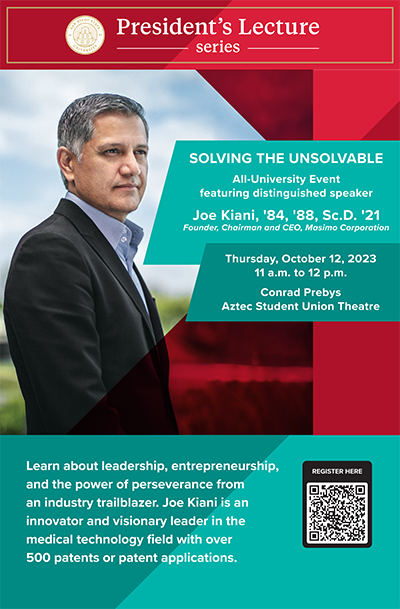 Masimo CEO Headlines President's Lecture Series
Join us at 11 a.m. Thursday, Oct. 12 at Montezuma Hall for a conversation with President de la Torre and SDSU alumnus and distinguished guest speaker Joe Kiani, founder, chairman and CEO of the Masimo Corporation.
Kiani is one of SDSU's most accomplished alumni, a leader in the medical technology field and a trailblazer in patient safety and care. He is a renowned entrepreneur and inventor of revolutionary, non-invasive patient-monitoring devices with over 500 patents or patent applications.
To read more about the President's Lecture Series and to RSVP, visit SDSU Alumni.
This is a Test —
A Nationwide Test
FEMA and the FCC will conduct a nationwide test of the Emergency Alert System and Wireless Emergency Alerts on Oct. 4. While SDSU is not involved, the university is alerting the university community.

The WEA portion of the test will be directed to all consumer cell phones and will display in either English or in Spanish, depending on the handset's language settings. No action is required by the public receiving the test alerts.
Celebrating SDSU
Out-of-State Students
Calling all out-of-state students! The university wants to celebrate you, so join us 12:30-3 p.m. Nov. 16 for a free lunch and a recognition ceremony at the union's Templo Mayor, followed by bowling at Aztec Lanes.
Swag for those who enroll in and complete the Out-of-State Scorecard — also free. There's still time to sign up for the scorecard, which is due Nov. 1. Visit the 2023 Out-of-State Scorecard page to get started and then RSVP for the recognition ceremony.
Questions? Email [email protected]
SDSU Hosts
Brazilian Comic Creator
Brazilian comic creator Marcelo D'Salete has produced graphic novels that explore the brutal history and painful long-term consequences of slavery in Brazil, and he will be on campus Oct. 12 for a wide-ranging conversation about his work.
SDSU's Center for Comics Studies and the Behner Stiefel Center for Brazilian Studies have collaborated to host Eisner Award-winning D'Salete. Africana Studies Professor Daniela Gomes will translate this event, which takes place at 3:30 p.m. in Peterson Gym, Room 242, and will be in English and Portuguese.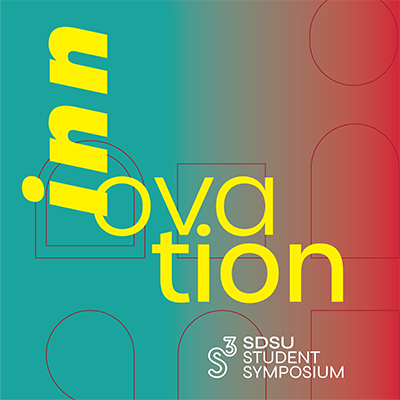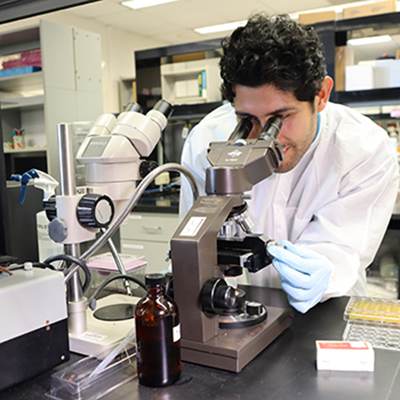 GET INTO THE FALL GROOVE WITH SDSU GO!
There's no better way to discover San Diego than on free weekend trips with your friends.
SDSU GO! has you covered with a full slate of fall events. In October, you can take a harbor cruise (Oct. 7) or head to SeaWorld San Diego for Howl-O-Scream (Oct. 14). Sign up this month for November's events, "Mamma Mia!" at the San Diego Civic Theatre (Nov. 11; sign-ups begin Oct. 16) and an excursion to the San Diego Zoo (Nov. 18, sign-ups TBA).
Visit SDSU GO! for registration details and follow Instagram @sllsdsu for updates.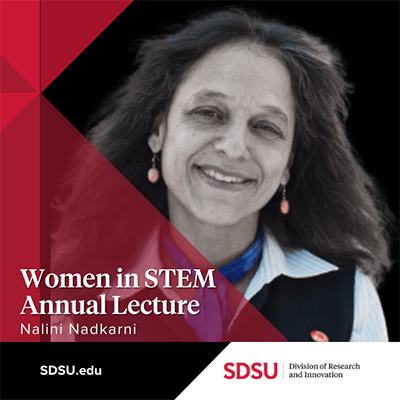 Women in STEM Annual Lecture and Social Oct. 23
Come join us Oct. 23 for the Division of Research and Innovation's Annual Women in STEM Lecture and Social featuring ecologist Nalini Nadkarni.
Come to hear Guggenheim Fellowship winner discuss her work in conservation and in art and science engagement with incarcerated communities.
This event is free and open to the public from 5:30-7:30 p.m. in Parma Payne Goodall Alumni Center. Light appetizers and refreshments follow the lecture. Please RSVP for the Women in STEM Lecture and Social by Oct. 6.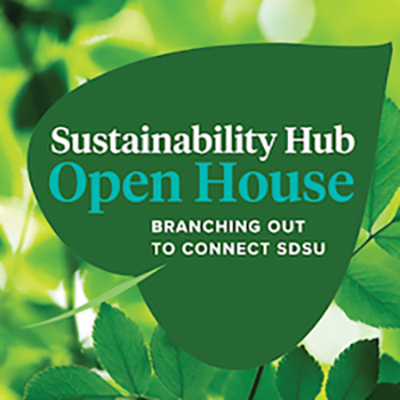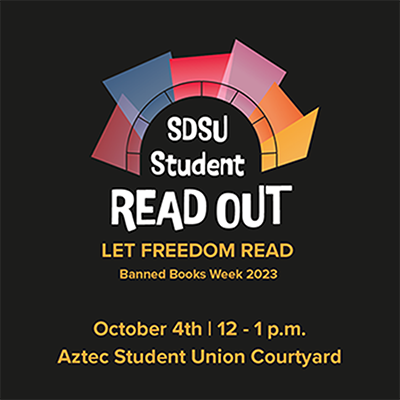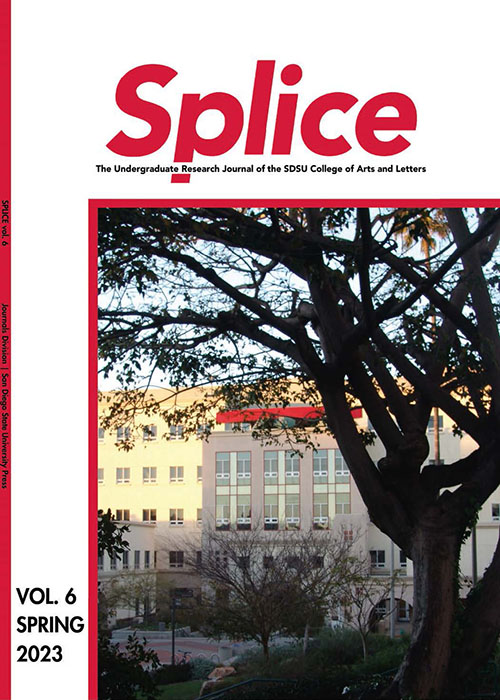 Splice Volume 6 is Out
Copies of the new volume of Splice, the journal for undergraduate scholarship in the College of Arts and Letters, are now available through the Undergraduate Research Office in CAL or digitally via the journal's webpage.
If you would like to participate in the creation of the forthcoming volume, please contact the Splice Collective via [email protected] or through the links on Splice's Instagram @splice_sdsu. The Splice Collective is a Registered Student Organization whose aims include empowering undergraduate students through the dissemination of their scholarship.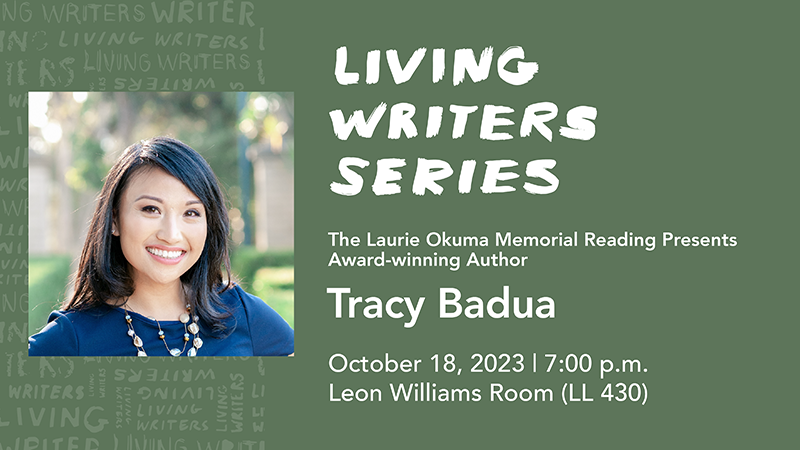 SDSU LIBRARY HOSTS AUTHOR TRACY BADUA
SDSU Library Hosts Author Tracy Badua The Living Writers' Series at SDSU is one of the longest continuously running series in the nation. The free event includes an author reading their work and time for audience questions.
Award-winning author Tracy Badua will share excerpts from her most recent novel, "This Is Not a Personal Statement," at 7 p.m., Wednesday, Oct. 18 in Love Library's Leon Williams Room (LL430).
Catch the Final Round
of Business Cases
The International Business Case Competition brings together nine undergraduate business teams from across the nation to solve an international business case.
Cheer on your favorites in the final round, 1-3 p.m., Saturday, Oct. 21 at the Conrad Prebys Aztec Student Union.
Golden Galleria
Shows Off Student Art
Stop by and admire art pieces created by fellow SDSU students at Golden Galleria from 6-8 p.m. Thursday, Oct. 12 in the Conrad Prebys Aztec Student Union Courtyard.
Enjoy hors d'oeuvres — cocktail attire welcome — and vote for your favorite art piece.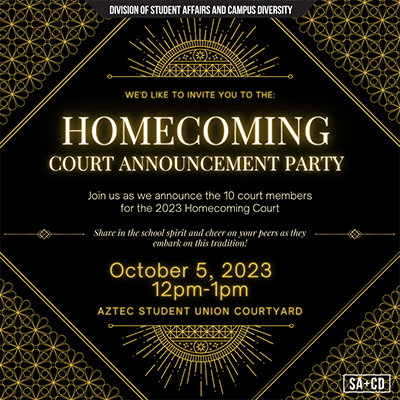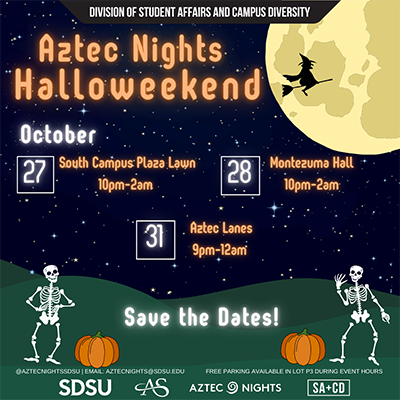 ASUB Has Loaded October
The Aztec Student Union Board's October slate of free events includes everything from tasty tunes to a beach day on campus.
The month kicks off Oct. 2 with Tasty Tunes at 5 p.m. in the union Goldberg Courtyard and continues Oct. 10 with Beach Bash Shenanigans at 5 p.m. in the courtyard. The schedule also includes a screening of the Halloween classic "Hotel Transylvania" at 6:30 p.m. Monday, Oct. 16 in the Union Theatre and an Open Mic Night at 5 p.m. Wednesday, Oct. 25 in the Goldberg Courtyard.
Visit the ASUB calendar for more details.
Wanna Tailgate?
Submit Your Application!
Student organizations that are recognized or conditionally recognized are invited to apply to host a tailgate in the student tailgating section at Snapdragon Stadium. Presence applications can be submitted a week in advance of the game and are due on the Tuesday (at 11:59 p.m. PDT) before the game.
Spaces are limited — 16 available for RSOs — and will be assigned in advance. RSOs will receive confirmation by Wednesday at noon if they have been assigned a tailgating space. Each tailgating space will have 60 allotted wristbands. Depending on demand and availability, RSOs may be assigned one or two spaces.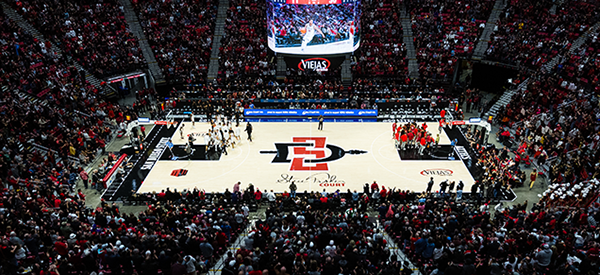 AZTEC BASKETBALL BEGINS ROAD TO REPEAT
Your Aztec Men's Basketball team is looking to repeat the magic of the 2022-23 season, and the action starts Oct. 30 with an exhibition game against CSU San Marcos.
The Aztecs have been picked to finish first in the Mountain West Conference and have been ranked in the preseason Top 25 nationally by several publications. The team returns a solid core: Lamont Butler, the hero of the team's first NCAA Final Four game; Jaedon LeDee; Darrion Trammell; Micah Parrish; and USC transfer Reese Dixon, among others.
SDSU students are admitted free for all regular season Aztec athletic events with a valid SDSU Student Red ID card (card must swipe valid). Claim your ticket by visiting GoAztecs.com/StudentMobileTix.
New Peer Support Group:
Queering the Norm
Queering the Norm is a new peer-led support group intended for commuter students, transfer students, fluid, non-conforming, and questioning students whose experiences fall outside of what is considered traditional. The group will be a safe and brave space for exploration, building and deepening connections, and creative opportunities to have fun while challenging heteronormativity and cisnormativity.
The group's first meeting is noon-1 p.m. Tuesday, Oct. 17 at The Pride Center Multipurpose Room. Visit The Pride Center website for more information about upcoming events and programs.
Plan Ahead for
Spring Financial Aid
Spring financial aid will be released to Student Account Services starting Jan. 15, 2024, for the start of the spring 2024 term on Jan. 17. Plan ahead to avoid long wait times at the Cal Coast Student Financial Center.
Set yourself up for success for the Spring 2024 term by logging into my.SDSU prior to Spring 2024 registration to clear any charges or pending tasks under your "Tasks" tile.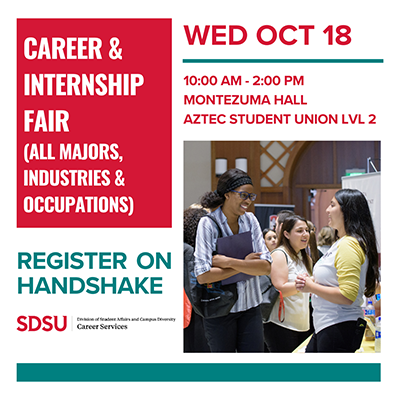 Connect with Employers at Fall Career and Internship Fair
The second session of the 2023 Fall Career and Internship Fair will be 10 a.m.-2 p.m., Wednesday, Oct. 18 in Montezuma Hall. This is a great opportunity for all students from all majors and alumni to connect with a diverse array of employers — from corporations to nonprofits – for internships, part-time jobs and full-time positions.
Register through the Handshake application.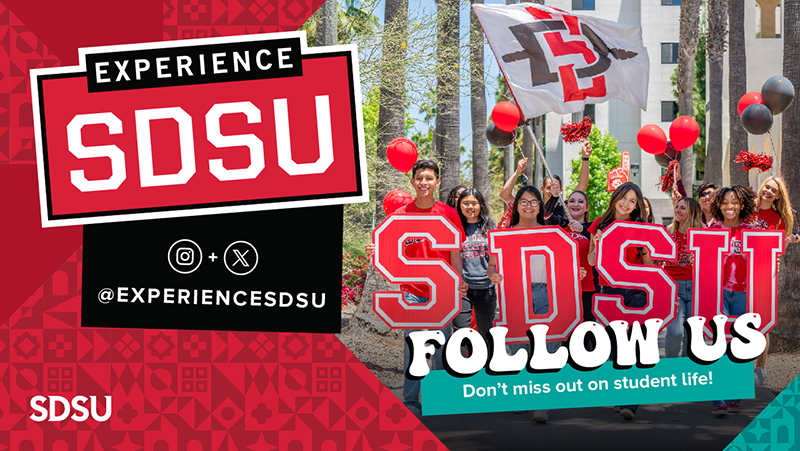 Are you a new or continuing student looking to find out about fun events or the latest information about SDSU?
Follow @ExperienceSDSU on Instagram and X for the latest in SDSU news and for information about student organizations and events!
CALENDAR
*Events subject to change

For more events and details, go to the SDSU Events Calendar.
For more academic dates, go to the Academic Calendar.
The schedule of athletic events is at goaztecs.com.
Find residence hall information at sdsu.edu/housing.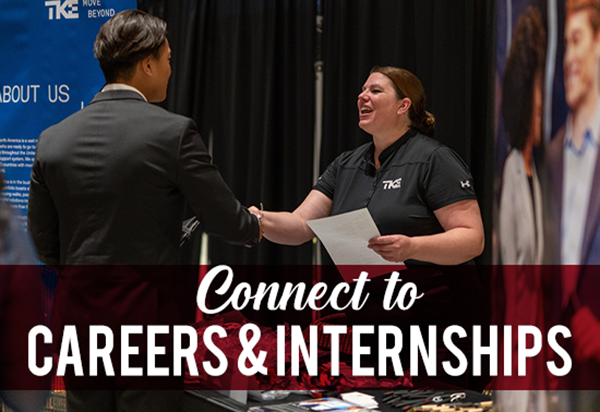 Career Services Featured Jobs and Internships
Looking for a part-time job to cover costs, an internship to build your professional skills or a full-time job because graduation looms? Check out these career and internship opportunities, and go to sa.sdsu.edu/career for more information on jobs, events and career preparation.
Have a story idea or a question? Contact Communications Services at [email protected]