MAY/June 2023 @STATE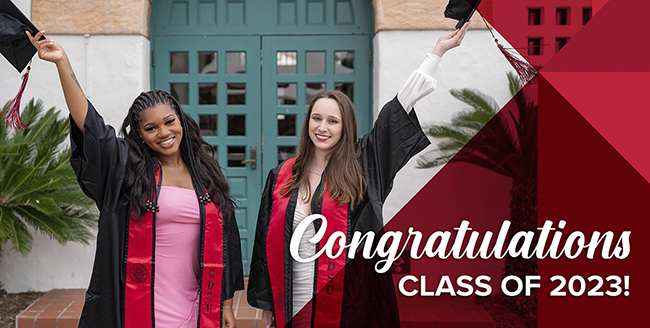 CONGRATULATIONS GRADUATES -
COMMENCEMENT 2023 IS HERE!
Congratulations to the San Diego State University Class of 2023! This month, we celebrate your accomplishments at Commencement from May 12-14 at Viejas Arena for San Diego campus students.

Graduation season concludes at the SDSU Imperial Valley Campus on May 16 at 7 p.m. on the Rollie Carrillo Quad.

Find everything you need to know about the various Commencement exercises on the Commencement website, including how to get tickets, where to buy your cap and gown and information for families and guests.

Graduates, please take a second to fill out the SDSU Outcomes Survey beginning May 2! Your feedback will give you a chance to have your voice heard and help future Aztec grads.
MAY/JUNE NEWS IN BRIEF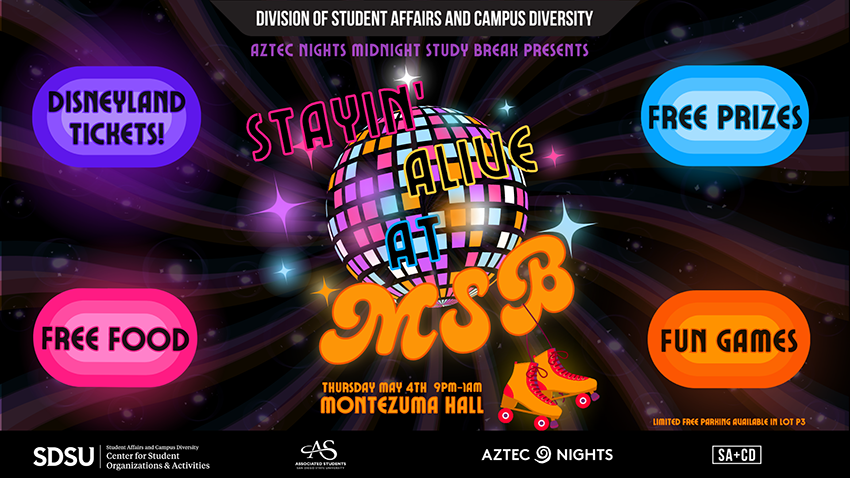 BOOGIE ON DOWN AT THE MIDNIGHT STUDY BREAK!
Finals are from May 5-11, but take a disco break from studying on finals eve!

Let's groove on down to disco town from 9 p.m. to 1 a.m. May 4-5 in Montezuma Hall! Join us for Aztec Nights biannual Midnight Study Break. This semester's theme: Stayin' Alive at Midnight Study Break!

Kick up your heels or bring your laptop along to join the fun by entering the opportunity drawings all night long! There will be 70's themed DIY activities, arcade games, Kahoot, student competitions and MORE! Did we mention we will be serving FREE In-N-Out burgers! Prizes include gift cards, airpods, hydroflasks, a scooter, a Nintendo Switch and a grand prize of 2 tickets to Disneyland!

Visit Aztecnights.com for more details.

CELEBRATE APIDA HERITAGE MONTH
May is Asian Pacific Islander Desi American Heritage Month, which serves as a national celebration of the history, contributions and achievements of the APIDA communities. APIDA Heritage Month was designated to commemorate the first Japanese immigration to the United States on May 7, 1853, while also honoring the Chinese immigrants who worked to complete the transcontinental railroad on May 10, 1869.

Come celebrate the month with the APIDA Resource Center, which will have a slate of events to celebrate the month including an APIDA Graduation Celebration held from 5-8 p.m. May 3 at the Conrad Prebys Aztec Student Union Courtyard, and the popular Makers' Market from 1-6 p.m. May 4, also in the Student Union Courtyard.

Visit the APIDA Resource Center for more events.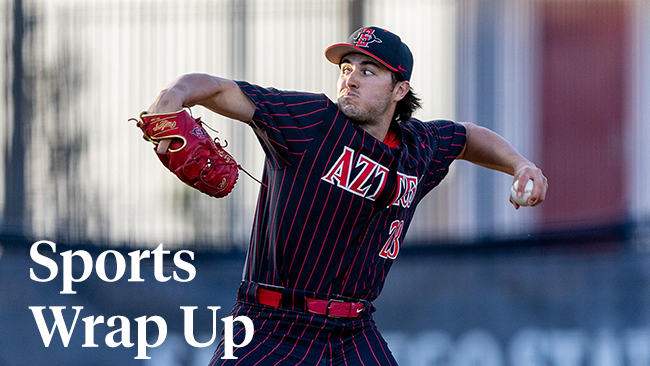 SPRING SPORTS WRAP UP CONFERENCE PLAY
Come support your Aztec spring athletics teams as they wind down conference schedules and prepare for their conference tournaments and championships. Check out Goaztecs.com for schedule and ticket information for baseball, softball and women's track and field.

Also, a huge congratulations to the Men's Golf team for capturing their second straight Mountain West Conference championship and to SDSU pitcher TJ Fondtain, who recorded the eighth no-hitter in the baseball program's history in a 4-0 win over Nevada on April 21. Read more in NewsCenter.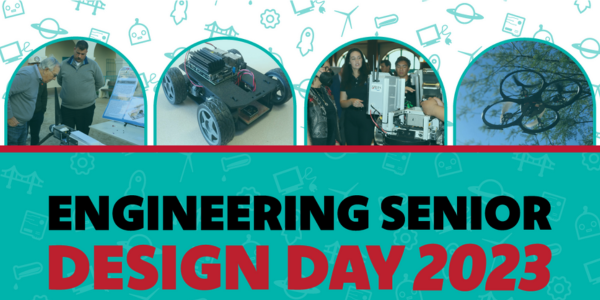 Engineering Design Day is May 3!
The Spring 2023 Engineering Design Day is May 3! This free event will be held from 1:30 to 4:30 p.m. in Montezuma Hall and will showcase over 80 projects from our senior design classes in aerospace, civil, construction and environmental, electrical and computer and mechanical engineering majors.

SDSU Alumni will also have a table at the event with resources to get connected to the engineering alumni community.

Check out the 2023 Design Day Booklet outlining all of the projects participating in this year's event.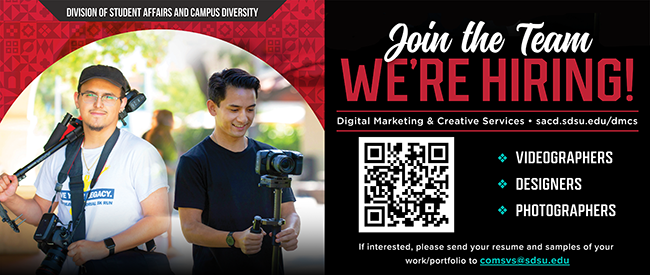 DMCS IS HIRING!
CURRENT STUDENTS - we're looking to hire a videographer, a graphic designer and/or a photographer for student positions with the Division of Student Affairs and Campus Diversity! If you're interested in applying, email [email protected] with your updated resume and samples of your work/portfolio and we'll be in touch!

THERE'S STILL TIME: REGISTER FOR SUMMER SCHOOL
Summer Session is almost here! Classes begin May 22, but there's still time to register. Get back on track to graduate on time or free up room to pursue a job, an internship, student organizations, study abroad or other opportunities in a future semester.

Visit the Summer Session website for more information, including class schedules, summer session fees and registration information. Log into my.SDSU to clear any charges or pending to-do items under your "Tasks" tile prior to your registration.

Also, visit the Summer Session Financial Aid website to learn how to apply for summer aid and make sure you file your FAFSA by June 30 to qualify!
"SHAC" up this fall: Join the Student Health Advisory Committee
Become a health and wellness advocate for SDSU students by joining the Student Health Advisory Committee. SHAC members advise the departments of Student Health Services, Counseling & Psychological Services, and Well-being & Health Promotion on their services, make recommendations on policy and programming, and give voice to the needs and perspectives of the student body!

SHAC is open to all SDSU students and there are no dues or fees required. Please complete the SHAC interest form by May 19 to be notified about meetings for Fall 2023 and/or apply for open officer positions.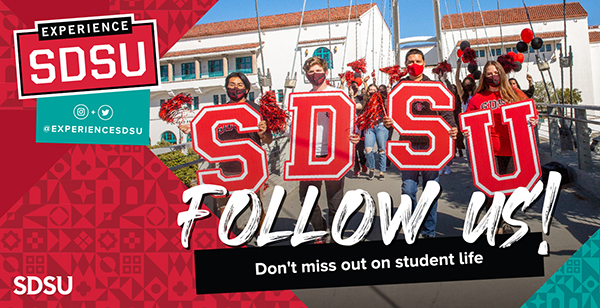 YOUR DESTINATION FOR NEWS ABOUT STUDENT LIFE AND WHAT'S HAPPENING ON CAMPUS!
Follow @ExperienceSDSU on Instagram and Twitter for the latest in SDSU news and information about student organizations and events!
CALENDAR
*Events subject to change