October 2022 @STATE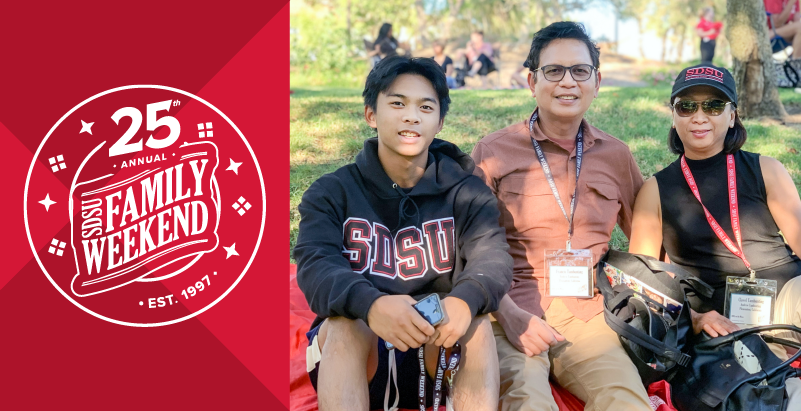 FAMILY WEEKEND TURNS 25! JOIN US!
The 25th annual SDSU Family Weekend on Oct. 7-8 is a chance for your families to celebrate your experience and accomplishments at SDSU.

There are events planned for the entire family, including a Family Weekend brunch at the Aztec Student Union, a tailgate at the new Snapdragon Stadium, campus tours and open houses, a picnic and serenade at Scripps Cottage with a live band, welcome back receptions, an involvement expo for students, departmental open houses and much more!

Families will receive a welcome packet, goodie bag, lanyards with name tags, access to exclusive discounts at the SDSU Bookstore, Mission Bay Aquatic Center, Aztec Lanes, Bartell Hotels and more!

Visit SDSU Family Weekend for more information about the Family Weekend lineup and how to register.
OCTOBER NEWS IN BRIEF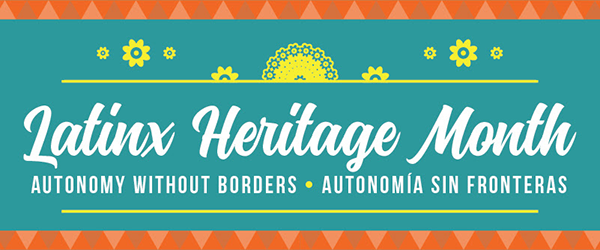 CELEBRATE NATIONAL HISPANIC & LATINX HERITAGE MONTH AT SDSU
The weeks between Sept. 15 and Oct. 15 mark National Hispanic & Latinx Heritage Month, a time to honor the culture, traditions and contributions of Hispanic, Chicanx and Latinx communities.

As a federally-designated Hispanic-Serving Institution (HSI), San Diego State University is proud to celebrate the many contributions of our Hispanic, Chicanx and Latinx students, faculty, staff and colleagues.

Visit the Latinx Resource Center, the SDSU Hispanic Serving Institution Affairs website and Arts Alive for various Heritage Month events.

CELEBRATE FILIPINX AMERICAN HISTORY MONTH WITH THE APIDA CENTER!
October is Filipinx American History Month, and the APIDA Center is hosting a series of events to highlight the contributions of Filipinx Americans in our culture.

The Center will be hosting speaker events addressing the history of the Filipino hip hop and DJ music scenes, the pensionados at SDSU, Black and Filipinx American student experiences and more.

APIDA Center will host FAHM-themed craft nights on Mondays, music nights on Tuesdays, movie nights on Wednesdays and game nights on Thursdays.

The APIDA Center is also teaming up with One SDSU Oct. 20 to host a Makers' Market from 1 p.m. to 6 p.m. at the Student Union Courtyard. Makers, do-it-yourself-ers, entrepreneurs and singer-songwriters are encouraged to sign up by Oct. 10 to sell products or sing an original song on stage.

For more information about all the FAHM month events and the Makers Market, visit the APIDA Center.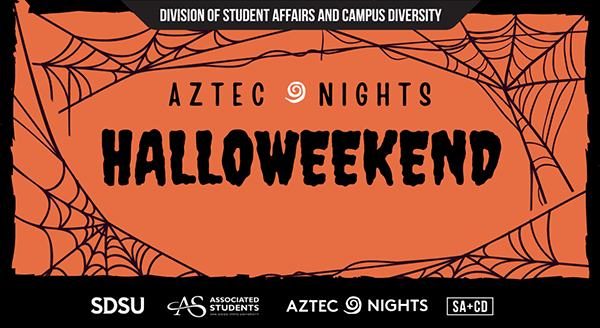 "HALLOWEEKEND" HIGHLIGHTS AZTEC NIGHTS SLATE
This Halloween, get your spooky on at Aztec Nights!

From Oct. 28-31, Aztec Nights is stacked with wall-to-wall, late-night fun and FREE events for students.

Catch a double feature movie and some mouthwatering snacks and desserts, hang out at Fright Fest, catch the Pixar classic "Coco" or kick off homecoming weekend with some haunted bowling at Aztec Lanes!

Visit the Aztec Nights website for the full month slate of events, including the "Halloweekend" lineup!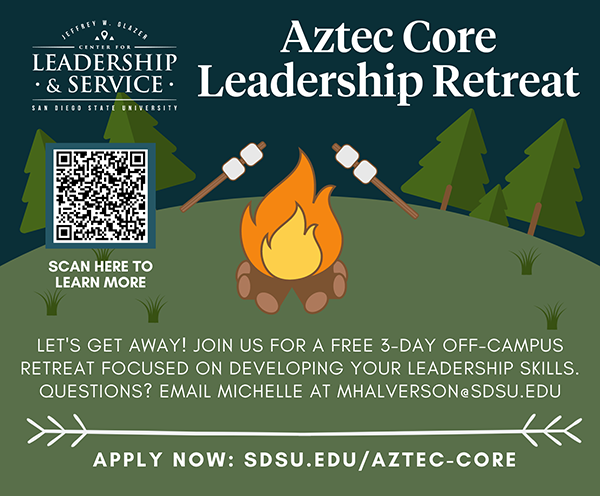 Sign up for the Aztec Core Leadership Retreat!
Let's get away! Pack your sleeping bag and bring a jacket, we're going camping!

Join us Jan. 10-12 for a free 3-day off-campus retreat in the mountains designed to enhance your leadership skills and connect you with other SDSU students. Let's explore your personal leadership style, how to work in teams to achieve a common goal, and learn about appreciating diversity within leadership through various activities. We'll provide the cabin and the s'mores, you bring the fun!

Apply now the free retreat at sdsu.edu/aztec-core, as spots will fill up fast!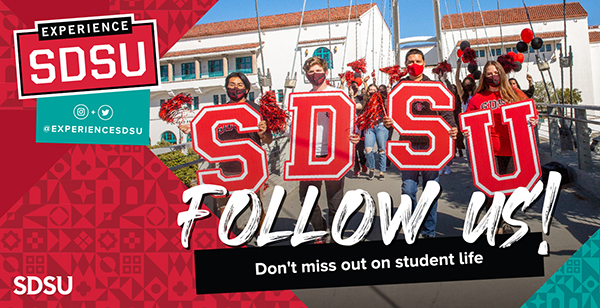 YOUR DESTINATION FOR NEWS ABOUT STUDENT LIFE AND WHAT'S HAPPENING ON CAMPUS!
Follow @ExperienceSDSU on Instagram and Twitter for the latest in SDSU news and information about student organizations and events!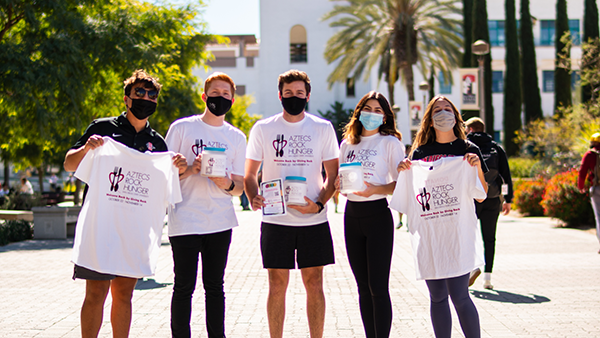 AZTECS ROCK HUNGER KICKS OFF OCT. 14!
We need you to help us Feed the Need! Participate in the annual Aztecs Rock Hunger campaign to help fight food and nutrition insecurity in San Diego and the SDSU community starting Oct. 14! Proceeds will benefit the Jacobs & Cushman San Diego Food Bank, A.S. Food Pantry and SDSU Economic Crisis and Response Team. With your help, you can help us reach our goal of $100,000!

Here are ways to Donate:
CashApp: $aztecsrock

At the SDSU campus Starbucks, eateries and markets

Donate via the SDSU Online Giving Portal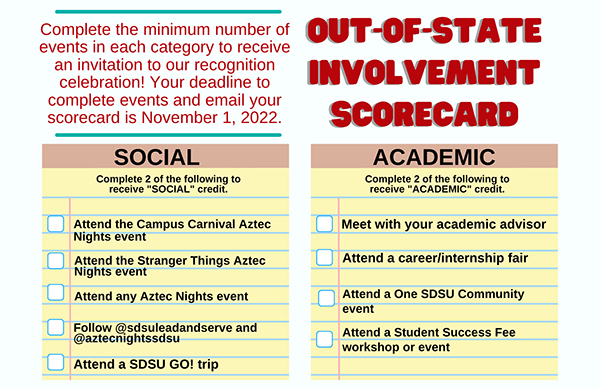 OUT OF STATE INVOLVEMENT SCORECARD
If you're from out of state and looking for motivation to get involved on campus, Student Life & Leadership has you covered.

Sign up for the Out-of-State Involvement Scorecard and get celebrated for involvement in social, academic, leadership and club activities on campus.

Complete events in each section before the Nov. 1 deadline and we will honor you at the end-of-semester Home Away from Home Recognition Celebration!

To officially enroll in the scorecard program, visit tinyurl.com/sdsuoosscorecard22
CALENDAR
Oct. 4: Intro to Mountain Climbing (Aztec Recreation Center)
Oct. 5: Stranger Things At State - Welcome to Hawkins! (ASUB, Montezuma Hall)
Oct. 6: Cooking With Chefs (ASUB, Aztec Student Union Goldberg Courtyard)

Oct. 6: Homecoming Court Announcement Party (Noon, Goldberg Courtyard)

Oct. 6: Women's Soccer vs San Jose State (Snapdragon Stadium)
Oct. 6: Spiritual Diversity in San Diego: A Conference on New, Alternative, and Emerging Religious Movements (Religion)
Oct. 7-9: Family Weekend
Oct. 7: Family Weekend RSO Expo (Centennial Walkway)
Oct. 8: Aztec Football vs Hawaii (Snapdragon Stadium)
Oct. 8 and 15: Big Data Hackathon (Storm Hall West, 012-Charles Hostler Hall)
Oct. 10-14: Indigenous Peoples' Week of Action (Native Resource Center)

Oct. 11: Moving beyond Diversity: Embedding Equity and Inclusion in Athletics

Oct. 13: Latinx Heritage Month Pachanga (Goldberg Courtyard)
Oct. 13: Aztec Volleyball vs Wyoming (Peterson Gym)
Oct. 13: Sociology Lecture Series "Loss in the City: Anti-Blackness and Racial Capitalism in the Nation's Capital" (Student Union Theatre)
Oct. 14: Africana Studies @ 50: A Retrospective of Art, Activism, and Scholarship Symposium (Montezuma Hall)
Oct. 14: Screen on the Green: Thor: Love and Thunder (Aztec Nights, Aztec Green)
Oct. 15: Kevin Hart (ASUB, Viejas Arena at Aztec Bowl)
Oct. 17: Monday Night Movie: "Monster House" (ASUB, Student Union Theatre)

Oct. 18: An Intersectional Lens on Disability (Student Union Theatre)

Oct. 19: Know Your Rights Series Part 1 (EOPOS: tinyurl.com/urcjfs3)

Oct. 19: Loretta Ross x Women's Resource Center collaboration (virtual)

Oct. 20: Makers Market (Goldberg Courtyard)
Oct. 21: APIDA-POP Expo! (Tula Community Center)
Oct. 24: San Diego Scare (ASUB, Student Union Theatre)
Oct. 26: Know Your Rights Series Part 2 (EOPOS MLK Conference Room SSW 2109)
Oct. 26: Dia de los Vivos: Music related to Latin American Heritage (Arts Alive, Montezuma Hall)
Oct. 27: Sip N' Paint (ASUB, Montezuma Hall)
Oct. 28: "Pump"kin Cup Boulder Competition (Aztec Recreation Center)
Oct. 28-31: Aztec Nights Halloweekend (aztecnights.com)
Oct. 31: Homecoming Fall Festival (ASUB, Goldberg Courtyard)
*Events subject to change