SWANA Heritage Month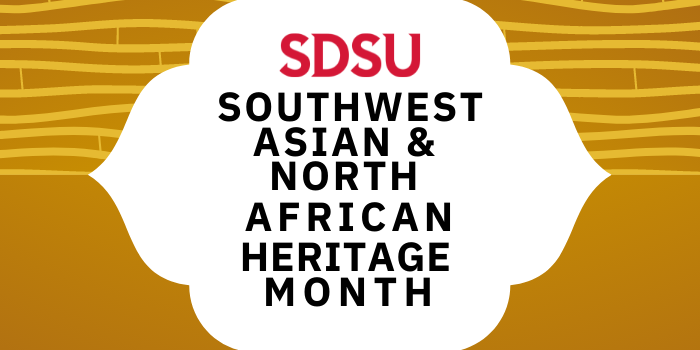 April marks the annual Southwest Asian and North African (SWANA) Heritage Month at San Diego State University. The SDSU Center for Intercultural Relations, in collaboration with student organizations and community partners have planned educational and celebratory programming for the month. All members of the SDSU community are invited to participate in our events by registering below.
What Does SWANA Mean?
SWANA is a decolonial and geographical term that represents the various communities located in Southwest Asia and North Africa. Another term used to describe the region is the Middle East and North Africa (MENA). The term SWANA has been adopted by the Center for Intercultural Relations and other CSU student organizations to be more inclusive of SWANA communities that may not identify as Arab.
About SWANA Heritage Month
The purpose of the heritage month is to increase awareness about the vibrant history, cultures, experiences, contributions, and resiliency of the SWANA community. The heritage month coincides with the National Arab American Heritage Month which is observed in April.
We Are Not Invisible: SWANA Explained
Join us virtually on Tuesday, April 5 for this campus-wide virtual event featuring guest speakers Doris Bitter and Ojeni Touma from the American-Arab Anti-Discrimination Committee. We will learn about the importance of SWANA terminology and representation. Please RSVP at: bit.ly/WANISWANA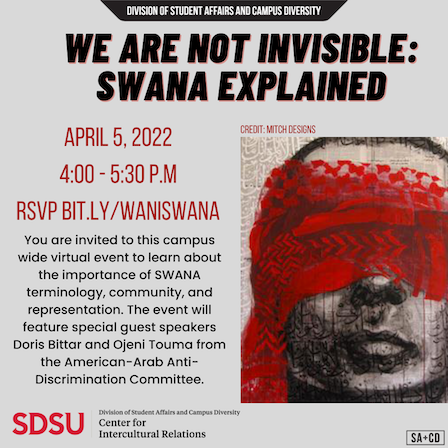 Introduction to Arabic Calligraphy
Metzli Suite, Student Union, Second Floor
As part of the SWANA Heritage series, join us to learn how to draw beautiful Arabic calligraphy with special guest instructor Tala Ilaian.
Tala Ilaian is a content creator and product designer. She has amassed over 300,000 YouTube subscribers and has taught art for over 5 years. Some of her interests include painting, language learning, and graphic design.
Follow Tala on Instagram and Youtube!
RSVP at bit.ly/swanaevents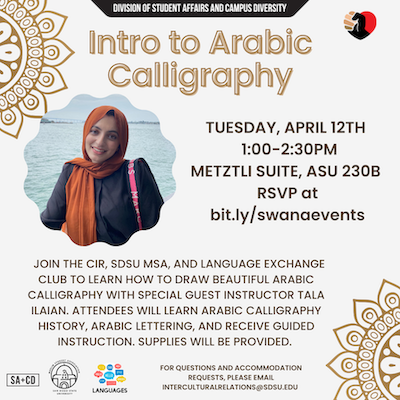 Dispel the Myth Part II with the Middle Eastern Student Union
CIR Living Room, Student Union, Second Floor
RSVP at bit.ly/swanaevents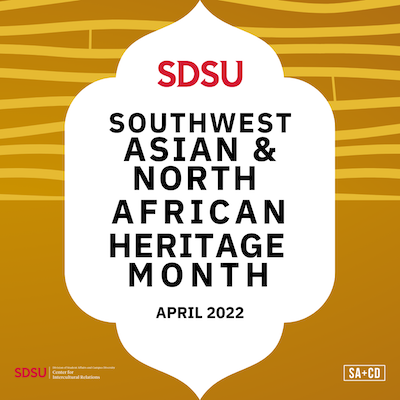 Middle Eastern and North African Closing Celebration hosted by the Middle Eastern Student Union
Goldberg Courtyard, Student Union, First Floor
RSVP at bit.ly/swanaevents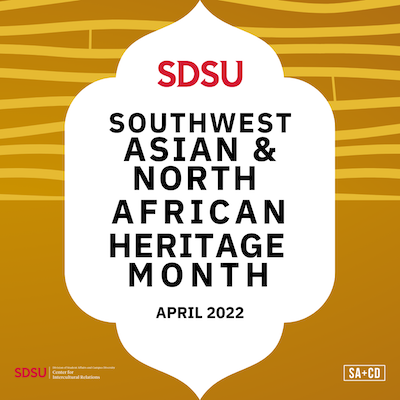 SWANA Resources
Our current and former SWANA-identified students have created a resource list for SWANA community members. You can review the list at: HTTPS://TINY.ONE/SWANA-RESOURCES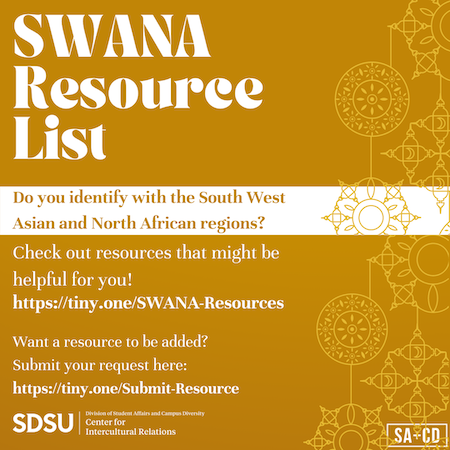 SWANA Spotify Playlist
Our SWANA-identified students have created a Spotify playlist for SWANA Heritage Month! You can listen to the playlist at: https://open.spotify.com/playlist/1EQAraQKcXlTRi2F2CwXPu?si=f6d65d4d61204e63
Past SWANA Heritage Month Events