Cynthia is a proud daughter of an immigrant! She was born and raised in city heights area of San Diego and attended local high school and community colleges then transferred to San Diego State University (SDSU). Cynthia received both her BA in Psychology and a MA in Postsecondary Educational Leadership with emphasis in Student Affairs at San Diego State University.

Meet Our URC Mentors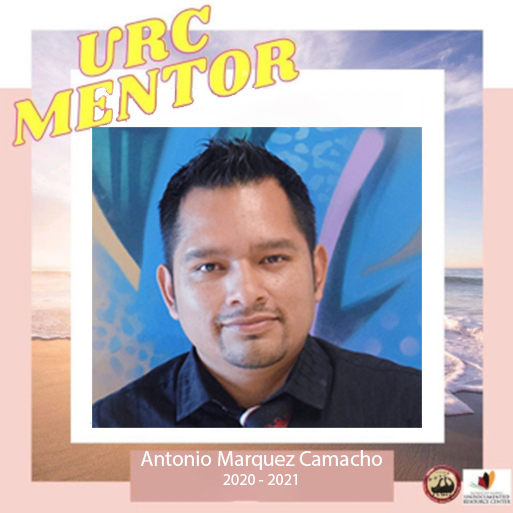 Antonio Marquez
URC Mentor
Journalism Media Studies
My name is Antonio Marquez and I am a Journalism Media Studies Major going into my fifth year after Transferring to SDSU in the Fall of 2018. I was born in Guanajuato GTO. But once I turned seven years old we came to San Diego which is my hometown. As a DACA/AB 540 student, I have struggled to get through school but I never gave up and so I keep going no matter what. I write for Mundo Azteca part of the Daily Aztec School Newspaper and I DJ at KCR our school Radio station during my show "The Dreamer Hour". In my free time, I love to play nonviolent video games, read books, and Run which I love. In the Fall I will be the part for two student Organizations which is Education without Borders and the SDSU chapter of the National Hispanic Journalist Association. I will also be returning to serve in the A.S board of directors for a second year. As part of the SOAR mentor program what I really want is to share my experience as a transfer student and learn alongside others from each other as we continue our educational journey at SDSU.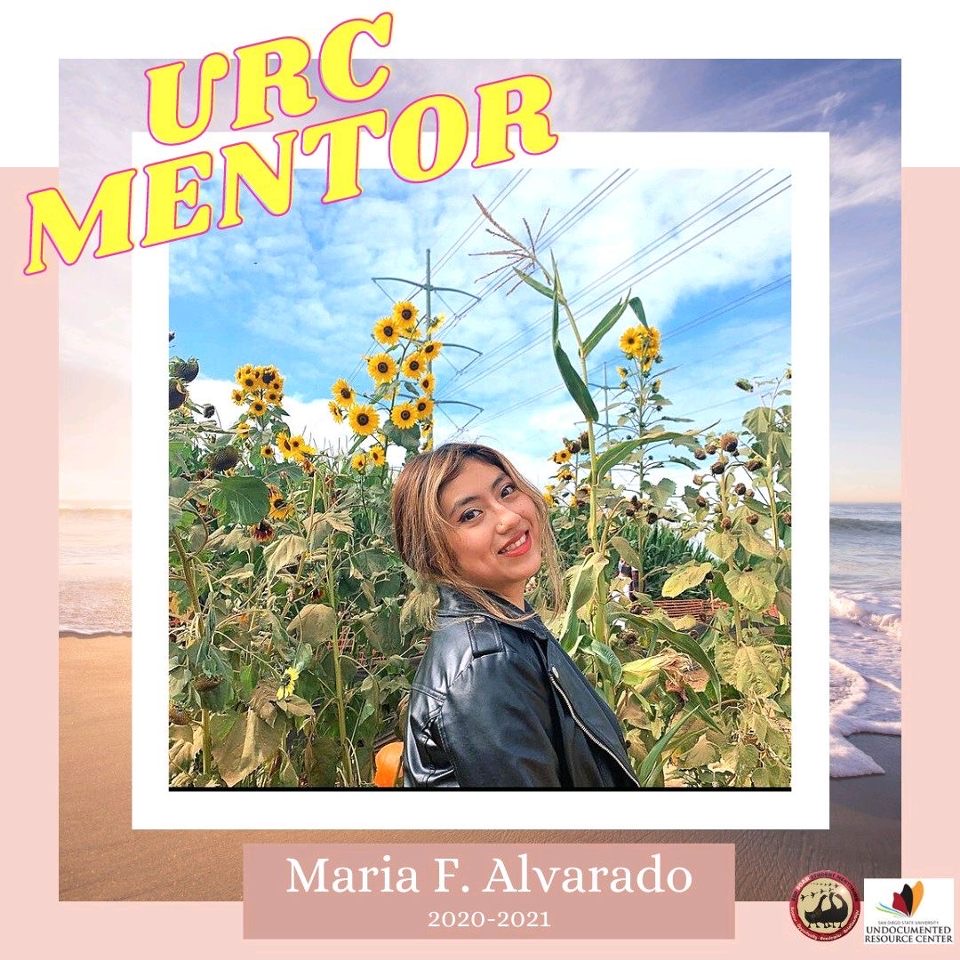 Maria F. Alvarado
URC Mentor
Criminal Justice Emphasis: Social Work
Hello! My name is Maria and my pronouns are she/her/hers. I am a current senior with a major in Criminal Justice and a Social Work minor. I was born in Mexico, but grew up in San Diego, CA since the age of 6. I am a first-generation college DACA recipient. I currently work as a front desk staff for the Undocumented Resource Center and EOP Learning Support Center. For student organizations, I have been involved in the Korean Student Organization, mostly in their dance team called Ignite, and this semester I am part of Education Without Borders and Civil Core. Some of my main hobbies include dance, fashion, music, and exploring places! However after COVID, I have adopted new hobbies like painting, hiking/exercising, and trying out food places. In the future, I would like to work in the juvenile justice system by being a mentor/counselor to younger individuals. As a mentor I would like to build connections and be a source of support to incoming students. I had mentors in my life that have helped me grow and I would like to pass on that experience to someone else, I hope to learn from my mentees and other mentors as well throughout the semester!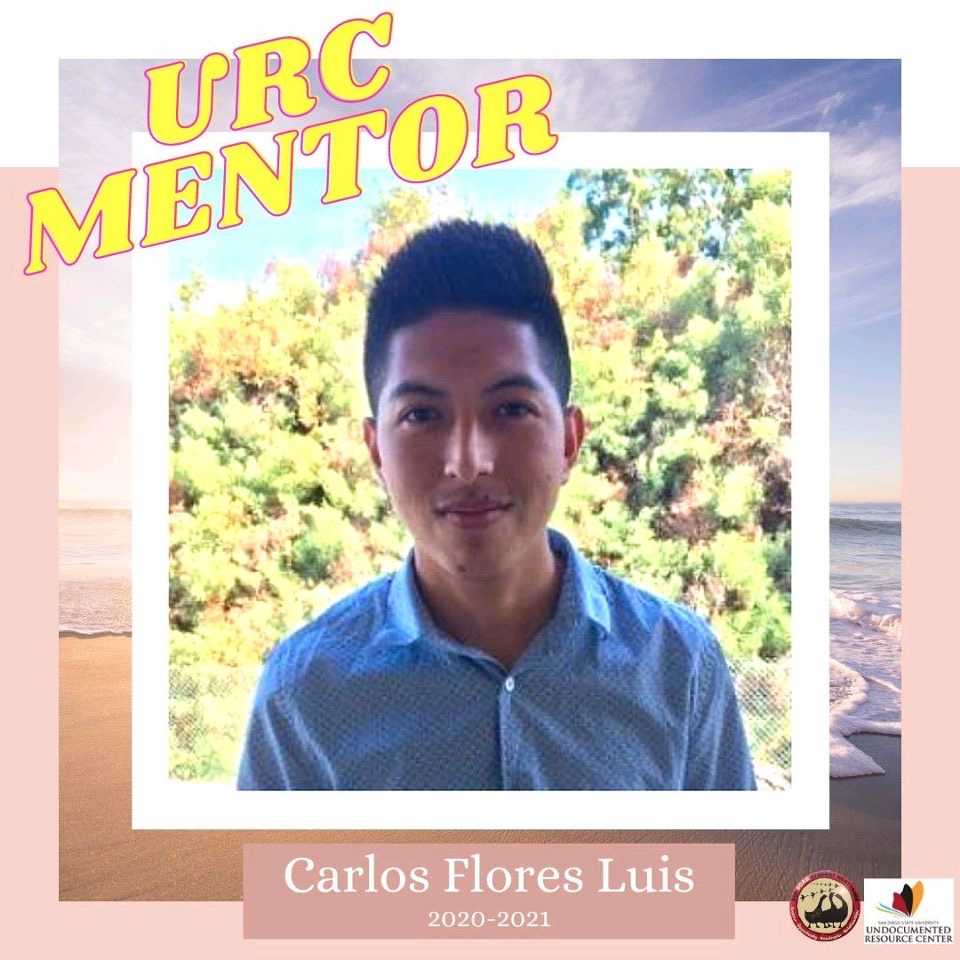 Carlos Flores Luis
URC Mentor
Mechanical Engineer
Hi everyone! My name is Carlos Flores, and I am a first generation college student majoring in Mechanical Engineering. I am originally from Mexico, but I have lived in Carlsbad, CA for the past twenty years. This is my fourth year at SDSU, and this year I have the opportunity of being a mentor. As a DACA/AB 540 student I have been able to navigate through my transition from high school to the university by becoming involved and utilizing all the resources available to me. Seeking ways to help other students has allowed me to become the President for Education Without Borders and a Student Assistant for the Undocumented Resource Center. I like to stay active by going on hikes, morning runs, and playing soccer. However, I also enjoy staying indoors watching Netflix, playing video games, and spending time with family and friends. As a mentor I want to use my experiences as a tool to help make the transition of other students be a successful one. I know from first-hand experience how important mentors are for students, and I want to be someone who other students feel comfortable reaching out to and learn from in their educational journey at SDSU.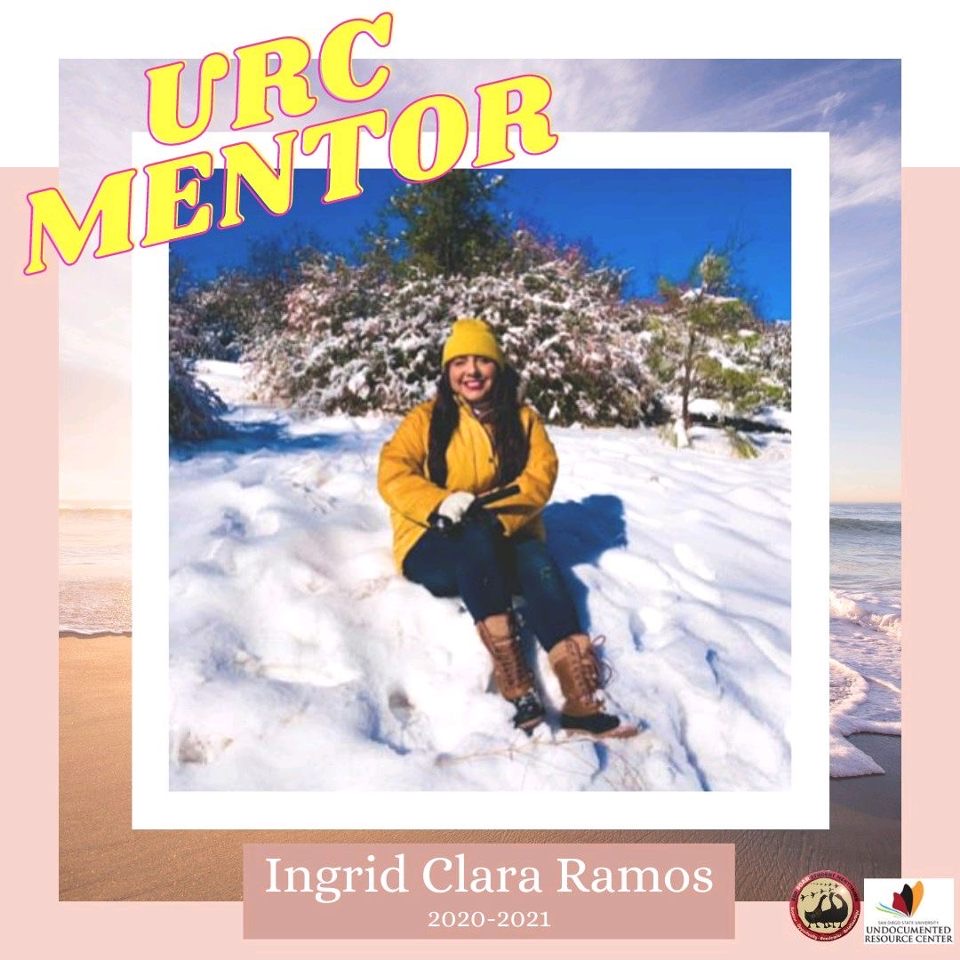 Ingrid Clara Ramos
URC Mentor
Sustainability Emphasis: Public Health
Hello! My name is Ingrid Clara; I am a first-generation transferred college student majoring in Sustainability with a minor in Public Health. I was born and raised for five years in Morelos, Mexico, until I immigrated to San Diego at age five, which has been my hometown ever since. A vast portion of my identity is that I am a DACA/AB540 student, which means I know how it feels to be in limbo. Or to struggle your way to college with the potential pressure of your family behind you. Yet always remember that you are here at SDSU for a reason, and you have a fantastic team to guide you here. A little about me is that I am the secretary of EWB (Education Without Borders, a community on campus that helps Dreamers and AB540 students find peace of home on campus. Nature is my serenity. I love going hiking and camping. Being out in nature gives me a moment to escape the busy city. When I am not out there, I am cooped up on my couch watching Grey's Anatomy, KDramas, or pretty much anything that makes me laugh. I chose to be a mentor this year because I have been part of a mentoring program (FYE) in my past community college at South-Western. Therefore I wanted to continue guiding individuals when one may think they may have no one that understands them. I am a great listener and always keep a judgment-free zone. I believe I have valuable life lessons, from being the first in my family to get a college education to struggling through academic probation. I learned that you are never alone and that there are many resources out there to help you be successful. Therefore, I want to guide you to those resources and be there for any student this year who may just need a friend in college. I am so enthusiastic about this upcoming journey as a SOAR mentor.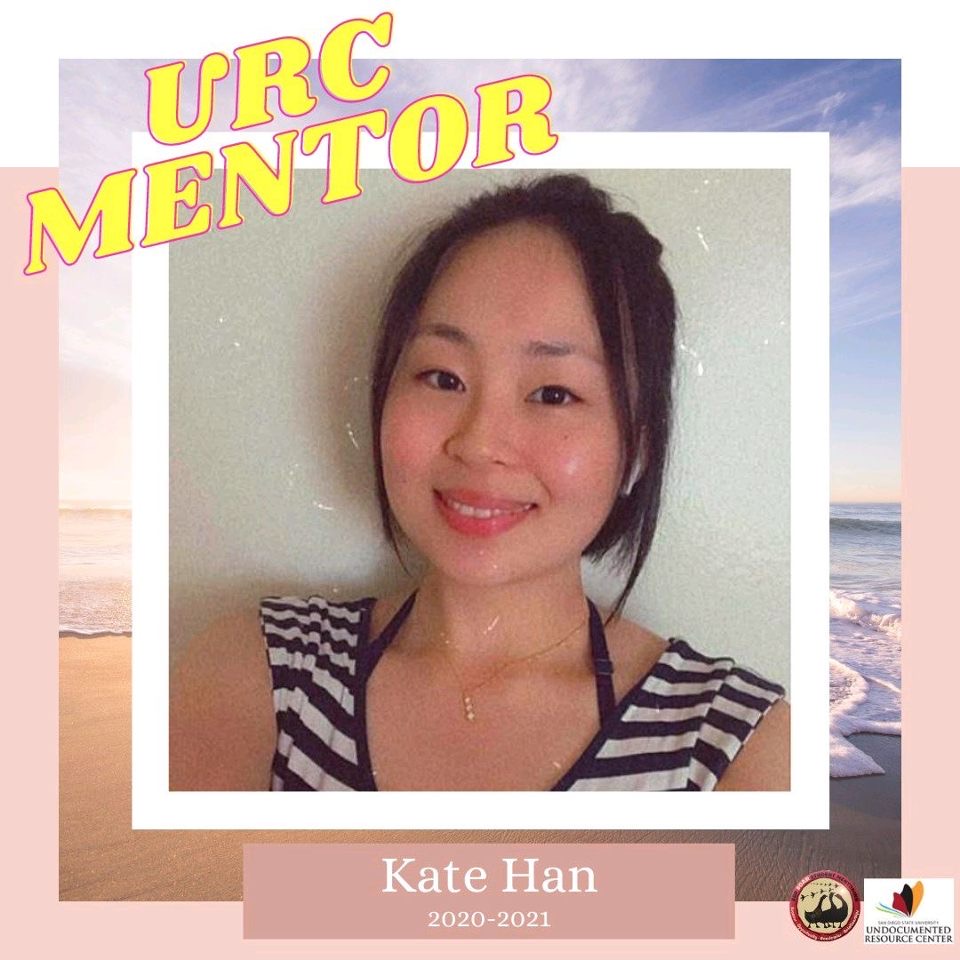 Kate (Da Un) Han
URC Mentor
Public Health
Hi, My name is Da Un Han but I like to go by Kate Han, feel free to call me Kate. My major is Public Health and I am currently a fourth year in my last semester. Before attending San Diego State University, I attended San Diego Mesa College for 3 years and earned my Associates in Science in Kinesiology and Nursing. I have prior experience working with students from different groups, such as undocumented individuals, mixed-status family/ individuals, incarcerated, foster youth, young and old age group, and second language speakers. With that being said, I am bilingual, I speak both Korean and English. My goal as a mentor is to guide my students to become successful not just in school, but in life. I am extroverted, organized, dedicated, kind, compassionate, and most importantly, talkative!!! In addition, my hobbies consist of hiking, singing, listening to instrumental music, exercising, socializing with friends, and attending different events, and doing lots of outdoor activities. I am also a foodie! And enjoy drinking lots of boba. Oh, and I especially love playing HD PC games when I have time. I am pleased to be your mentor for this semester, and I cannot wait to work with each and one of you. Welcome home Aztecs!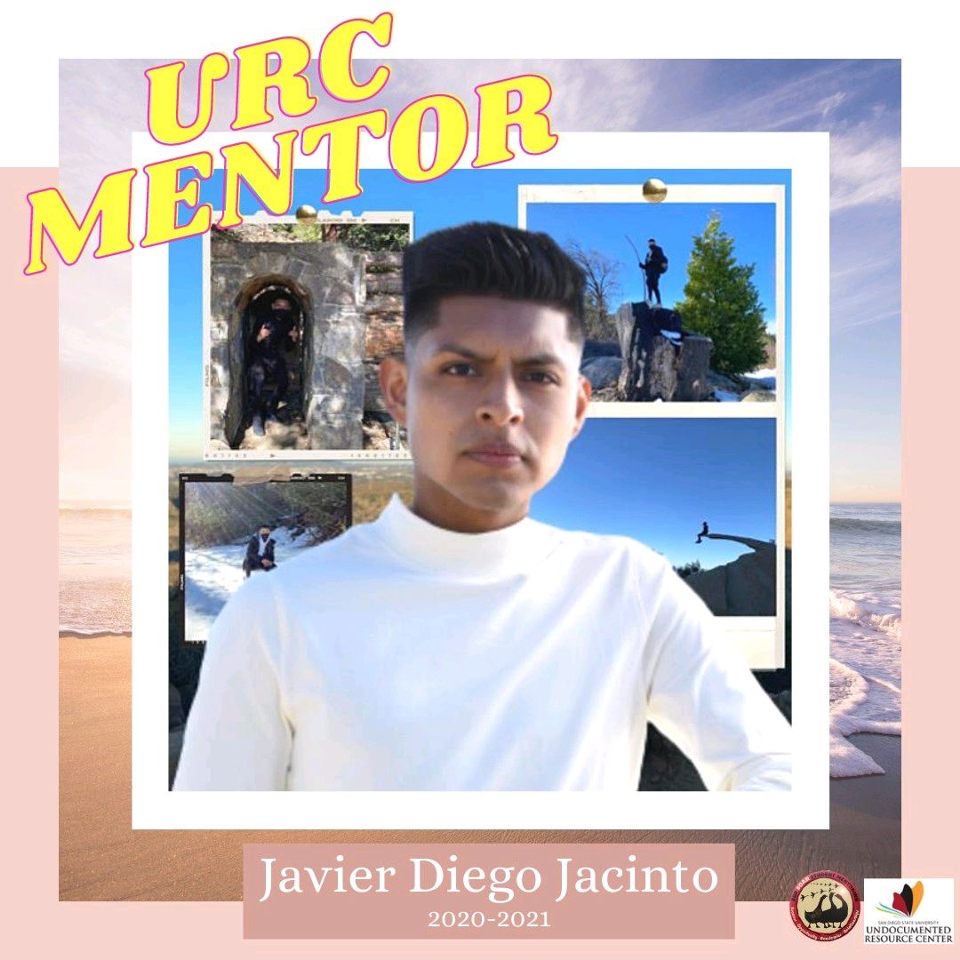 Javier Diego Jancito
URC Mentor
Liberal Studies Emphasis: Elementary Education & Literacy
Hi, my name is Javier Diego Jacinto. I am a first generation transfer student majoring in Liberal Studies with an Emphasis in Elementary Education and a Focus on Literacy. I was born In Cuernavaca, Morelos Mexico. I am a DACA/AB 540 student and I am here to share my experiences with you with the mindset of helping you succeed at any goal you set yourself to. In my leisure time, I enjoy waking up at 4 am and going on hikes. I have an awesome Pug that helps brighten my day. I enjoy drinking a nice, warm cup of coffee while watching a couple of episodes of the office for the 100th time. I plan to get my bilingual teacher's credential and utilize my passion for producing and creating music and videos to showcase the importance of education. As a result, I am in the process of publishing Aspiring Teacher's Club. It will help bridge the gap between undergrads who wish to become teachers and the resources they need to attend a 4-year institution. I am excited to be part of SOAR and transmit my positive and enthusiastic energy into any obstacle that dares to come our way. Together, little by little, we will start by doing what is possible, and sooner than you think, we will be doing what we thought was impossible.