DACA INFORMATION
For current information regarding the Deferred Action for early Childhood Arrivals (DACA) program; please visit Homeland Security website.
What is DACA?
On June 15, 2012, the Secretary of Homeland Security announced that certain people who came to the United States as children and meet several guidelines may request consideration of deferred action for a period of two years, subject to renewal. They are also eligible for work authorization. Deferred action is a use of prosecutorial discretion to defer removal action against an individual for a certain period of time. Deferred action does not provide lawful status. This is all made possible through an Executive Action by the Obama administration; as this is not a law, this status can be revoked or terminated at any time by the executive branch of the government (US President).
For more information on all up-to-date requirements and related information, please visit www.uscis.gov/childhoodarrivals
If you have not heard back regarding your DACA renewal status, you can contact your legislative representative who may be able to assist. Prior to contacting your representative, we recommend researching their stance on DACA as some may or may not be supportive.
Dream Act Application
Students interested in attending qualifying California colleges, universities, and career education programs can apply for state financial aid through the California Dream Act Application. The federal Deferred Action for Childhood Arrivals (DACA) program is unrelated to this application.

You are eligible to complete the CADAA if you are:
Undocumented
Have a valid or expired DACA
U Visa holders
Have Temporary Protected Status (TPS)
If you are a male between the ages of 18 and 25, in most cases you are required to register with the Selective Service System (SSS) and show proof of registration to your college/university before receiving state financial aid. The SSS does not share your immigration status.
You do not need to have a Social Security Number (SSN) to register for Selective Service. If you do not have an SSN, or have been issued an SSN through the Deferred Action for Childhood Arrivals (DACA) program, you can register for Selective Service by completing a paper "Selective Service Registration" form, which can be picked up at any U.S. Post Office or can be downloaded for print here
Apply here for the Dream Act Application
Outside Sources Application walk through (Cal Poly Admisisons).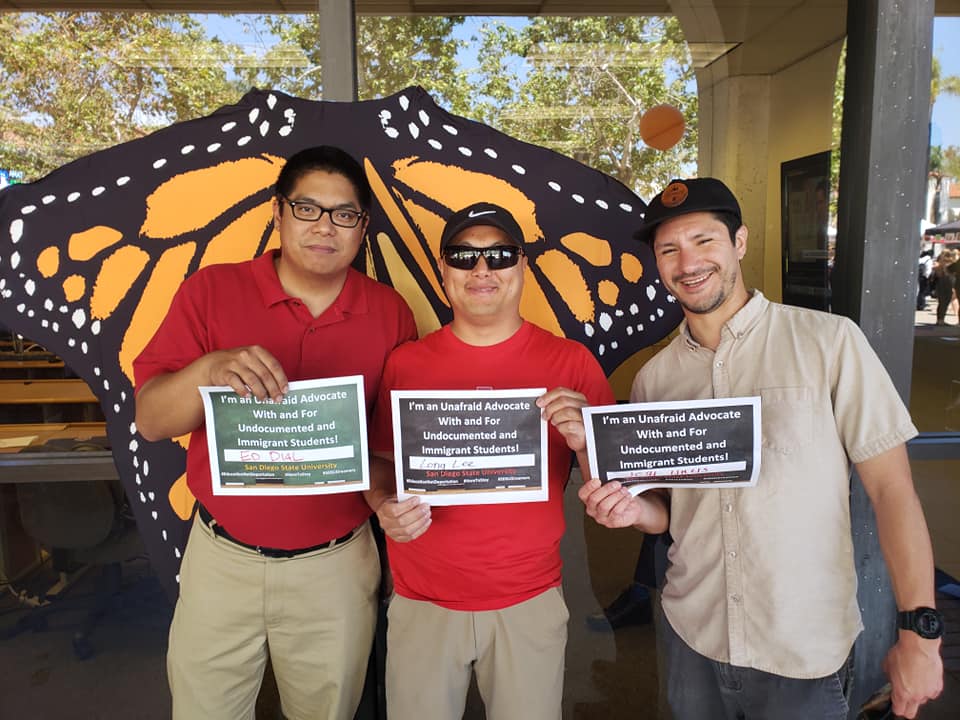 What is AB 540 ?
Assembly Bill 540 (AB 540), passed in 2001, grants students meeting certain criteria an exemption from paying nonresident tuition at the CSU.
SDSU's Residency Exemption (AB0540 Affidavit)
Qualified AB 540 students are allowed to attend a California public college or university and pay resident tuition fees instead of the far more expensive non-resident fees.
Since 2001, the governor of California has signed into law AB 540/AB 2000/SB 68, which added a section to the California Education code. The section created a new exemption where certain nonresident students (including U.S. citizens, permanent residents, and undocumented individuals) who have attended, graduated or achieved the equivalent from a California school may be exempted from paying nonresident tuition.
Students seeking exemption from nonresident tuition must satisfy attendance requirements and graduation/transfer requirements. Students must also complete and submit the California Nonresident Tuition Exemption Request form, along with supporting documents (i.e., transcripts, proof of attendance). To determine if you qualify for this exemption, please complete the attached form and submit official transcripts from all California schools attended. The form and transcript(s) should be uploaded through the Upload Admission Documents link in your WebPortal account.
Please submit the requested documents as soon as possible.
AB 540 requirements(SDSU)
To request an exemption from paying nonresident tuition and establish your eligibility under AB 540, you must complete and submit a California Nonresident Tuition Exemption Request (also called an AB 540 Affidavit) with required documentation to the SDSU Office of Admission.
You may meet AB 540 requirements if you:
Attended a California high school for 3 or more years, and
Graduated from a California high school or passed the GED or California High School Proficiency Exam
Complete a California Nonresident Tuition Exemption
Click here for the AB 540 Form
For transcripts, please contact the office of admissions.
Free Legal Services for SDSU Students, Faculty, and Staff:
Immigration Legal Consultation
DACA Renewals
Adjustment of Status
Naturalizations
Know Your Rights Training
Emergency Planning & Safety Preparedness
And more...make your appointment today
Resources
DACA LEGAL SERVICES APPLICATION & USCIS FILING FEE ASSISTANCE
News
Avoid Fraud