BLACK HISTORY MONTH 2022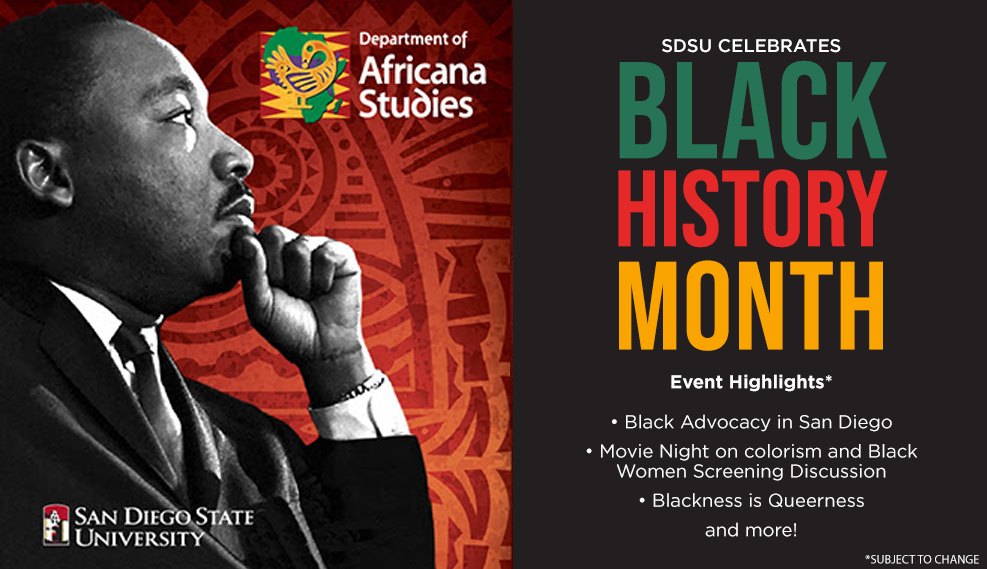 February is the designated month to celebrate and honor African Americans. Blacks have significantly impacted the development of the social, political, and economic structures of the United States and the world. Credit for the evolving awareness of blacks' proper place in history, in large part, be bestowed on one man, Carter G. Woodson
February is Black History Month and SDSU has a loaded calendar of events to celebrate African Americans and their contributions to our society. Among the month's highlights are a Black Women's Healing Circle on Feb. 8, a Black History Month Game Night with the African Student Union on Feb. 23 and a movie screening on colorism and black women set for Feb. 17 and the celebration of the Black Resource Center's 4th Birthday on Feb. 28. See calendar below for more events.
Join us
The Black Resource Center, Africana Studies, Afrikan Student Union and various Black student organizations have planned robust and educational programming this year with campus and community partners. This month's events will focus on local advocacy, issues related to overcoming colorism and racism, as well as our usual programming to empower Black students. All these events will culminate in the BRC's 4th Year Birthday Party
Theme
Each year, the Association for the Study of African American Life and History (ASAALH) provides a theme for Black History Month. The annual themes are not designed to restrict or proscribe one's exploration of the Black experience, rather to focus our attention on important developments in the Black community.
The 2022 theme focuses on the importance of "Black Health and Wellness." This theme acknowledges the legacy of not only Black scholars and medical practitioners in Western medicine, but also other ways of knowing throughout the African Diaspora, to include the expertise of birthworkers, doulas, midwives, naturopaths, herbalists and others.
The 2022 theme considers activities, rituals and initiatives that Black communities have done to be well. At SDSU's Black Resource Center, we have specifically been focused on the mental health of our students, with much of the center's programming centered in response to the pandemics of COVID-19 and ongoing experiences of bias, harassment and racism.
We are committed to honoring this tradition by educating SDSU's students, faculty, staff, alumni and community partners about the achievements and contributions of Black people during Black History Month and throughout the year.
READ MORE FROM THE VP OF STUDENT AFFAIRS AND CAMPUS DIVERSITY