BLACK HISTORY MONTH 2023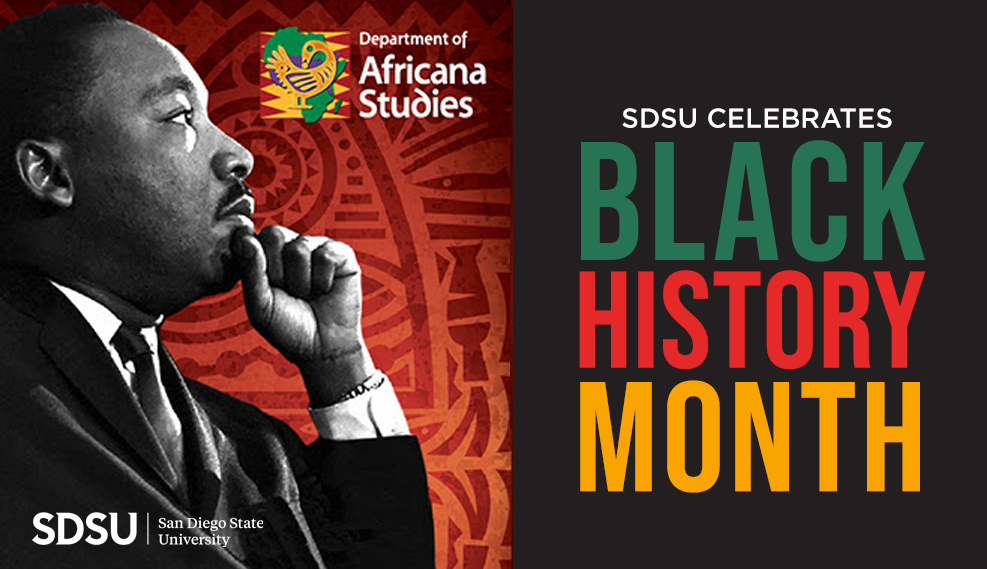 February is the designated month to celebrate and honor African Americans. Blacks have significantly impacted the development of the social, political, and economic structures of the United States and the world. Credit for the evolving awareness of blacks' proper place in history, in large part, be bestowed on one man, Carter G. Woodson
February is Black History Month which kicks off Feb. 2 with a collaboration between the Black Resource Center and One SDSU – a screening and discussion of the 2016 James Baldwin documentary, "I Am Not Your Negro." It concludes Feb. 28 with the BRC's 5th birthday and Henrietta Goodwin Remembrance event as well as the annual spoken word event "Let the Poet Speak." On Feb. 7, SDSU will host an educational empowerment tribute dinner in honor of longtime SDSU professor and current California Secretary of State Shirley Weber at the Parma Payne Goodall Alumni Center.
Join us
The Black Resource Center, Africana Studies, Afrikan Student Union and various Black student organizations as well as local partners such as the San Diego Black LGBTQIA+ Coalition, who have planned robust and educational programming this year! This month's events will focus on local advocacy and/or resistance to barriers set up to bar people from access to work, leisure, and wellness, as well as our usual programming to empower Black students! All these events will culminate in the BRC's 5th Year Birthday Party!!!
We encourage you all to attend as many of the programs as you can. Please visit the BRC's event website for information and follow the center on Instagram @sdsubrc. You can also email the BRC at [email protected] for additional information.
Finally, if you're interested in expanding your knowledge about the Africana experience, we encourage you to consider taking an Africana Studies course and/or visiting the SDSU Library for more African Studies information as a part of a larger collection by Black authors. Please visit the Africana Studies Department's website for details.
2023 Theme
Each year, the Association for the Study of African American Life and History (ASALH) provides a theme for Black History Month. The annual themes are not designed to restrict or proscribe one's exploration of the Black experience, rather to focus our attention on important developments in the Black community.
The 2023 theme focuses on the importance of "Black Resistance!" ASALH goes on to state, "African Americans have resisted historic and ongoing oppression, in all forms, especially the racial terrorism of lynching, racial pogroms, and police killings since our arrival upon these shores. These efforts have been to advocate for a dignified self-determined life in a just democratic society in the United States and beyond the United States political jurisdiction. The 1950s and 1970s in the United States was defined by actions such as sit-ins, boycotts, walk outs, strikes by Black people and white allies in the fight for justice against discrimination in all sectors of society from employment to education to housing. Black people have had to consistently push the United States to live up to its ideals of freedom, liberty, and justice for all."
At SDSU, we are committed to honoring this tradition by educating SDSU's students, faculty, staff, alumni and community partners about the achievements and contributions of Black people during Black History Month and throughout the year. faculty, staff, alumni and community partners about the achievements and contributions of Black people during Black History Month and throughout the year.